I have started getting the garden ready for the spring. While it is still too early to start planting seeds (apart from broad beans), I've been buying seed packets so I'll be ready. Last year the courgettes and chillies were the most successful so I'll be planting those again. I have bought some extra varieties: jalapeno peppers to join the cayenne and Summer Ball pumpkins from Thompson & Morgan. The latter produces courgettes which turn into pumpkins if left on the plant. I look forward to seeing how they turn out.
The soil in our garden is quite shallow and poor quality so we have some deep potato planters which are ideal for growing courgettes in. Last year I had one courgette plant in one of these pots which was a prolific producer of veg. Another plant in a smaller pot started off well but tailed off quite early in the season. I intend to use the planters again but I have 2 more which need filling so I have started turning the compost heap every week in an attempt to hurry it along so I have enough ready in the spring.
I have had great success with parsley and moderate success with the land cress and with rocket, but for some reason the chard, spinach beet and other salad leaves have never grown as well. I'll be trying them again this year in case they go better this time.
There have been some green shoots appearing in the far corner of the garden, where the bulbs were planted. Some will be the dwarf crocus but some mystery shoots which appeared in a pot of compost might be garlic. I'll have to wait and see what comes up.
Last year I bought a mint plant from the supermarket, as a 'growing herb'. It seemed to be thriving but the extreme cold before Christmas seems to have killed it off. There is one tiny green shoot coming up at the edge of the pot and the leaves look like they could be the right shape to be mint. With any luck the plant will regrow because I never got around to using any of it in cooking.
I received an email this morning where the sender had requested I return a 'receipt' when I had read the email. I clicked the button to send it but it didn't work. Instead I saw the following error message:

I suspect the problem was caused because I was at home but sending an email from my work account, which by default tries to connect to a particular email server. This server is configured to only accept connections from on-site.
We had a roast chicken last night so tonight I stripped the rest of the meat off the bones and made some rissoles. We had one sweet potato which had escaped from the pack and hid at the back of the cupboard until I found it a couple of days ago. I had roasted the sweet potato at the same time as the chicken. I already had some leftover roast potato and roast butternut squash in the freezer so between them they took care of the 'potato' part of the recipe.
We didn't have any onions left but we did have half a leek and some garlic so I finely sliced both and fried them until they softened, along with the last fresh chilli from our own plants. I mashed the potato/squash mixture and stirred in the vegetables, the finely diced chicken and some chicken stock powder. When I did a 'test fry' of about a teaspoon of the mixture to check for seasoning, it cooked crispy on the outside but stayed a bit too soft inside so we added a small egg and a small amount of flour to stiffen the mixture.
We shaped the rissoles and coated them in breadcrumbs before frying them for about 5 minutes on each side.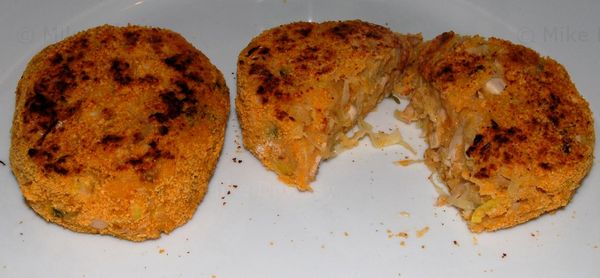 I made sloe gin again last year, starting with a similar recipe to the one I used earlier. I froze the sloes first which helps to split the skins and softens the fruit, which helps extract the flavour. After a few weeks in the freezer I put the sloes and sugar in a pan and warmed them through before putting everything in a jug.
When it came to straining the sloes, there was a lot more sediment than normal. I ended up with one bottle of clear sloe gin and one bottle of alcoholic sloe smoothie, which will probably work well with a mixer or fruit juice. The sloe gin was quite sweet so I poured some more gin on the sloes, without any sugar, to extract a bit more flavour. I gave this a few weeks then strained it and blended it with the first bottle. The end result was quite good but was more work than the old method.
I won't bother warming the sloes again. It results in too much sediment and is more hard work in the end, I'll stick to just freezing then infusing in gin.
We went to see the Circus of Horrors at the Belgrade Theatre. They were touring with a new show but most of the actual acts were the same - they still had the dwarf who attaches a vacuum cleaner to his penis and a lot of the acrobat acts were repeated from last time. The songs and the comedy bits were new though.
Earlier in the week I mentioned in work that we were going to see this and tried to describe it to people. I think Meatloaf meets Rocky Horror meets Cirque de Soleil is probably the best I can come up with. It's a fun night out.
We have been to the 'old' Pizza Express restaurant in the city centre but this was the first time we'd been to the new one in Belgrade Plaza, next to the theatre. We tried two of their new pizzas: I had the Da Morire Romana which was the winner of the competition where customers could invent a new pizza. It was quite a brave pizza, with a lot of strong flavours including pancetta, blue cheese and rosemary. The flavours worked well together and didn't clash or overpower it. Emma had the Monte Bianco which was a chicken pizza using bechamel sauce instead of tomato. We both enjoyed our pizzas.
For dessert we had the new Doughballs with Nutella. Although the menu didn't describe it as such, this was more suitable for sharing than individual servings.
The food was good, the service was friendly. I felt a bit guilty ordering dessert and asking for the bill at the same time but we had tickets for the theatre and only had a few minutes to finish eating and leave.
We received a lot of food related presents for Christmas, including some fancy multi-coloured pasta. Here we served some of it with a home-made chicken and kale pesto.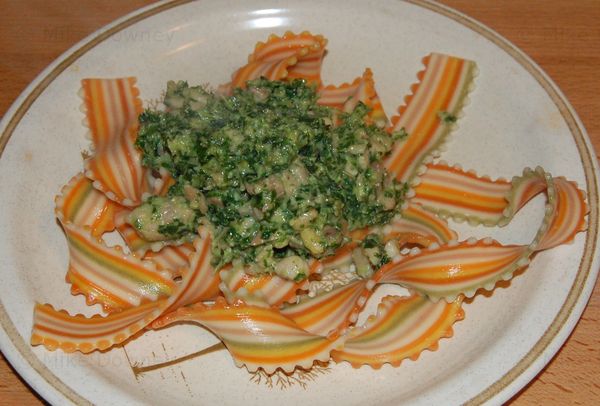 Chop and fry 2 cloves of garlic
Finely chop 2 handfuls of kale and add to the pan with the garlic. Fry until it wilts.
Put a tablespoon or so of pine nuts (or a similar seed mixture) in a food processor and blitz to a fine powder.
Add the garlic and kale to the food processor and blitz to a paste.
Add a tablespoon of cream and a couple of spoons of grated parmesan
Season to taste.
Mix in some sliced cooked chicken and serve with the pasta.
Tonights tea was chicken and roast veg, using a jar of Marks & Spencer's garlic, lemon and parsley roast veg sauce. I think the cooking times might need to be increased a bit. Their instructions suggested adding the carrot after 20 minutes but I put them in at the start, so they had the full 50 minutes (at gas mark 6).
I do roast veg fairly often but I usually forget how long things take to cook, so this is as much for my information as anything else.
Carrot and Celeriac: at least 1 hour
Sweet potato: 50 minutes.
Onion, Pepper, Courgette: 30 minutes.
All of my oven-based recipes use gas marks because we have a gas cooker. For conversions to electric, use this table.
Yesterday we went to the supermarket and bought a loaf of fresh-baked multiseed bread. We thought it would go very well with some soup for lunch but we didn't have any packets or tins of soup in the house. I thought I'd make a simple leek and potato soup but I realised we didn't have any stock (either fresh or cubes) so I would have to make everything from scratch.
I realised that we had a lot of vegetables in the house, some were 'staples', some were leftover from Christmas, others (such as the celeriac) were bought yesterday from the 'reduced' section of the supermarket.
I started off by dicing the veg and adding them to a pan with just enough water to cover everything. In went 1 sweet potato, 1 onion, ½ leek, 1 carrot, 3 cloves of garlic, ¼ celeriac, 1 cooked potato, and some of the leftover roast butternut squash from the freezer. I added a sprinkle of fresh parsley and 1 diced chicken breast, and simmered everything until the veg were cooked.
Everything went in the liquidizer. To serve, we added some jerk seasoning to add salt and spiciness (no salt went into the cooking liquid) and some double cream.
It ended up a bit more complicated than the simple leek and potato soup I intended to make but it was good, and there was enough left over to go in the fridge for another day.
So 2010 has ended and my resolution of cooking a new recipe every week was mostly a success. There were 2 weeks when I didn't manage any proper new meals, but week week 35 featured a new sandwich, week 16 was a haggis omelette, and week 8 had home-made chilli sauce.
There were several weeks where I made more than one new meal in a week. Some of these were recorded here. One which I neglected to mention was Pfeffernusse. I have been meaning to try these for ages and finally got around to making them in the summer. My spice mixture was slightly different, and I think I added too much pepper, but the end result was ok. They came out more like cookies but since I like cookies, that wasn't a problem.
This year, I will continue to try new recipes and blog about them, but it might not be as regular.