This weeks new recipe was halloumi, pasta and garlic bread, which we ate on Tuesday.
Dice and fry some red onion and red pepper.

Boil pasta.

Slice and fry the halloumi, just enough to soften it without completely melting it.

Mix the pasta and vegetables together then stir in a dressing made using equal quantities of lemon juice and balsamic vinegar.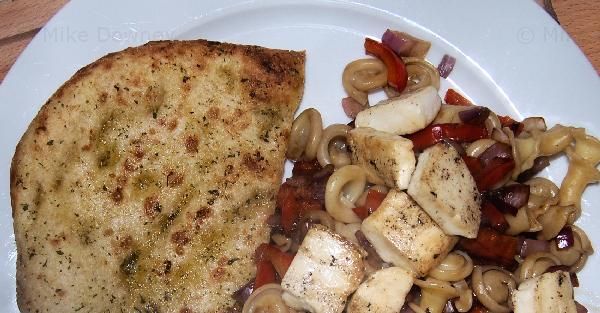 On Wednesday we had stir-fried vegetables and noodles. We cheated slightly and used packets from the supermarket. I sliced and fried a tuna steak from Marks & Spencers. It was possibly the best tuna steak we have bought. It was very fresh and had a much 'cleaner' taste than normal. I guess sometimes it's worth paying slightly more for ingredients.
Tonight's tea was baked cod (again from M&S). I cooked a simple vegetable risotto as accompaniment:
1 onion, 1 small leek, ½ courgette, 2 cloves of garlic, chopped and fried.

1 cup of risotto rice

a pinch of mixed herbs

2 cups of chicken stock.

When the risotto was cooked, I stirred in 1 heaped tablespoon of low-fat cream cheese. This is much healthier than adding a knob of butter but it gives the pasta a nice creamy texture.