My second attempt at the weekly new recipe challenge is over now. There was an increase in the amount of baking I did, mainly due to the increase in the number of bread, cake and pie recipe books in my collection.
I did at least 7 bread or bread based recipes, 23 savoury dishes and 29 cakes or desserts. I know that doesn't add up to 52 but some weeks I did 2 recipes and I'm also counting some of the pizzas as both bread and savoury. I was expecting there to be many more sweet recipes since I remember making a lot of cakes.
Since it was a personal challenge, not a household challenge, most of the meals were planned and cooked as solo efforts. There were 3 where Emma did the bulk of the work: Spotty Dinosaur Cake, Pig Hottub Cake and Scottish Macaroons. I'm now ready to start my baking challenge for 2014: Regional Cake-athon, where I'll try to do a cake or dessert named after places beginning with each letter of the alphabet.
My final recipe for the year, and a proper Christmassy recipe, was for marzipan topped mince pies. All of the ingredients were left over from other recipes so we had shortcrust pastry from a dessert which Emma made shortly before Christmas and we had the fruit and marzipan leftover from the stollen.
I took the boozy mixed fruit and added some dried cranberries and ground almonds to make a slightly more substantial mincemeat style filling. We blind-baked the pastry bases for a few minutes before adding a spoon of fruit. This went back in the oven for a few more minutes before a disk of marzipan was placed over each pie. The pies went back in the oven for another minute or so until the marzipan had softened and formed a seal around the edge of the pies.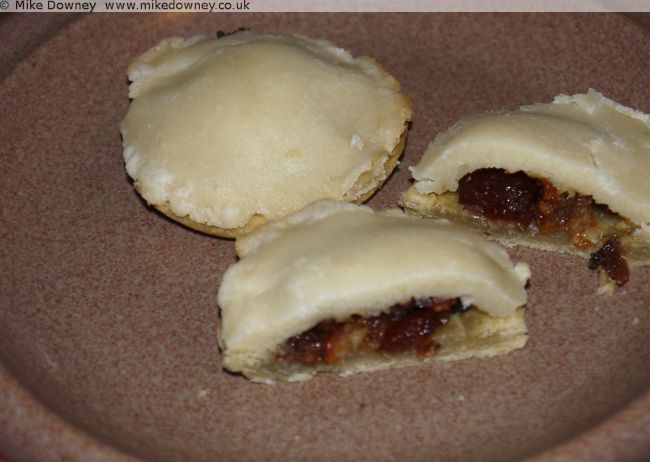 The only real problem with the pies was that they were a bit small. Our pastry cutter was slightly too small and when the pastry shrank back during the blind-baking, we ended up with small disks instead of pie cases. This meant we needed a marzipan dome over the fruit, more marzipan and less pastry is not a problem for me.
I should have known that I was being a bit too ambitious with my Christmas recipe plans. After eating a stollen, a panettone and a couple of boxes of Christmas chocolates, I didn't feel like making any full sized cakes or puddings.
Emma found this recipe so after we made them I decided they could count as one of my new recipes. The filling was mashed potato mixed with icing sugar. Even after we had added all the icing sugar we had, it was still quite soft so it needed heavily chilling before it could be dipped in melted chocolate and rolling in coconut.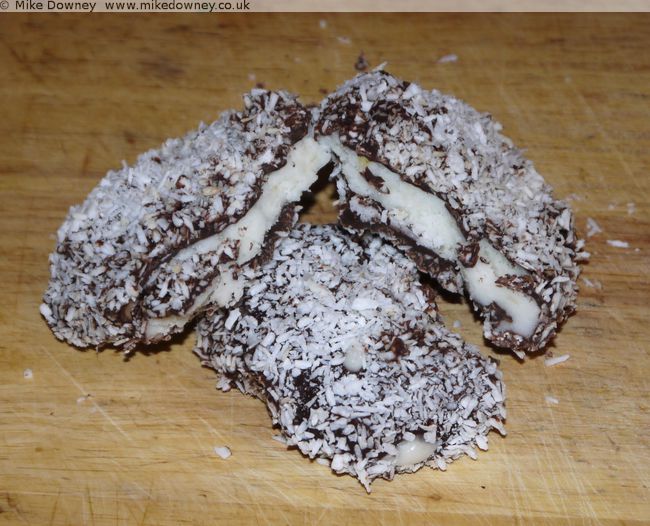 The centre was soft, not too sweet and you couldn't taste the potato. Overall they were very tasty.
My Christmas recipes continue with Panettone. I am a couple of days late with this because we didn't finish the stollen until today and I didn't want too many half eaten cakes in the house.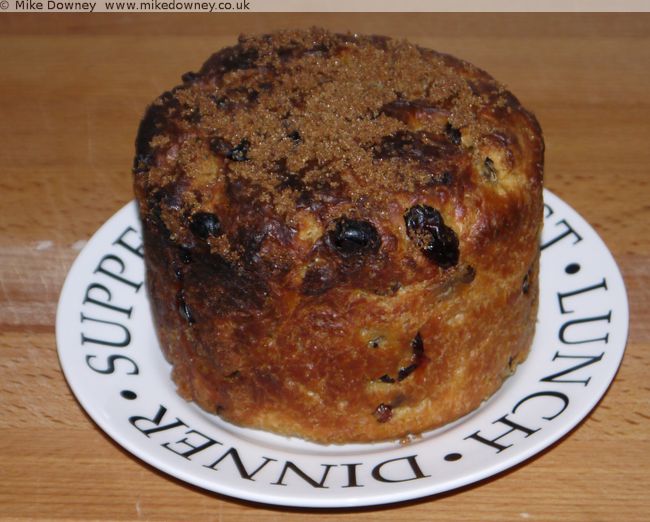 The recipe I followed was based on several different ones and was also modified based on the ingredients I had open in the kitchen.
The dough was made by sifting 500g of flour, 100g of caster sugar, a teaspoon of yeast and a teaspoon of salt into a bowl (I used 400g of bread flour and 100g of plain flour
200ml of warmed milk, 1 tsp of vanilla essence and 2 medium eggs were beaten together then mixed with the dry ingredients to make a fairly sticky dough. This was left for several hours to rise until it had roughly doubled in size.
It was then time to mix in the butter (215g, a mixture of salted, unsalted and baking margarine) and dried fruits (240g, a mixture of sultanas, dried cherries and mixed fruit and peel).
I lined two round cake tins, with a round disk in the bottom and baking paper up the sides of the tins, standing at least 2 inches taller than the tin itself. This was an improvised panettone paper liner to support the cake as it rose.
I spooned the dough into the cake tins until it was level with the tops of the tins. I did not preheat the oven and put the cakes into the cold oven, on the middle shelf, and left them to rise, undisturbed, for several hours.
When they had started to rise again I turned the oven on to gas mark 7 and left them to bake for 35-45 minutes (the smaller one was ready first). Halfway through cooking, I brushed the tops of the cakes with melted butter and sprinkled some brown sugar on top. I then turned the oven down to gas mark 5 until the cakes were cooked and a skewer came out clean.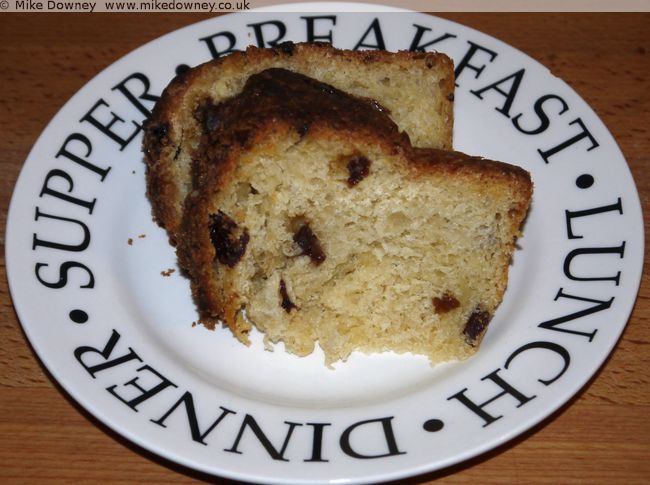 This recipe was another success. It was trickier to make than the stollen, since lining the cake tins was a bit fiddly and the dough was sticky and difficult to work with, but the flavour and texture of the finished cake was good.
I don't think I'll be buying any supermarket stollen any more. While I have been a fan of stollen for several years, most bought ones tend to be a bit dry. When I decided to make one this year, I looked around for recipes and found several similar ones. The one I followed came from the River Cottage Cake handbook.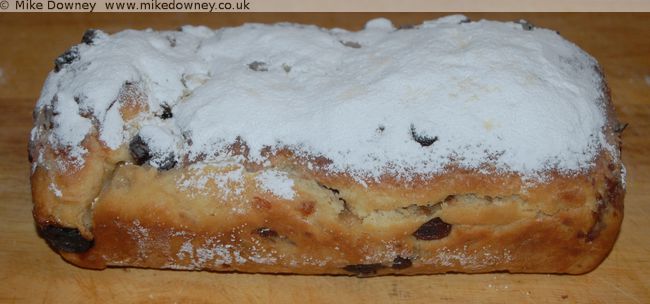 I actually started making this yesterday but didn't get chance to bake it so it went in the fridge overnight. I took it out this morning and let it get to room temperature before putting it in the oven at gas mark 4 for 25-30 minutes.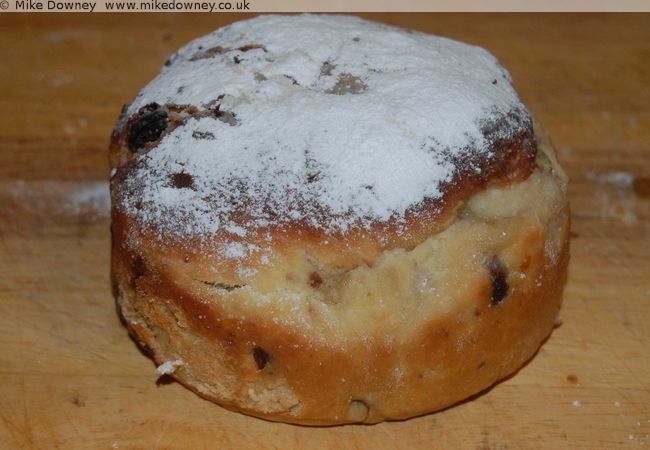 The first thing to do is to make the enriched dough. This had 500g of bread flour, 100g of melted butter, 175g of warm milk, 125g of caster sugar, 2 eggs and some yeast. This was mixed together, kneaded for a few minutes then left to double in size.
Meanwhile, 100g of dried cherries and 200g of sultanas were put in a bowl and mixed with a few tablespoons of sloe gin and the zest from an orange.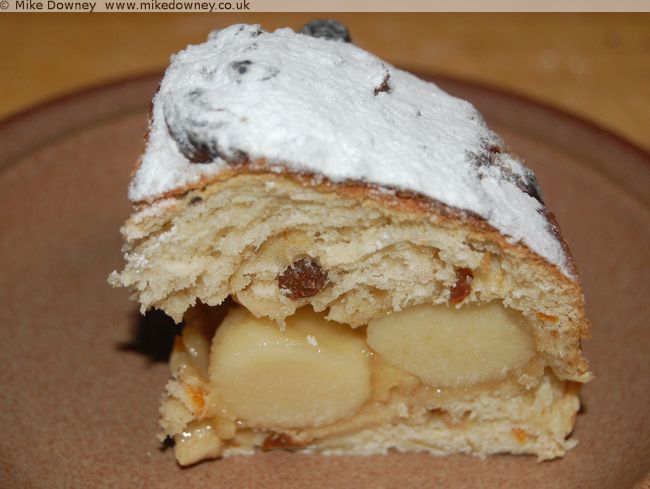 When the bread has risen, it was knocked back and flattened to a rectangle. Some of the fruit was spread over it along with some flaked almonds. These were kneaded into the dough then the procedure was repeated until all the fruit and nuts were mixed in.
The dough was divided into 3 portions. The larger one had two marzipan 'sausages' in the middle, the smaller round ones had marzipan balls inside.
When the cakes were cooked, and while they were still warm, they were brushed with melted butter then dredged with icing sugar.
When I put the cakes in the oven I realised I had forgotten to add the cardamom but they tasted fine without. They certainly had a better texture than any shop-bought stollen I've had.
This is just a quick recipe and not part of the December/Christmas series of recipes, unless you count it as a possible use of leftover turkey. I've made many risottos in the past but always in a pan on the stove top. Tonight I decided to try an oven baked version.
I had already softened an onion and a leek in a pan before I decided to do this, so I put the rice, vegetables, half the grated cheese, the cooked chicken and stock in a pyrex dish. I added a pinch of salt and some chopped herbs, covered the dish with foil then put it in the oven at gas mark 6.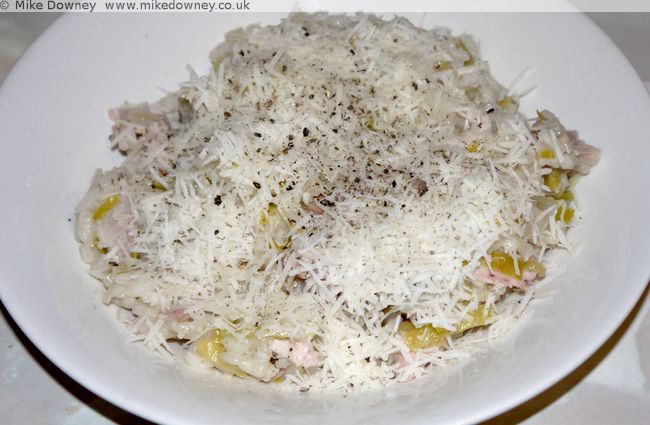 It needed longer than the 18 minutes given in the recipe, closer to half an hour. I served it with the rest of the cheese and some freshly ground pepper.
The rice was well cooked but lacked the creamy texture which I normally get by stirring some soft cheese into the risotto right at the end (I didn't do that here because the pyrex dish wasn't big enough to safely mix it in without risking spilling). Next time I might try stirring some half-way through to see what it's like.
I was unable to post a new recipe last week because I was too busy at the start of the week, and too ill at the end, but I managed to catch up today. Since we are now in december, I have decided to do some festive recipes in the run-up to Christmas.
The first is a nice quick one from the Hairy Biker's European baking book. Janhagels are a kind of spiced shortbread topped with nuts and brown sugar. I decided to have a go at making this using our new food processor, to speed up the mixing a bit.
I started with 300g of flour, 200g of light brown sugar, 200g of cold diced butter, a generous pinch of salt, a generous teaspoon of cinnamon and ½ a teaspoon of mixed spice. This went in the food processor and was pulsed until it had mixed together to form breadcrumbs.
This then got tipped into a bowl and a beaten egg was mixed in to form a dough. This got pressed into a greased and lined baking tin. The topping was made from 50g of sliced almonds and 50g of brown sugar, which was mixed together and pressed into the top.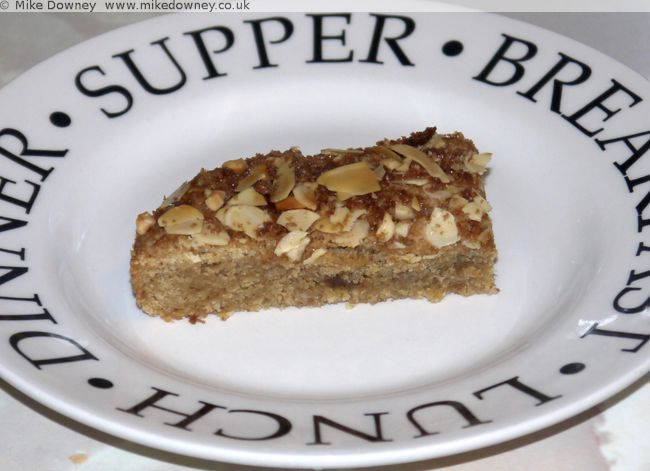 The mix was baked at gas mark 4 for about 35 minutes. I'm not sure how similar these are supposed to be to traditional shortbread (which I do really like) but these had a slightly softer texture. The spice mix did give them a nice christmassy taste.
Now I've got last week's recipe sorted, I can start thinking about this week.
I've made ordinary sponge cakes before but this is the first time I've tried making a Genoese Sponge, where beaten eggs are used instead of baking powder to rise the sponge. I've felt that I should try making one since it's probably another cake method I should add to my repertoire.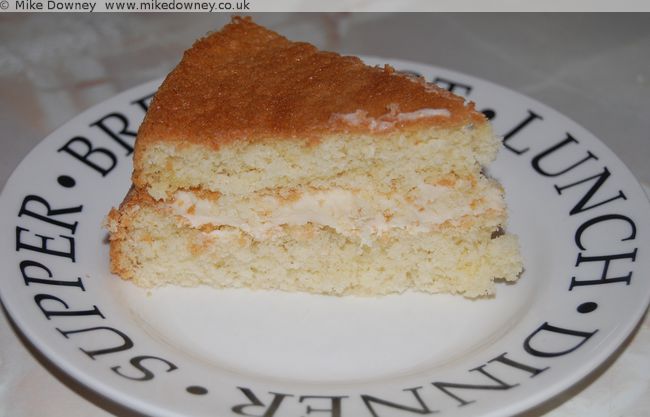 The recipe I used came from the River Cottage Cakes Handbook. It started with 125g of caster sugar and 4 eggs and these were beaten with an electric whisk in a bain marie until they had trebled in size. 125g of sifted flour was then folded in, followed by 75g of cooled melted butter.
The cake was baked for 25-35 minutes at gas mark 4 (the top layer was thinner and cooked faster). I think I should have reduced the cooking time because the cake had a slightly crunchy edge to it but, when eaten with the buttercream, it all went together well.
I think most people agree that the crumble topping is the best part of a fruit crumble, so a cake which is mostly crumble should be very good. My interpretation was based on two recipes but as usual I made a few changes.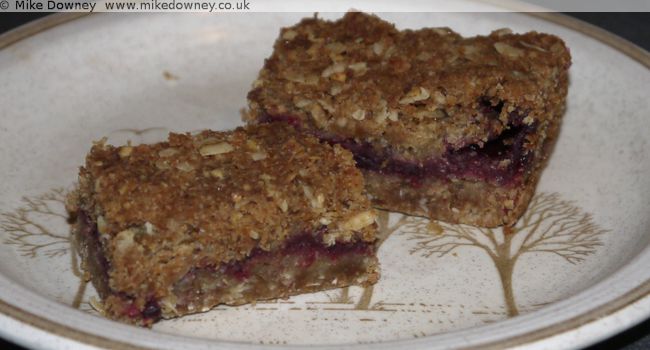 To make the crumble mixture, I put the flour, brown sugar and butter in a food processor and blitzed until they formed breadcrumbs. I then mixed in some ground almonds and dessicated coconut.
The fruit layer was made using a tub of berries from the bushes in our garden. This was a mixture of blackberries, blackcurrants, gooseberries and alpine strawberries. I put them in a pan with a tablespoon of water and slowly heated them to a simmer. I then added a couple of tablespoons of sloe gin mixed with cornflour and stirred this in until the fruit mixture had thickened.
I put half of the crumble layer in the bottom of a lined 8 inch tin and pressed it down. I then spread the fruit layer and finally topped with the rest of the crumble. The tin then went into the oven (gas mark 4) for about 45 minutes or so, until the top looked cooked.
I left the cake (or is it a biscuit?) to cool before slicing it and removing it from the tin.
I think that fruit crumbles work best when the fruit has a slightly sharp taste. This is probably why one of the most popular uses of rhubarb is in a crumble. Since my fruit mixture contained alpine strawberries and gooseberries (and no added sugar apart from the small amount in the sloe gin), the fruit layer had a good amount of sharpness to balance the sweetness of the crumble layer.
It's very hard to eat just one.
Now that we are approaching winter, I have started making porridge for breakfast. My usual approach is to put 1 cup of oats in a jug, add any dried fruit or other flavours (such as flaked almonds or shredded coconut), followed by 1½ cups of milk. I then leave this in the fridge overnight, ready to cook in the morning.
The porridge takes about 3 minutes to cook in the microwave. I don't add any sugar but I sometimes add a bit of honey.
I had spare porridge left over today (dried mango and coconut flavour). I thought I'd have a go at making a cake from it, following the same idea as the rice pudding cake. I had some 'cereal dust' from the bottom of a couple of boxes of cereal so I put that in too.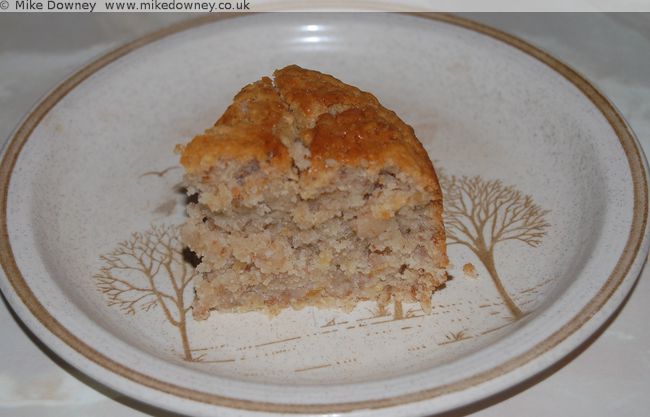 The end result was surprisingly similar to the rice pudding cake, with a moist, chewy and cakey texture. It's a good way of using up leftover porridge.
The second recipe this week was a Cauliflower Pizza. My version was topped with bacon, black pudding, baked beans and cheese (using up some kitchen leftovers). I used half a cauliflower to make the base and I didn't really measure anything, I just mixed it together until it looked right.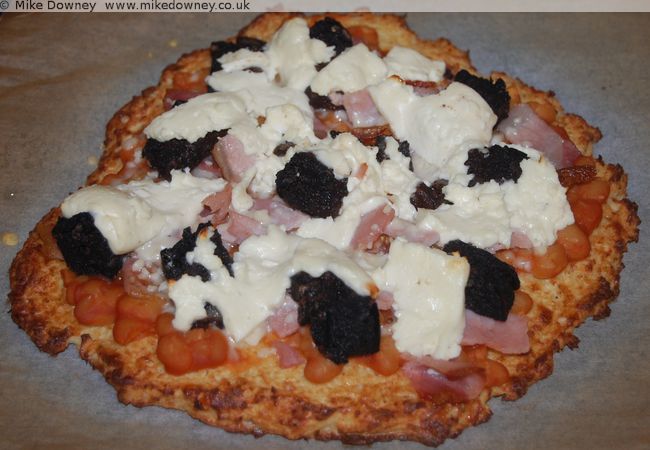 Making the base was a bit long-winded because our food processor is a bit small and it took several batches to break up the cauliflower and grate the cheese. This is a novel way of serving cauli, a bit more original than cauliflower cheese (which I do like - that's how I'll probably eat the other half).