We had a jar of mincemeat in the cupboard from last Christmas, and some filo pastry left over from home-made sausage rolls. I decided to make some mince pies.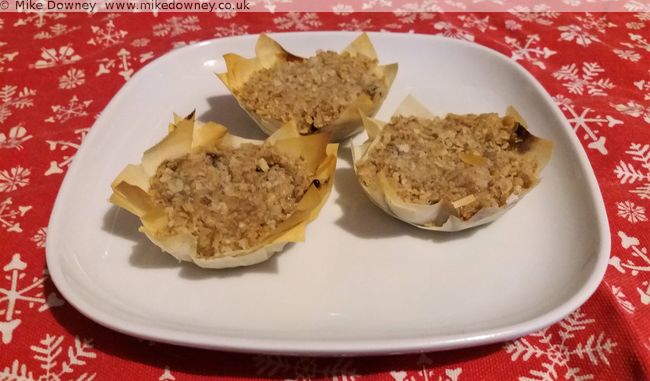 The crumble topping was made using equal weights of oats, wholemeal flour, butter and sugar.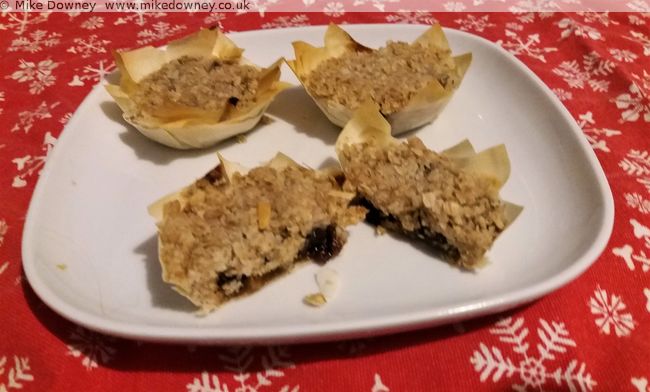 My latest attempt in my international breads comes from Eritrea. There appear to be both sweet and spicy versions of this bread, but I decided to try the sweet version.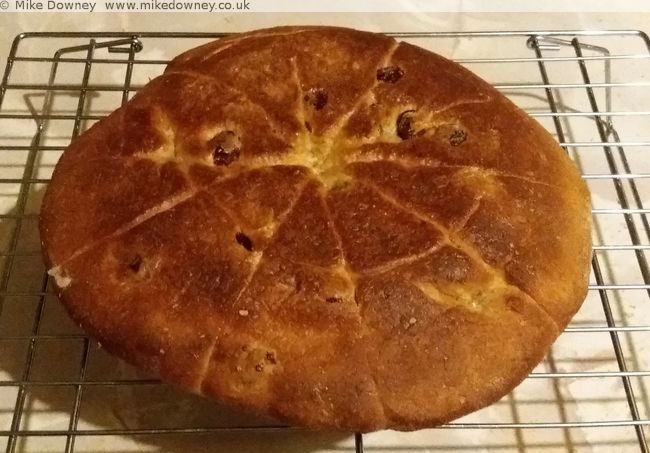 Ingredients
250g Flour (I used a mixture of white and wholemeal bread flour)
125g milk
1 egg
50g butter or margarine (melted)
25g sugar
50g sultanas (soaked in water)
yeast
½tsp salt
½tsp cumin
I simply put everything in the bowl and used our electric mixer. The mixture was a bit soft but I left it to rise for an hour or so before knocking it back and re-kneading it. After the second kneading, the mixture was a bit firmer and easier to handle.
I shaped the dough into a disk, cut some 'spokes' and left it to rise again. Instead of baking in an oven, this bread is cooked in a covered frying pan.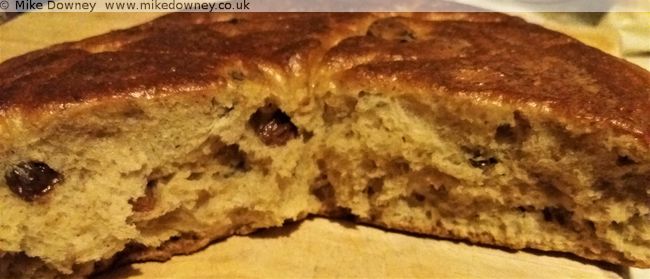 I don't recall having cumin in a sweet recipe before and it works well, probably because there isn't much and the flavour isn't too strong. The bread is a bit like a hot cross bun. If mixed spice mixed fruit/mixed peel was used, it would be difficult to tell the difference between them.
I actually made these a few weeks ago but didn't get around to writing it up at the time. The flatbreads are like a cross between a crumpet and a galette style pancake.
Traditionally they are made using Teff Flour which appears to be naturally gluten free. There are several versions of the recipe which use a mixture of plain flour with some gluten free flours so I decided to try my own version. Originally I used a cup of plain flour with 2 tablespoons each of the other flours but the mixture came out a bit stretchy after fermenting so the version below has the amounts adjusted to reduce the amount of wheat flour to make the mixture less stretchy.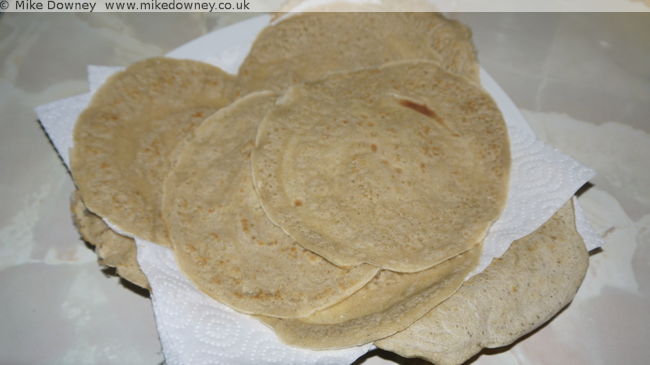 ½ cup plain flour
½ tbs fine cornmeal
½ tbs buckwheat
yeast
salt
1 tsp sugar
1.5 cups water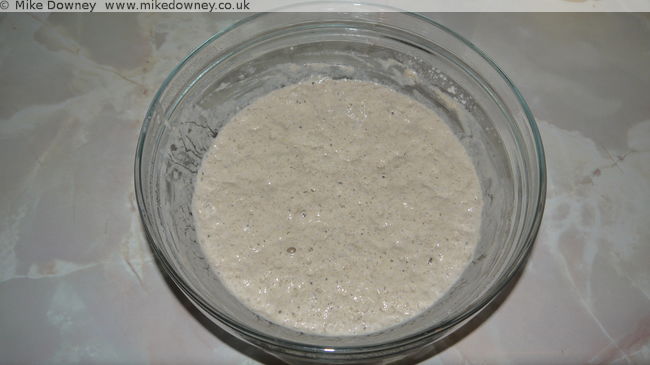 Method
Whisk everything together, cover with clingfilm and leave in the fridge overnight. In the morning, take the batter out of the fridge and allow to reach room temperature.
Heat up any lightly oil a frying pan. Spoon in some of the mixture and spread to form a thin pancake.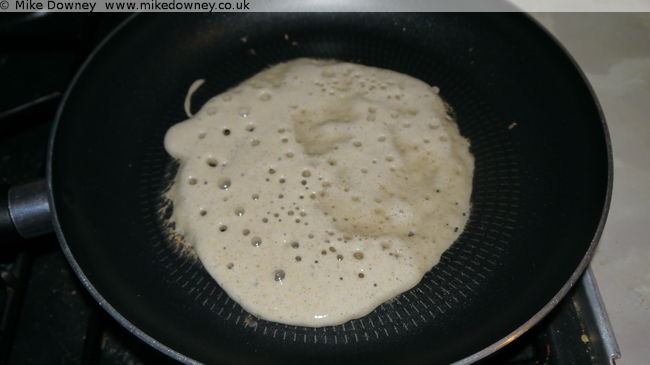 When it has cooked on one side, flip it over to cook the other side. Continue until all the batter has been used. To serve, return one of the pancakes to the pan, add the filling, roll up and reheat.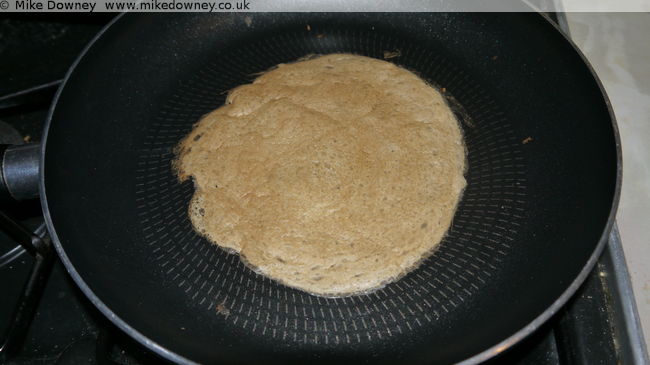 It has been far too long since I posted my last new recipe. I decided to try a sweet steamed bun recipe and tried to find something suitable on the web. I avoided any American recipes which mostly used mixture of 'all purpose' and 'cake flour' and found a recipe taken from a Ken Hom book. I decided to use half the quantities for my initial attempt.
For the sweet filling, I found a recipe for baked Honey Buns which sounded good. This recipe called for dessicated coconut which had been powdered in a food processor. Since we have coconut flour, I tried using that.
Since coconut flour abosrbs a lot of moisture during cooking, I reduced the amount (¾ of a cup instead of a full cup of dessicated) but the first test run came out too dry. I removed some of the mixture, added extra honey and oil and the egg white, to make the mixture softer and wetter, but the final version was still a bit too dry inside. The recipe for the filling is still only approximate since I don't know how much flour, honey or coconut oil ended up in the final mixture.
Making the dough
Put:
90ml warm water
1 tsp yeast
1 tsp sugar
1 tbsp melted coconut oil
190g plain flour
in a mixing bowl. Mix to a dough, knead for a few minutes then leave to rest while preparing the filling.
Mixing the filling
Mix together:
½ a cup of coconut flour
6 tbsp honey
4 tbsp melted coconut oil
1 egg, beaten
The resulting mixture should be soft and slightly wet. This actually makes more than you need for the amount of dough.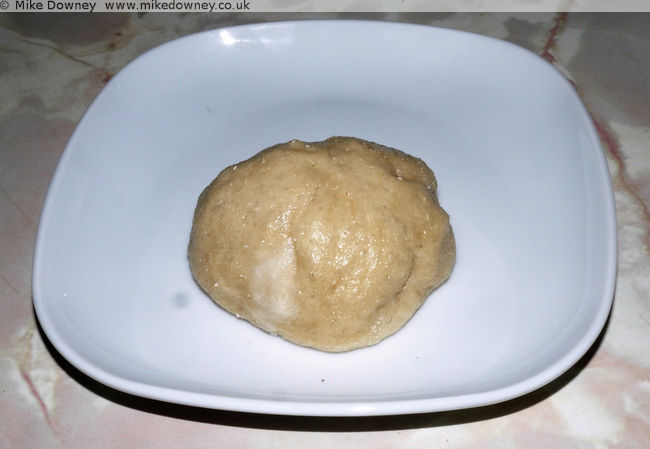 Assembling and cooking
I divided the dough into 6 pieces, flattening them out and placing about a tablespoon of the filling in the middle of eIach. After folding the dough up and crimping to seal the top, I sat each bun onto a square of baking paper.
I used our Instant Pot to cook the buns. To make sure it was warmed up and ready, I poured boiling water into the bottom of the pot and pressed the sautee button while the buns rested and rose for about half an hour.
I cooked the buns using the Steam setting at low pressure for 15 minutes.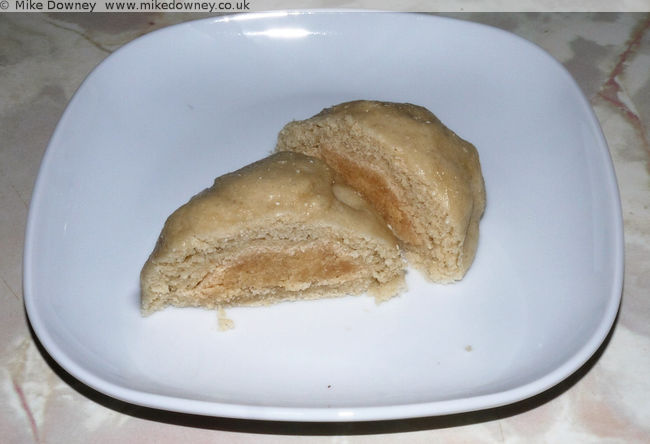 The bun texture came out ok and the filling tasted good. Apart from the filling going a bit dry (which I mentioned earlier), the recipe worked well.
For the letter 'B' I decided to do a version of a traditional Bulgarian Christmas loaf. I had originally intended to make it over Christmas but I didn't find time to do any baking, and since we had lots of cakes and chocolates to eat, we didn't really need more bread.
Ingredients
(For the bread)
2 cups of bread flour
2 tsp yeast
2 eggs
50g softened butter
½ cup water
1 tsp salt
1 tablespoon honey
(For the glaze)
1 tsp of honey
a few drops of water
Mix the water and honey a few drops at a time until the honey is a pourable consistency.
Method
I put all the bread ingredients in our food mixer, with the dough hook, and let it mix for a few minutes. Since this a brioche type bread, the mix was very wet and a bit sticky, which made it difficult to handle and shape.
I broke the dough into equal weight pieces, rolled them into balls and put them in a round tin to prove.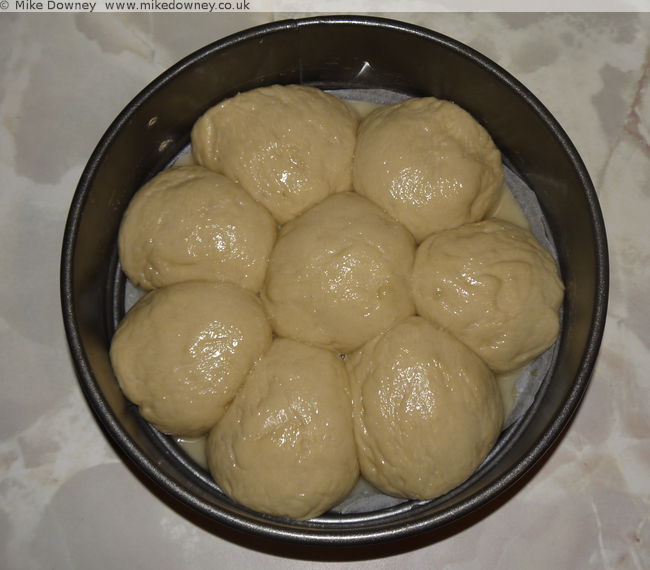 After they had risen, I carefully brushed them with the honey mixture. It was baked in a pre-heated oven (gas mark 5) for half an hour. I started it off covered in foil, but took the foil off after the first 15 minutes.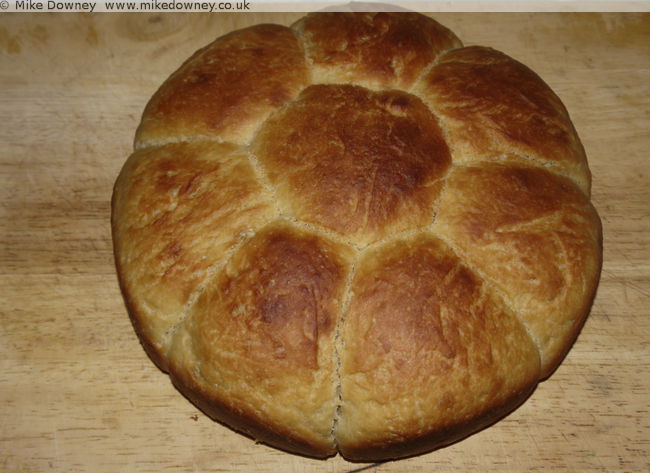 Verdict: a soft slightly sweet brioche with a honey flavoured crust. Definitely one to try again.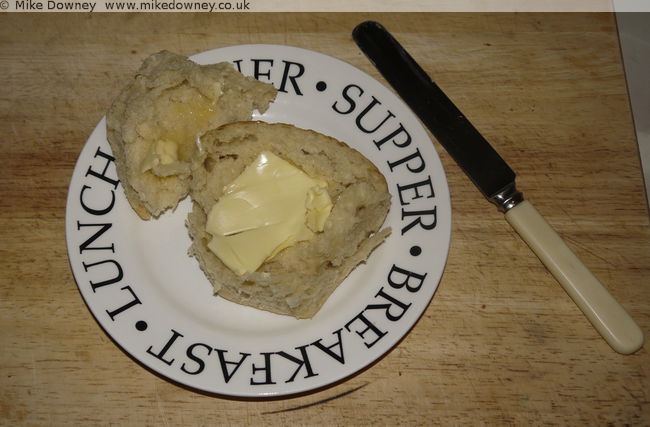 Earlier this year I was watching Saturday Kitchen and they were showing one of the many regular clips from Rick Stein. This was from a series he did in Eastern Europe and it gave me the idea to try to do another alphabetical cooking challenge. I intend to take each letter of the alphabet and cook something from a country or region beginning with each letter.
Originally my plan was to cook a meal but we were recently at a barbecue where the husband was Algerian and his family had provided most of the food. There was a yellow bread which went down really well. When I got home I looked it up and found some recipes.
Khobz El Dar: Algerian Semolina Bread
I took inspiration from a recipe from food.com but I reduced the quantities a bit. Since the bread we ate didn't have seeds on or in it, I left those out.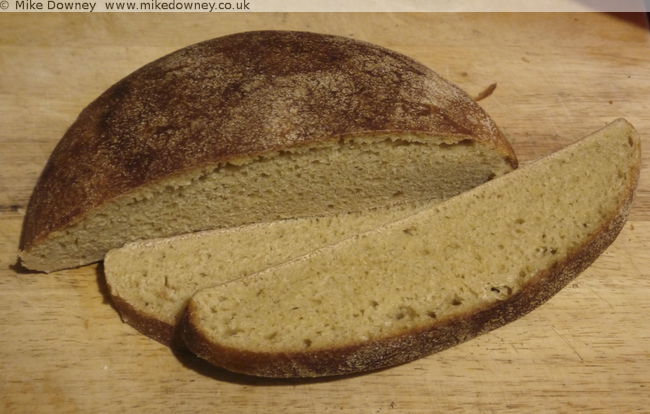 My bread took a long time to rise (I think there were problems with the yeast) and the bread had a slight sourdough taste to it. I had baked with semolina before but this was the first time I had done a bread which was mostly semolina flour. My version wasn't as good as the one we had at the barbecue but it was my first attempt. If I try again, with fresher yeast, it might come out better.
I found some mashed banana and some apple puree in the freezer while I was trying to make room to put away some shopping. I was looking for recipes to try, something different to the usual banana bread, and decided to try some flapjacks.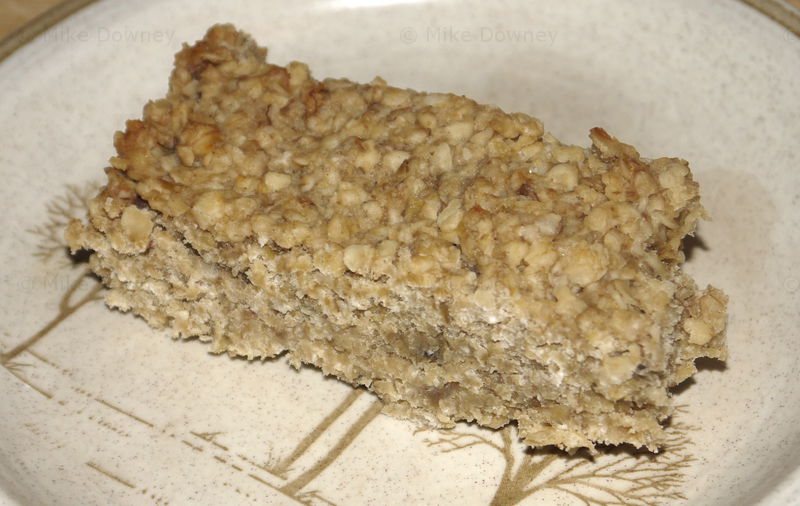 The recipe was 250g of butter, 250g of fruit puree, 100g of brown sugar and 500g of porridge oats. The flapjacks were a bit crumbly and lacked the chewy texture you get with golden syrup. If I find myself making them again, I will probably replace some of the sugar with syrup.
Last week I mentioned the chicken pizza base. We also occasionally make a pizza base using turkey mince. It's made from mince, seasoning and an egg. The mixture is quite sloppy so it needs to be spooned into a pan and spread out to cook.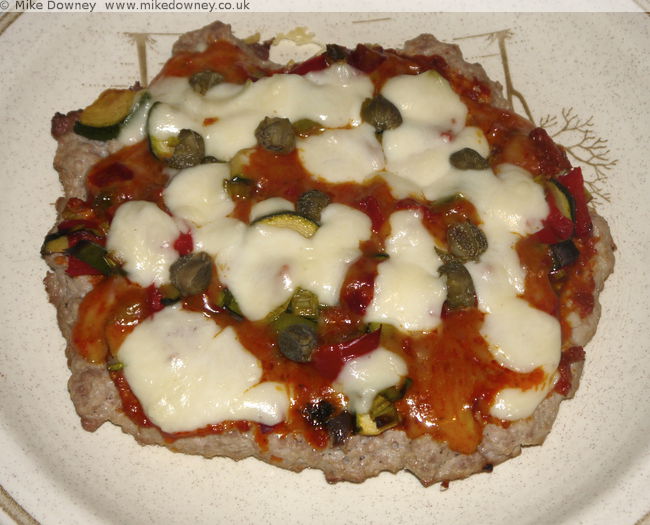 After it has cooked, it gets topped and cooked in the oven as before, to let the cheese melt.
Yesterday, after making the pizza base (we had regular pizza alongside the chicken base), there was some left over so I kneaded in some chilli flakes and flattened it out to make a flatbread.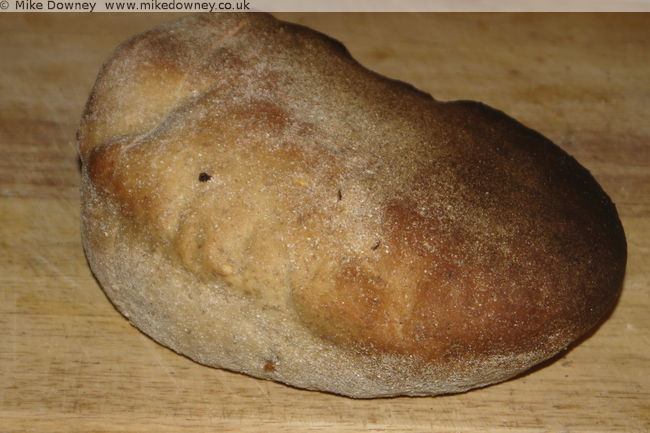 It rose rather a lot in the oven so I wasn't too surprised when I cut it open and saw...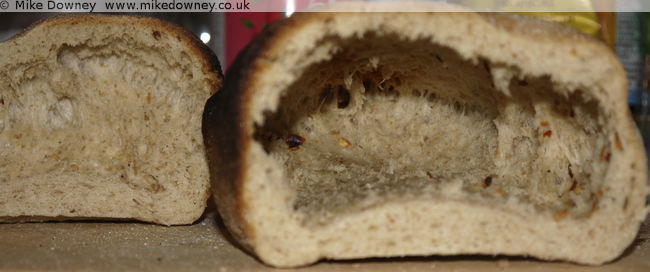 We have been experimenting with alternative pizza bases recently. I had already tried a root potato pizza base a few years ago and we did one again recently. Something else we've been trying is removing the bread altogether, putting the meat on the bottom with vegetables and cheese on top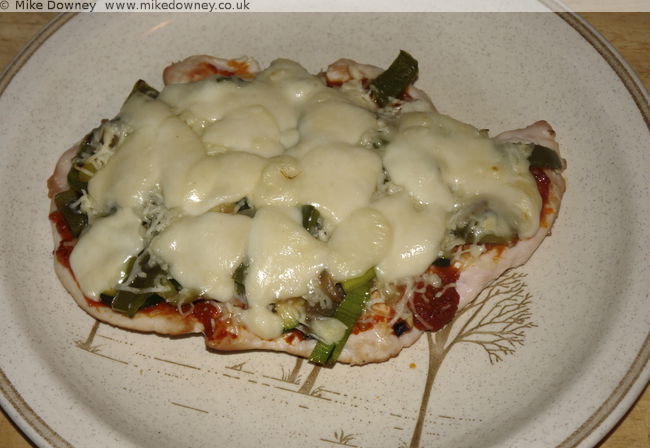 We took a chicken breast, flattened it out then fried it. After that it was topped with tomato sauce, vegetables and cheese. Since the base and vegetables were pre-cooked, it only needed to go in the oven until the cheese had melted.
(Reposted from The Pizza Blog)