My latest attempt in my international breads comes from Eritrea. There appear to be both sweet and spicy versions of this bread, but I decided to try the sweet version.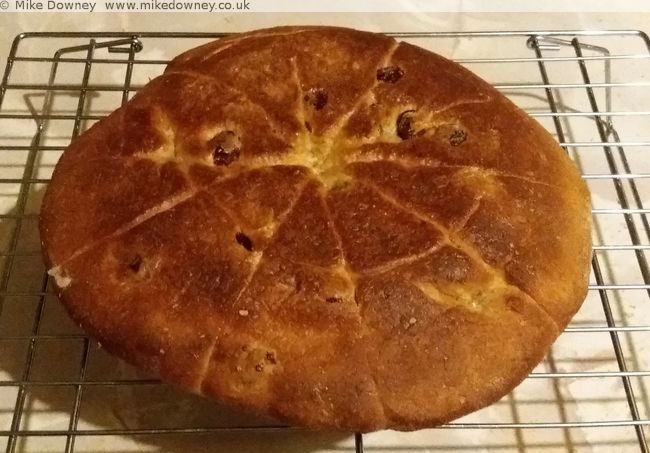 Ingredients
250g Flour (I used a mixture of white and wholemeal bread flour)
125g milk
1 egg
50g butter or margarine (melted)
25g sugar
50g sultanas (soaked in water)
yeast
½tsp salt
½tsp cumin
I simply put everything in the bowl and used our electric mixer. The mixture was a bit soft but I left it to rise for an hour or so before knocking it back and re-kneading it. After the second kneading, the mixture was a bit firmer and easier to handle.
I shaped the dough into a disk, cut some 'spokes' and left it to rise again. Instead of baking in an oven, this bread is cooked in a covered frying pan.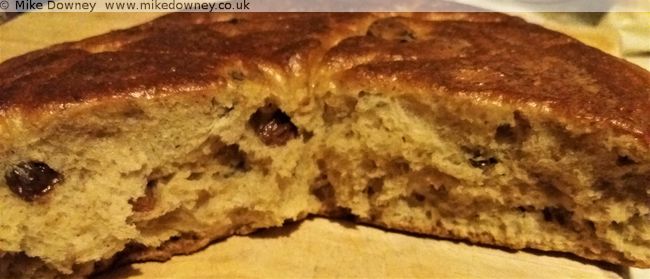 I don't recall having cumin in a sweet recipe before and it works well, probably because there isn't much and the flavour isn't too strong. The bread is a bit like a hot cross bun. If mixed spice mixed fruit/mixed peel was used, it would be difficult to tell the difference between them.
I actually made these a few weeks ago but didn't get around to writing it up at the time. The flatbreads are like a cross between a crumpet and a galette style pancake.
Traditionally they are made using Teff Flour which appears to be naturally gluten free. There are several versions of the recipe which use a mixture of plain flour with some gluten free flours so I decided to try my own version. Originally I used a cup of plain flour with 2 tablespoons each of the other flours but the mixture came out a bit stretchy after fermenting so the version below has the amounts adjusted to reduce the amount of wheat flour to make the mixture less stretchy.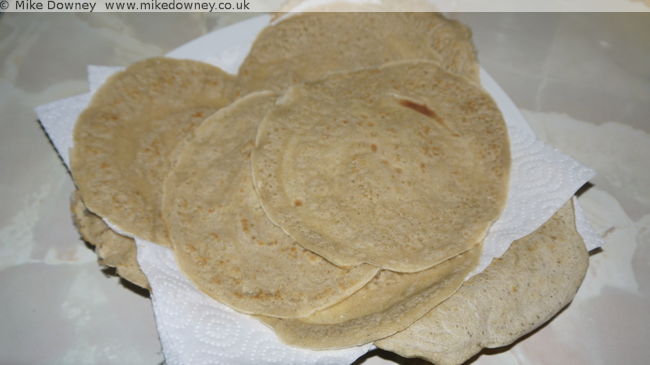 ½ cup plain flour
½ tbs fine cornmeal
½ tbs buckwheat
yeast
salt
1 tsp sugar
1.5 cups water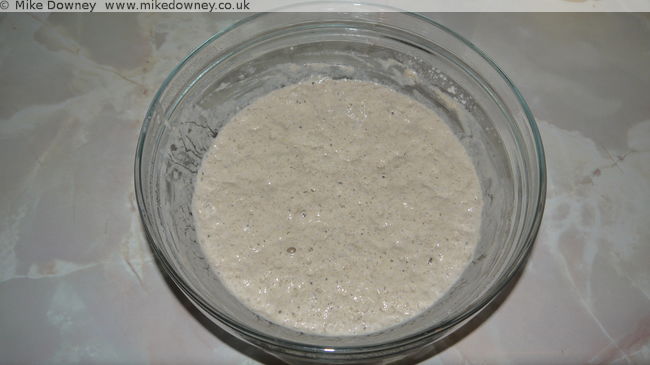 Method
Whisk everything together, cover with clingfilm and leave in the fridge overnight. In the morning, take the batter out of the fridge and allow to reach room temperature.
Heat up any lightly oil a frying pan. Spoon in some of the mixture and spread to form a thin pancake.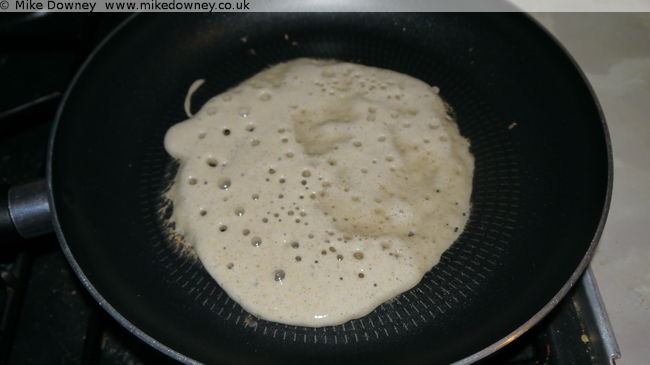 When it has cooked on one side, flip it over to cook the other side. Continue until all the batter has been used. To serve, return one of the pancakes to the pan, add the filling, roll up and reheat.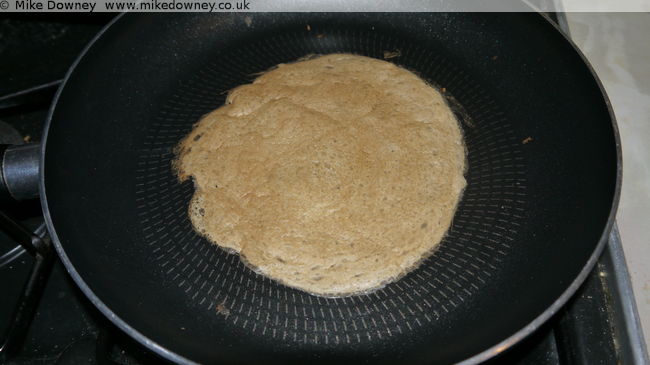 It has been far too long since I posted my last new recipe. I decided to try a sweet steamed bun recipe and tried to find something suitable on the web. I avoided any American recipes which mostly used mixture of 'all purpose' and 'cake flour' and found a recipe taken from a Ken Hom book. I decided to use half the quantities for my initial attempt.
For the sweet filling, I found a recipe for baked Honey Buns which sounded good. This recipe called for dessicated coconut which had been powdered in a food processor. Since we have coconut flour, I tried using that.
Since coconut flour abosrbs a lot of moisture during cooking, I reduced the amount (¾ of a cup instead of a full cup of dessicated) but the first test run came out too dry. I removed some of the mixture, added extra honey and oil and the egg white, to make the mixture softer and wetter, but the final version was still a bit too dry inside. The recipe for the filling is still only approximate since I don't know how much flour, honey or coconut oil ended up in the final mixture.
Making the dough
Put:
90ml warm water
1 tsp yeast
1 tsp sugar
1 tbsp melted coconut oil
190g plain flour
in a mixing bowl. Mix to a dough, knead for a few minutes then leave to rest while preparing the filling.
Mixing the filling
Mix together:
½ a cup of coconut flour
6 tbsp honey
4 tbsp melted coconut oil
1 egg, beaten
The resulting mixture should be soft and slightly wet. This actually makes more than you need for the amount of dough.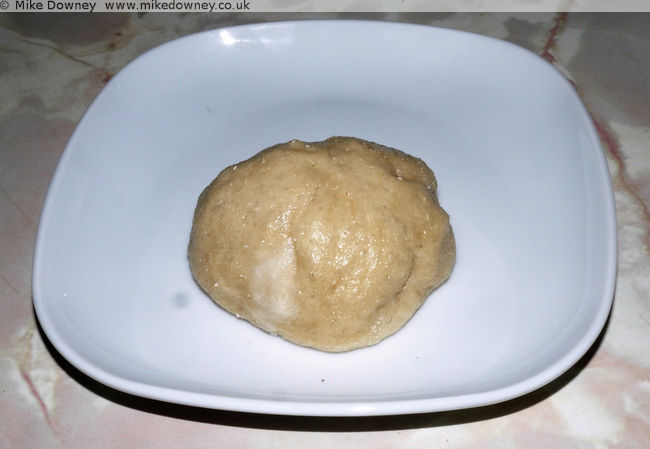 Assembling and cooking
I divided the dough into 6 pieces, flattening them out and placing about a tablespoon of the filling in the middle of eIach. After folding the dough up and crimping to seal the top, I sat each bun onto a square of baking paper.
I used our Instant Pot to cook the buns. To make sure it was warmed up and ready, I poured boiling water into the bottom of the pot and pressed the sautee button while the buns rested and rose for about half an hour.
I cooked the buns using the Steam setting at low pressure for 15 minutes.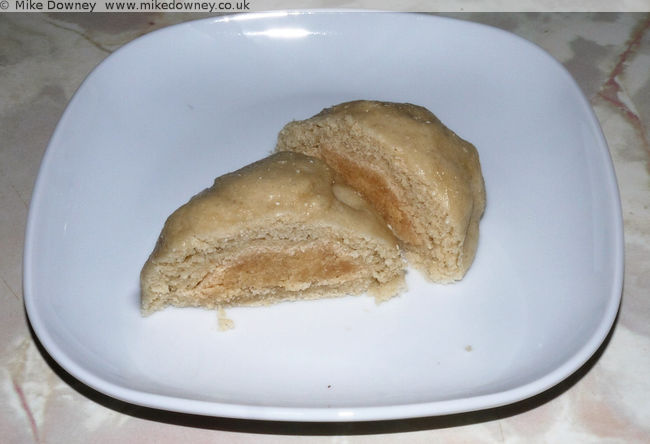 The bun texture came out ok and the filling tasted good. Apart from the filling going a bit dry (which I mentioned earlier), the recipe worked well.
For the letter 'B' I decided to do a version of a traditional Bulgarian Christmas loaf. I had originally intended to make it over Christmas but I didn't find time to do any baking, and since we had lots of cakes and chocolates to eat, we didn't really need more bread.
Ingredients
(For the bread)
2 cups of bread flour
2 tsp yeast
2 eggs
50g softened butter
½ cup water
1 tsp salt
1 tablespoon honey
(For the glaze)
1 tsp of honey
a few drops of water
Mix the water and honey a few drops at a time until the honey is a pourable consistency.
Method
I put all the bread ingredients in our food mixer, with the dough hook, and let it mix for a few minutes. Since this a brioche type bread, the mix was very wet and a bit sticky, which made it difficult to handle and shape.
I broke the dough into equal weight pieces, rolled them into balls and put them in a round tin to prove.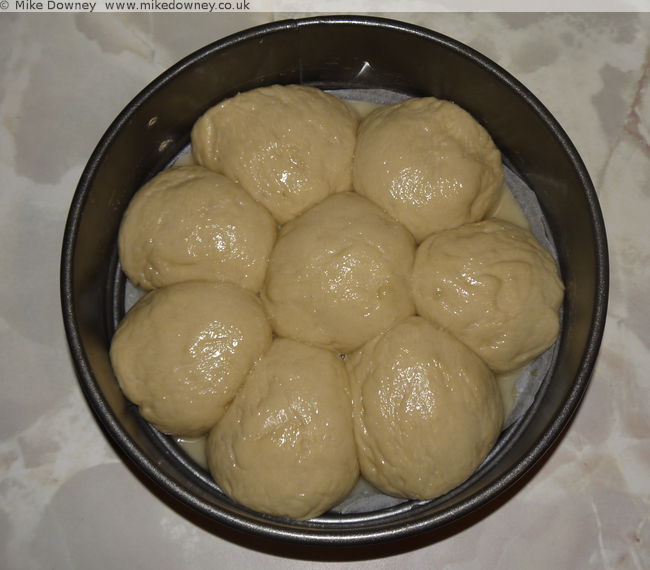 After they had risen, I carefully brushed them with the honey mixture. It was baked in a pre-heated oven (gas mark 5) for half an hour. I started it off covered in foil, but took the foil off after the first 15 minutes.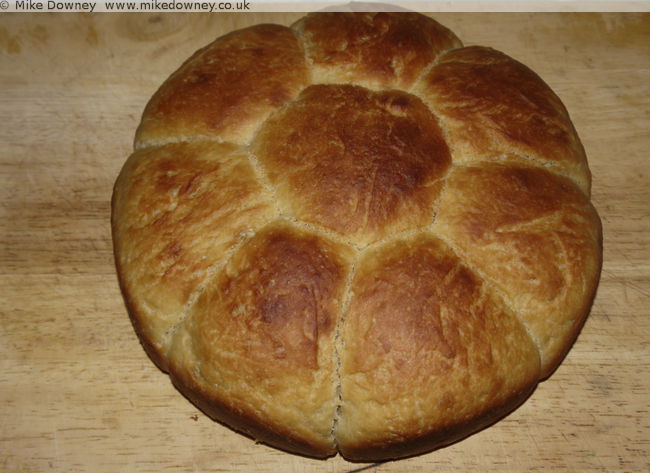 Verdict: a soft slightly sweet brioche with a honey flavoured crust. Definitely one to try again.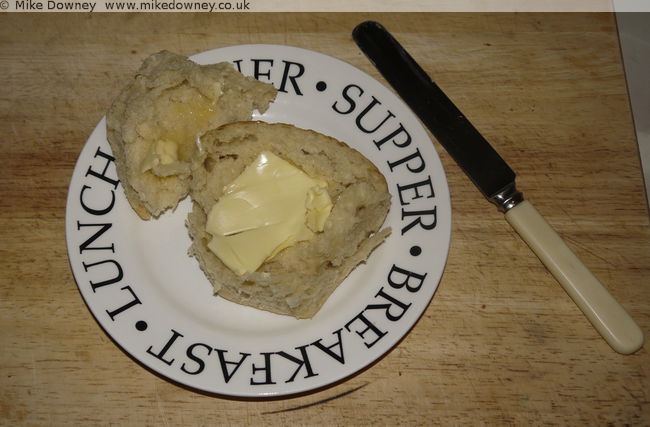 Earlier this year I was watching Saturday Kitchen and they were showing one of the many regular clips from Rick Stein. This was from a series he did in Eastern Europe and it gave me the idea to try to do another alphabetical cooking challenge. I intend to take each letter of the alphabet and cook something from a country or region beginning with each letter.
Originally my plan was to cook a meal but we were recently at a barbecue where the husband was Algerian and his family had provided most of the food. There was a yellow bread which went down really well. When I got home I looked it up and found some recipes.
Khobz El Dar: Algerian Semolina Bread
I took inspiration from a recipe from food.com but I reduced the quantities a bit. Since the bread we ate didn't have seeds on or in it, I left those out.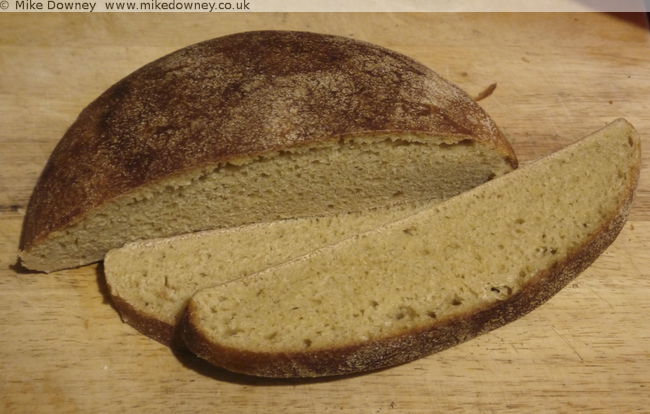 My bread took a long time to rise (I think there were problems with the yeast) and the bread had a slight sourdough taste to it. I had baked with semolina before but this was the first time I had done a bread which was mostly semolina flour. My version wasn't as good as the one we had at the barbecue but it was my first attempt. If I try again, with fresher yeast, it might come out better.
The barley bread was one of the recipes I wanted to try during the main run of the A-Z of baking but I had difficulty tracking down the barley flour. I eventually managed to find some in a vegan/health food shop in Digbeth in Birmingham but by then I had already made the Nottingham Apple Pudding.
The only versions of this recipe on-line seem to be more like a savoury scone than a bread, made with buttermilk and baking powder. I thought I would try to make a more traditional bread, using yeast. Since baking powder was only invented in the mid 19th century, if the barley is a genuine traditional food, then early versions would have used yeast.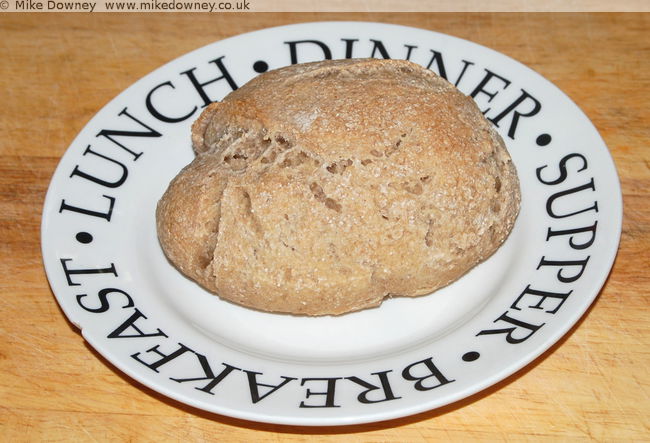 I used a mixture of barley flour and bread flour, added yeast and salt and then enough milk to make a soft dough. It rose quite slowly so I left it overnight. I only made a bread roll sized loaf as an experiment but it came out ok. I will have another go sometime in the future and try a few other variations on the recipe.
When I was compiling the list of recipes for my 'Cakeathon', there were some letters where I found several recipes which I wanted to do. I decided to go through the alphabet once then revisit any remaining recipes.
A couple of days ago I blind-baked a couple of pastry cases, with the intention of making a Chester Pudding. While I had the ground almonds out, I thought I should make a bakewell tart too. I know that the Bakewell Pudding is the genuine traditional item and that the tart is a more modern version. I intend to try the pudding at some point but here is my attempt at a Bakewell Tart.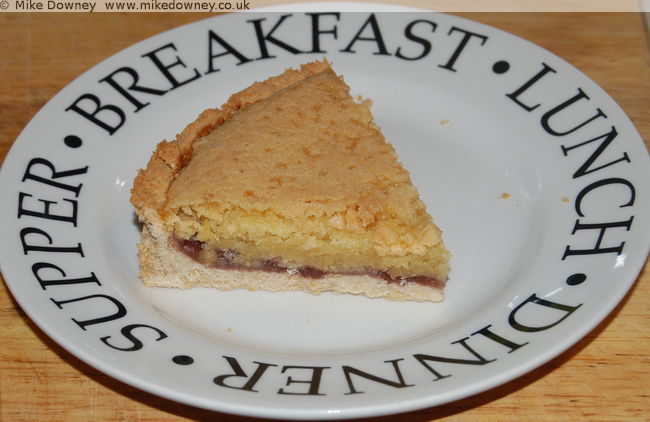 The filling was based on a recipe from a Hairy Bikers programme.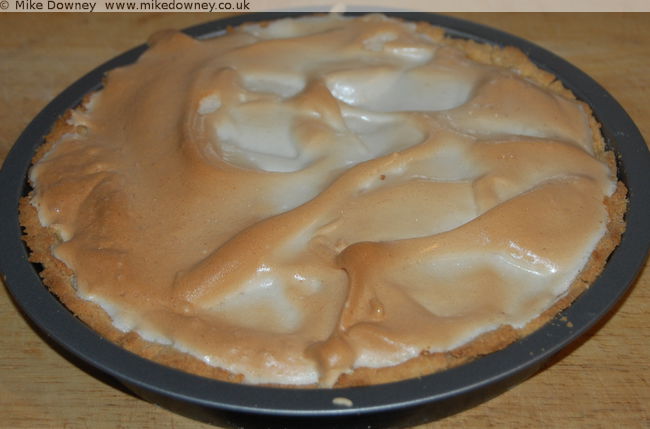 On to the Chester Pudding. While I was researching recipes, I found the there were two completely different puddings with the same name. One was a suet pudding, the other was a version of a Lemon Meringue Pie. I decided to make the latter. This was the same recipe which featured on the TV programme Terry and Mason's Great Food Trip, where Terry Wogan got driven around the country, eating local recipes.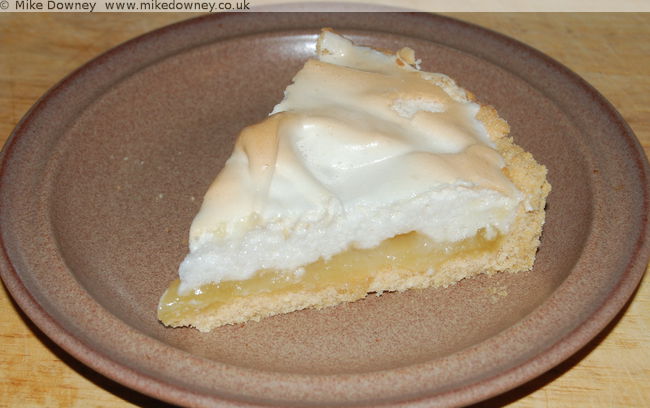 When I read a few recipes, I realised that the lemon and almond layer was actually just a lemon curd with ground almonds and almond essence added. I decided to take a bit of a short cut and mixed a few tablespoons of lemon curd with almonds and spread that on the pastry base.
Apart from the pastry base being a bit thick and dry, both puddings/tarts came out well. The almond filling for the bakewell tart was really good for a first attempt. The lemon and almond layer in the chester tart could probably have benefited from more almonds or almond essence but that's a minor quibble.
At last I have reached the letter Z in my alphabetical trawl through cakes and geography. It only took me a bit longer than I expected. I originally planned to make something every week or so but it ended up taking one year and 9 months. I have had to leave the UK again since the only 'Z' recipes I could find were Zimbabwe or Zanzibar.
I'm not sure how authentic this recipe is. There are many versions on different websites, mostly claiming to be a cookie recipe and mostly identical to each other, so it's not been easy to find where it came from. I came across a book called Cooking the Southern African Way: Culturally Authentic Foods Including Low-fat and Vegetarian Recipes which has the same recipe, but without the lemon glaze. This book claims that the recipe was a British invention which may explain why the so-called cookies are actually more like a traditional scone, but without milk.
We regularly have sweet potatoes in the house, so last time we cooked some I grated and froze a tub ready to make these.
Ingredients
140g butter
40g caster sugar
1 tbs orange zest (the original was lemon zest but I had some orange zest in the freezer)
1 tsp mixed spice (the original used nutmeg)
60g honey
1 egg
140-180g grated sweet potato
400-450g self raising flour (the original used plain flour and separate raising agents)
a pinch of salt
Method
I started by softening the butter then beating in the sugar, orange zest, mixed spice, egg and honey. I stirred in the grated sweet potato then sifted in enough flour to make a soft dough. I broke off lumps of dough, rolled then into balls then flattened them into cookies. These were baked at gas mark 3, 170C, for 15 minutes. While the scones cooled, I mixed the icing.
Lemon Glaze
The various versions on-line usually have a teaspoon of lemon juice then small amounts of water are added to get the right consistency. I didn't measure the icing sugar. I started with generous teaspoon of butter which I melted then added the icing sugar. I added enough lemon juice to form a spreadable icing.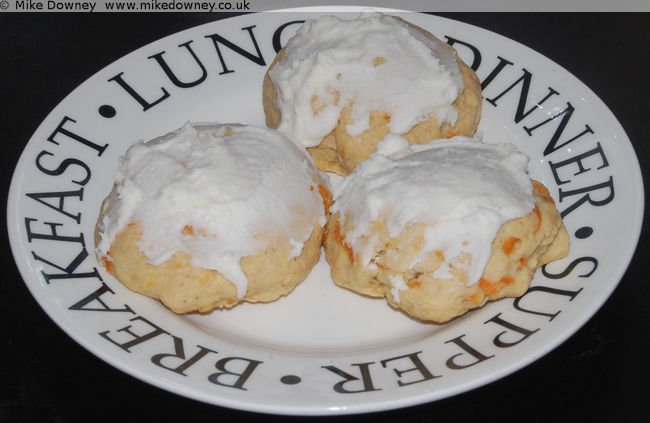 The so-called Sweet Potato Cookies.
As I said earlier, these were more like a scone than a cookie. One of the small ones had cracked so I tasted (un-glazed) it while the rest cooled. The combination of orange and spice flavours worked very well. The lemon glaze added a bit of sharpness which worked well.
I first tried a Yorkshire Curd Tart back in 2010 when we went to the Otley Agricultural Show. I quite liked it so it was the natural choice for me to make for the letter Y.
The pastry base was a standard shortcrust, not the sweet enriched pastry often used for dessert tarts or pies. I figured that the traditional version of a recipe like this would have a more plain pastry.
I've never had much luck with pastry so after baking blind for 10 minutes, I removed the baking beans and put the case back in the oven for another 5 minutes to dry out a bit more.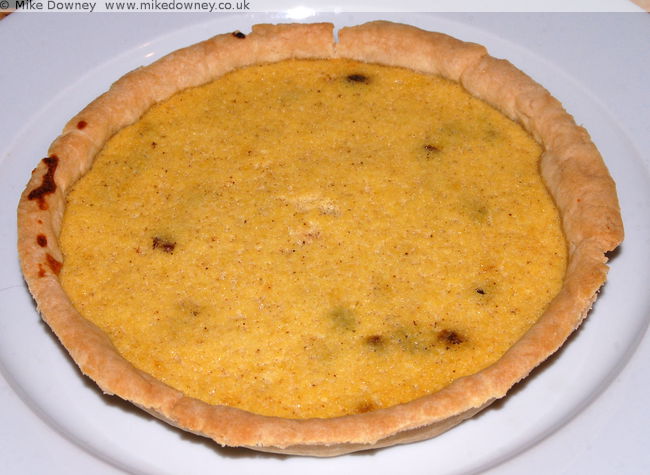 The filling was made by creaming together 50g of caster sugar and 50g of softened butter. I added a teaspoon of mixed spice and 2 small eggs then the curd cheese. We use Quark semi-regularly so instead of making fresh curd cheese, I tipped in what remained in the open tub in the fridge, which was a bit over 100g. I then added 50g of sultanas.
I poured the mixture into the pastry case and baked it as gas mark 4 (180 °C) for about half an hour or so.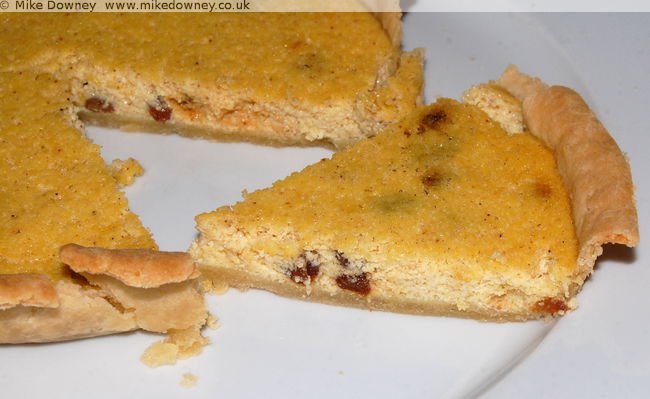 Despite my precautions with the pastry case, the base was very soft and the sides were a bit too crispy. After baking, there was a strong buttery smell in the house and I was worried that the filling had separated but it hadn't. The tart tasted good, not too rich or sweet. It would probably go well with a cup of coffee.
My choice of recipe for the letter X is a bit of a cheat, since of course Exeter doesn't start with that letter. I have also had to more or less abandon my original idea of doing recipes named after places I've been to or those with some significance or importance to me. I've not actually been to Exeter - the nearest I've been is driving past on the motorway.
I originally found the Exeter Pudding in the ever useful Cassell's Dictionary of Cookery. I had brioche crumbs in the freezer (which has to be a candidate for one of the most middle class things I've written) so I used those for breadcrumbs. I didn't have any rum or lemon rind so I added some limoncello to the breadcrumb-custard mixture.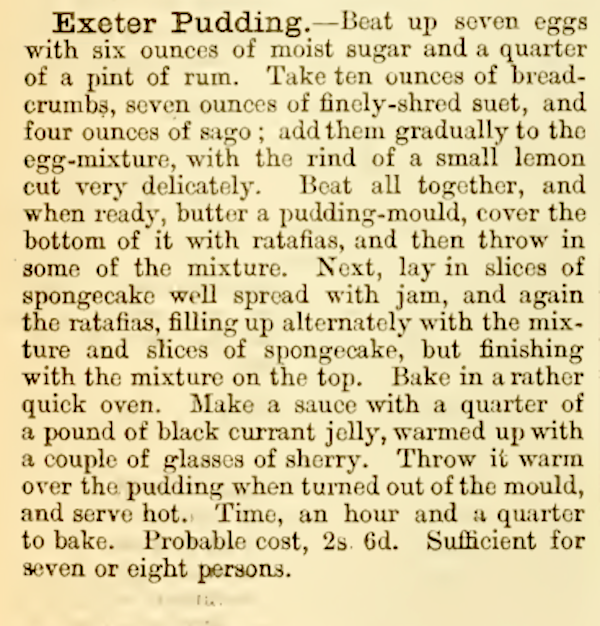 Last night I made a couple of small sponge cakes, using the simple but reliable equal weights recipe. Tonight I assembled the pudding and baked it:
Ingredients
Sponge cake
2 eggs (about 120g)
120g butter
120g self raising flour
1 tsp vanilla extract
Exeter Pudding
150ml double cream
150g breadcrumbs (from a chocolate chip brioche I made earlier in the year)
75g unsalted butter
3 eggs
a couple of tablespoons of limoncello with milk added to 150ml
Ratafia Biscuits
Method
I buttered a pyrex dish, sprinkled a handful of breadcrumbs over the base then covered with a layer of ratafia biscuits. I melted the rest of the butter and mixed it with the rest of the 'wet' ingredients. I poured a thin layer of this over the ratafia then added a layer of sponge cake, which I had spread with raspberry jam.
I poured some more mixture over, added more ratafia biscuits, more mixture, a final layer of sponge cake then the rest of the mixture. I covered the dish with foil and baked for about an hour at gas mark 4.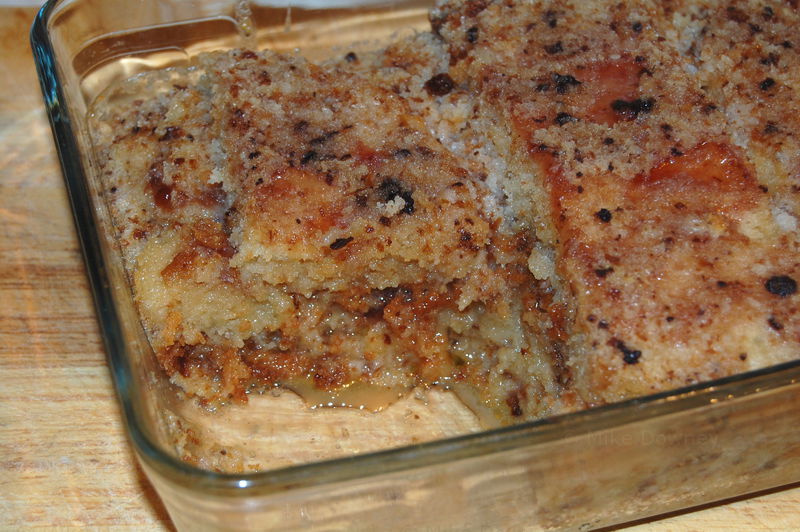 The pudding was a bit sweet but the flavours were good, possibly thanks to the ingredients which went in - you can't really go wrong when a pudding contains cream, brioche and a rich sponge cake.