Last week I mentioned the chicken pizza base. We also occasionally make a pizza base using turkey mince. It's made from mince, seasoning and an egg. The mixture is quite sloppy so it needs to be spooned into a pan and spread out to cook.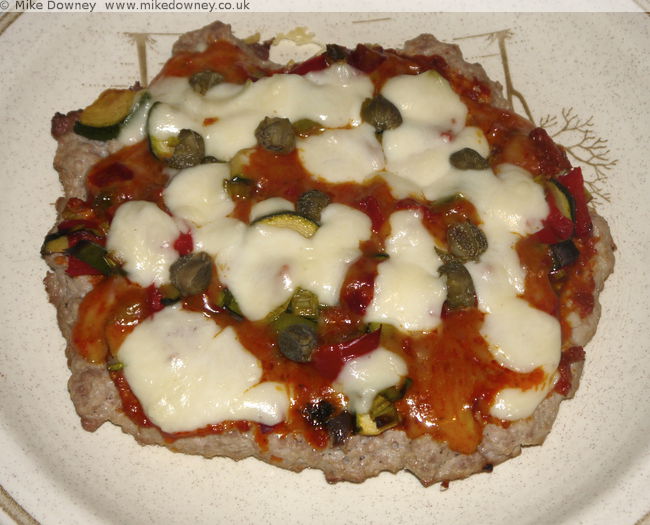 After it has cooked, it gets topped and cooked in the oven as before, to let the cheese melt.
We have been experimenting with alternative pizza bases recently. I had already tried a root potato pizza base a few years ago and we did one again recently. Something else we've been trying is removing the bread altogether, putting the meat on the bottom with vegetables and cheese on top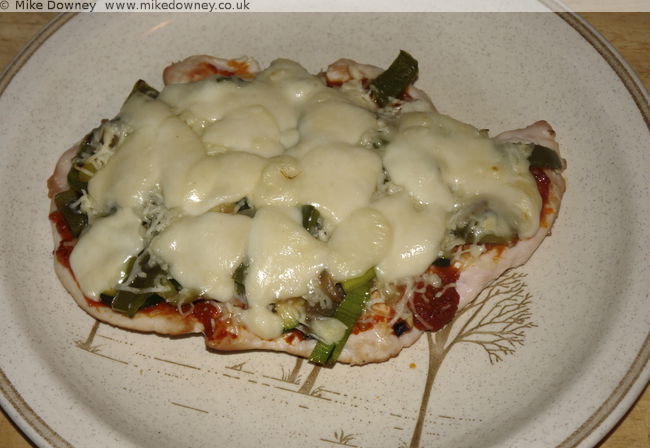 We took a chicken breast, flattened it out then fried it. After that it was topped with tomato sauce, vegetables and cheese. Since the base and vegetables were pre-cooked, it only needed to go in the oven until the cheese had melted.
(Reposted from The Pizza Blog)
Last month we went on a short break to Lincolnshire and brought back some locally made flavoured cheeses (the Lymm Bank cheeses we often get from the Living Heritage country shows we go to).
We have just got back from a week in France and brought back a range of different foods, including some smoked horsemeat sausages. I've probably accidentally eaten horsemeat, especially given how widespread the food contamination problem was last year but this is the first time I have knowingly eaten it.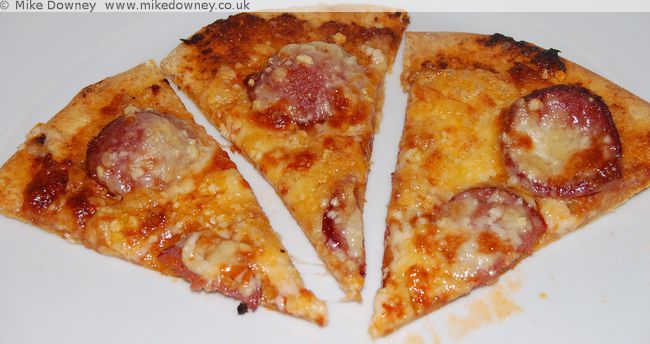 The pizza has slices of the sausage topped with slices of horserasish cheese so I felt that it should be called a '2 Horse Pizza'.
This post also appears on the Pizza Blog.
The 6 cheeses were:
Cream cheese mixed with basil puree, spread on the base
Grated mature cheddar
Grated pecorino
Grated applewood smoked cheese
Sliced goats cheese
Shredded mozzarella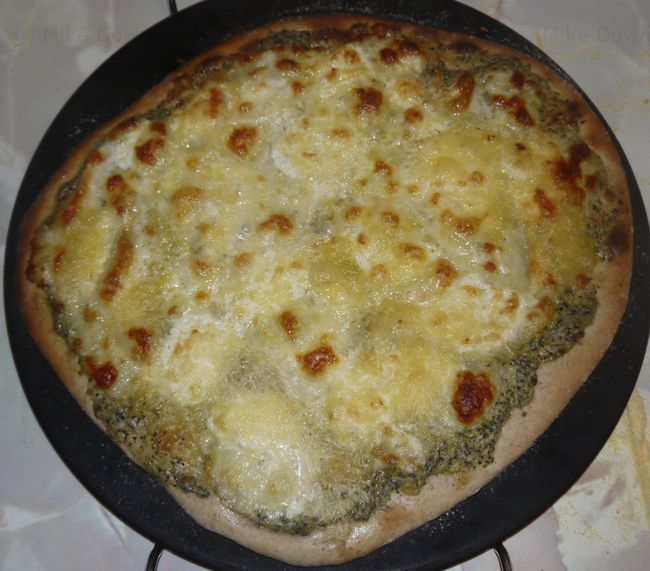 This week's Saturday night pizza took place on Sunday. One of the pizzas was inspired by a recipe by Hugh Fearnley-Whittingstall, from his latest tv series 3 Good Things, which highlights simple recipes using 3 main ingredients. The recipe was originally for a pasta bake but I decided to have a go at using it as a pizza sauce.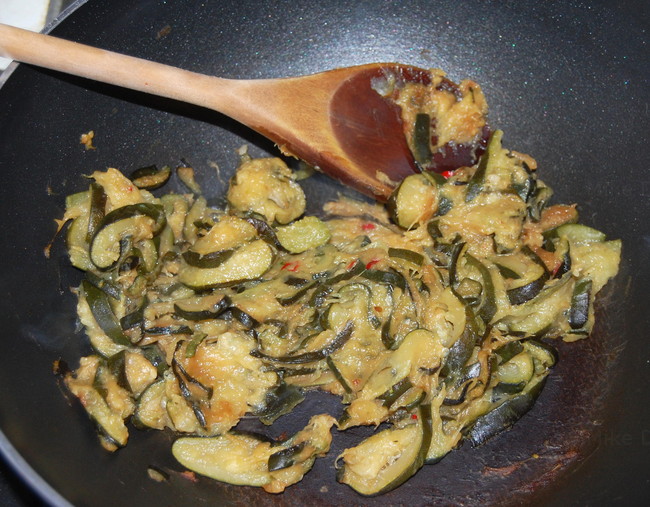 I started by cooking the sliced courgettes in a little oil.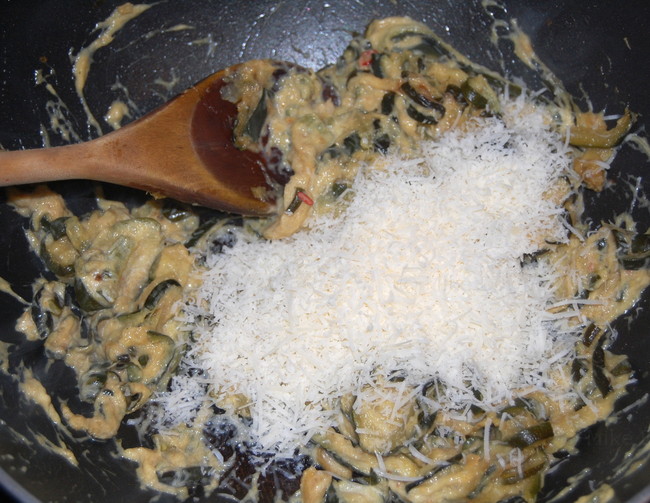 When the courgettes were cooked down, I added a splash of double cream (just enough to mix in to make a smooth sauce) and a handful of grated parmesan.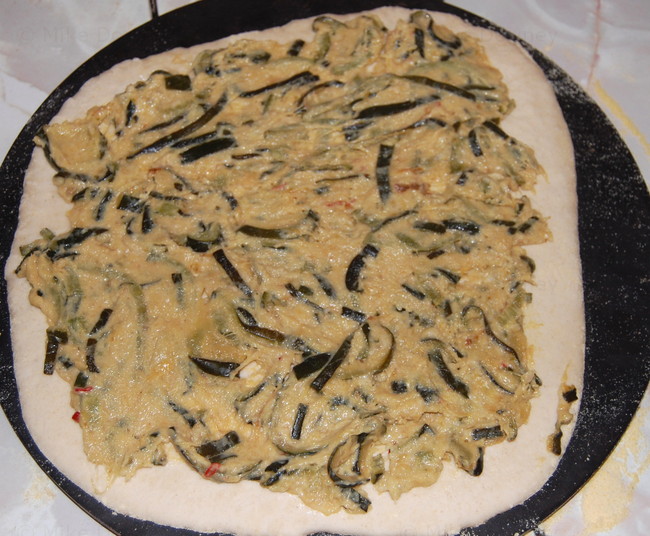 I spread the courgette mixture onto the pizza base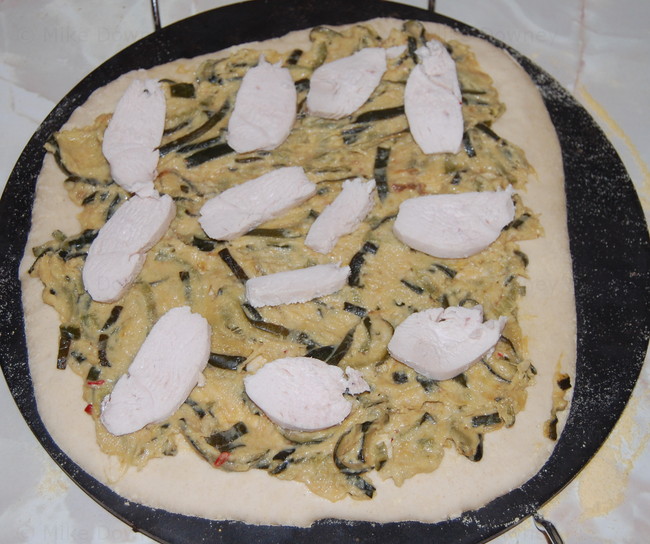 Topped it with sliced chicken.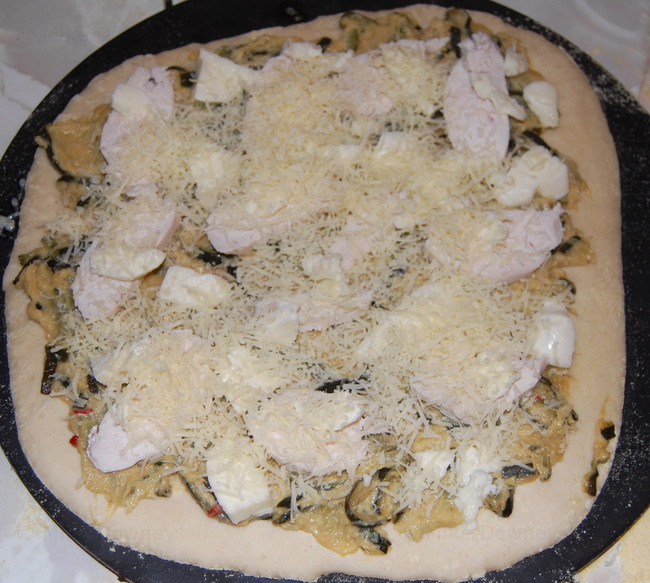 Then added mozzarella and sprinkled with grated cheddar.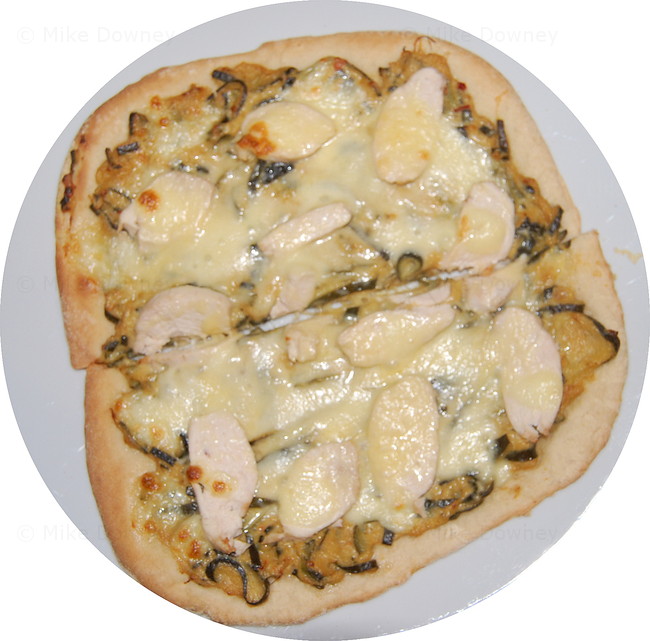 I was a bit worried that the final cooked pizza would be a bit soggy but it was fine. In the spirit of the original programme, I kept the toppings to a minimum but the courgette mixture was full of flavour and worked well on a pizza.
Some of the fruit and veg stalls at Coventry market sell bowls of fruit and veg for £1. We occasionally buy things like bowls of peppers but this morning we decided to also get a bowl of fennel. Now this is a vegetable which we occasionally buy from the supermarket but then it's only 1 bulb at a time. This time we have 5 bulbs of the stuff to use so we're going to need to be a bit creative.
We have a pizza book which has dozens of different recipes for toppings and sauces. One was a fennel sauce which has diced onion, fennel and garlic which is fried then simmered in tomato sauce. We gave that a go and topped it with salmon, anchovies and capers. And cheese of course. I might try it again if we find ourselves with excess fennel again.
Saturday is our regular pizza night and we occasionally struggle to think of new toppings to try. This means we often get stuck in a rut and keep repeating ourselves with various combinations of chicken, vegetables and chilli. Last night we opened one of those Heinz 'fridge jars' of baked beans, which means we have to finish the pack within 5 days. We don't have baked beans very often but Emma suggested combining beans and pizza and replicate the baked bean pizza which was available back in the mid-90s.
I started off by spreading a few tablespoons of baked beans over the pizza base then added sliced chicken, chillies, mozarella and grated cheese.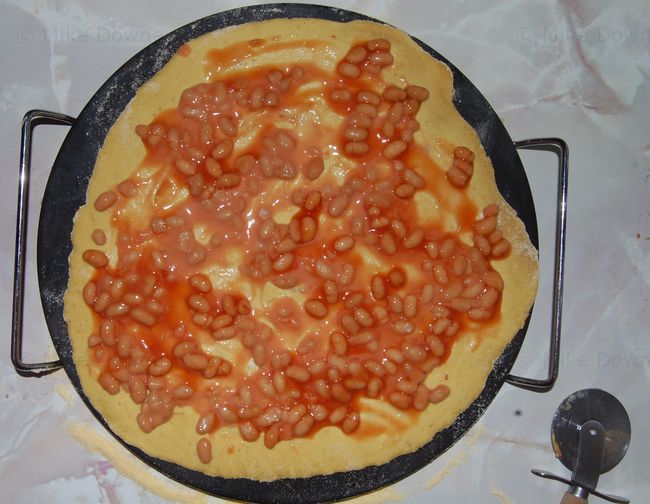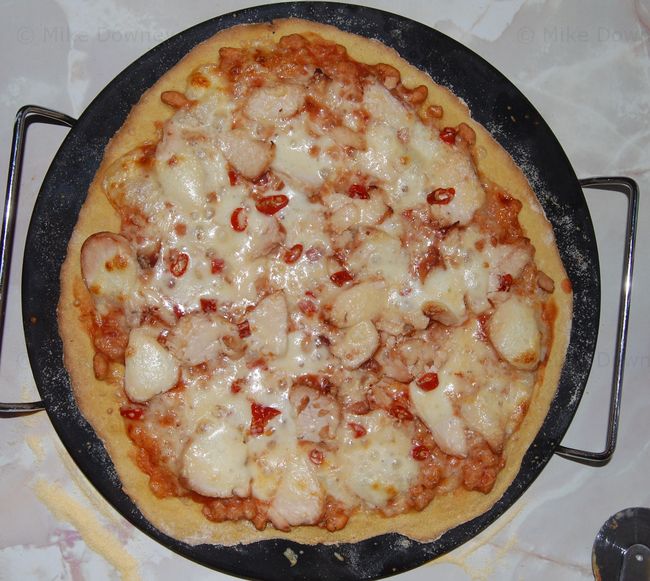 This post also appears on the Pizza Blog
Our semi-regular trip to Pizza Express for St. Valentine's Day.




Click on the thumbnail to view the image
The pizza base was made using some root vegetable mash which was in the freezer. I can't remember which vegetables were there but I think it included carrots, sweet potato and possibly turnip. The mash was quite coarse so I puréed it, added 3 quail eggs (equivalent to 1 small egg) and a splash of vegetable oil. I gradually added plain flour and cornmeal until the texture became a bit dryer and more dough like. I didn't add any yeast.
I roughly shaped the base before putting it on a hot pizza stone, followed by a bit more spreading out. The pizza sauce was our usual favourite, red pesto. I topped the pizza with some thinly sliced onion, courgette and chilli pepper, then sprinkled on some assorted cheeses.
I cooked it for the usual 15 minutes at gas mark 7. The base was very similar to a shop-bought potato cake but with a lot more flavour.
The pizza dough was based on our normal pizza base with a few changes: We used 1½ cups of plain flour and ½ cups of fine polenta, and we added a teaspoon of dried chillies to the mix. We no longer add the vegetable oil but add 1 medium egg (or about 5 quail eggs).
The sauce was made by mixing together 1 tablespoon of wasabi powder with 1 tablespoon of cream cheese. For the topping we grilled 2 tuna steaks and flaked them onto the pizza. We added grilled asparagus and a sprinkling of capers. Finally we topped it with grated cheese and cooked in a hot oven for 15 minutes.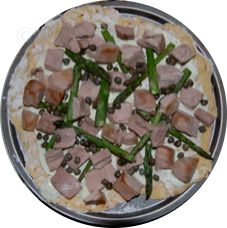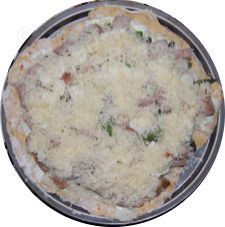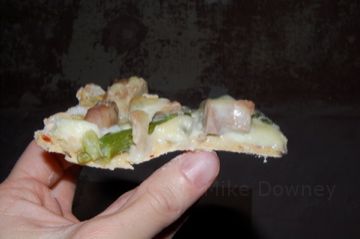 This recipe also appears on our Pizza Blog.