We bought some gram flour with the intention of trying some onion bhajis. We actually made gram flour pancakes first, basing it on a normal pancake batter recipe. We made a chicken korma filling by finely dicing and frying some vegetables then adding a packet of ready made curry (I know that's cheating but we usually buy that sort of thing if we see it cheap in the supermarket. They're handy to have in when you need to make something in a hurry).
We made the Onion Bhajis tonight. The batter was made using 2oz of gram flour, 2fl oz of water, a pinch of salt, a pinch of crushed chillies, a pinch of ground ginger, 2 crushed cloves of garlic, and a heaped teaspoon of curry powder. I chopped 2 small-ish onions, mixed them in the batter and shallow fried them, turning them over when they started to look cooked on one side.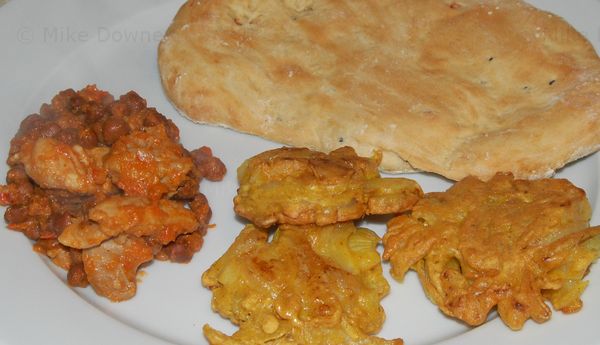 The bhajis were served with a chicken and chick pea curry (based on this recipe but using tomatoes, red peppers and onions as the sauce base) , and home-made naan breads.