The pasta bake makes enough for 4 servings. We ate half on wednesday and put the rest in the fridge. We finished it off tonight and like a lot of such foods, the flavours seem to improve after a few days.
Method
Pre-heat the oven to gas mark 4.

Dice and fry some vegetables: 2 medium onions, 1 small courgette, 1 pepper, a couple of cloves of garlic.

Cook 250g of pasta.

Drain one tin of tuna.

Make a cheese sauce (approximately 400-500ml or so). We made a roux using 40g of butter and 40g of flour. We added 100g of grated cheese, 1 tablespoon of wasabi paste, and a sprinkling of chilli flakes.

To assemble, mix the pasta and vegetables in a pyrex tray. Stir in a couple of tablespoons of tomato puree and the tin of tuna.

Stir in the cheese sauce and top with a mixture of grated cheese and seeds and/or breadcrumbs. We used some ground-up Wasabi Peas (from Marks & Spencers) to give a crunchy texture and extra wasabi flavour.

Cover the tray with foil and bake for 40 minutes, removing the foil 10 minutes before the end to crisp off the toppings.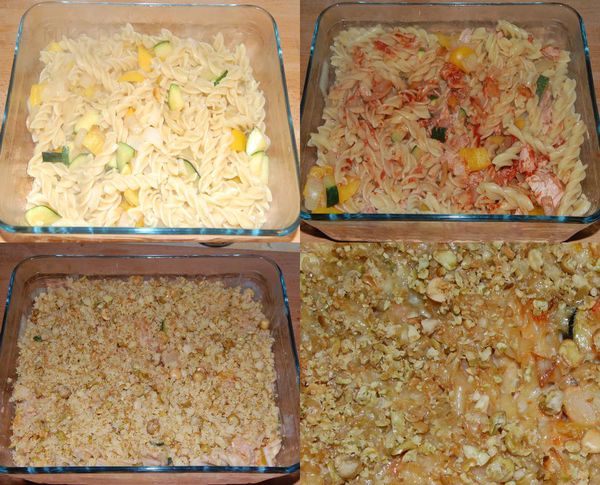 Clockwise from top left: 1) Pasta and vegetables in the pyrex dish. 2) Tuna and tomato puree mixed in. 3) Ready for the oven. 4) Close up of the crispy topping.