This year at the German Market, I decided to try a few new things, so instead of just choosing at random, I picked something new or different.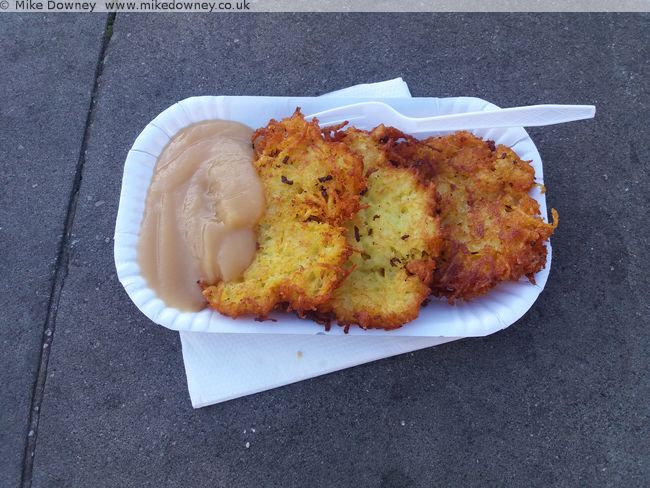 There were a couple of places selling potato pancakes. The first one I went to was serving 'plain' pancakes with either icing sugar or apple sauce.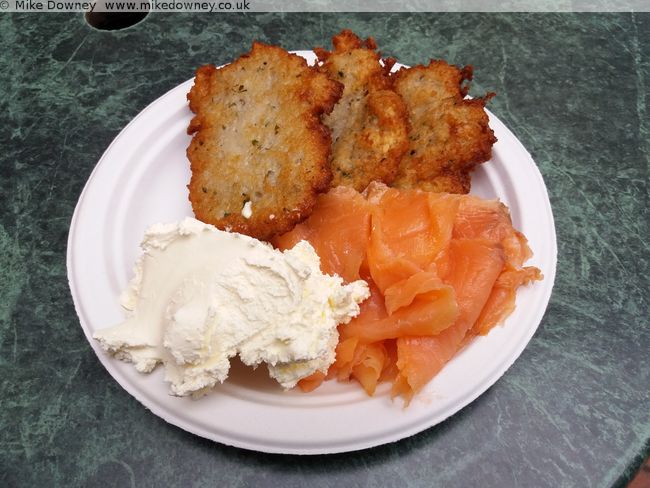 A few days later I went to a different stall and had savoury potato pancakes with smoked salmon and creme fraiche.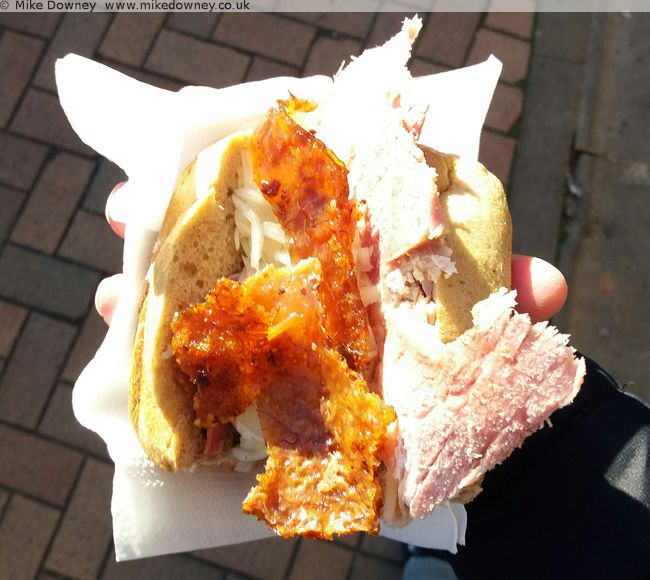 Roast pork bap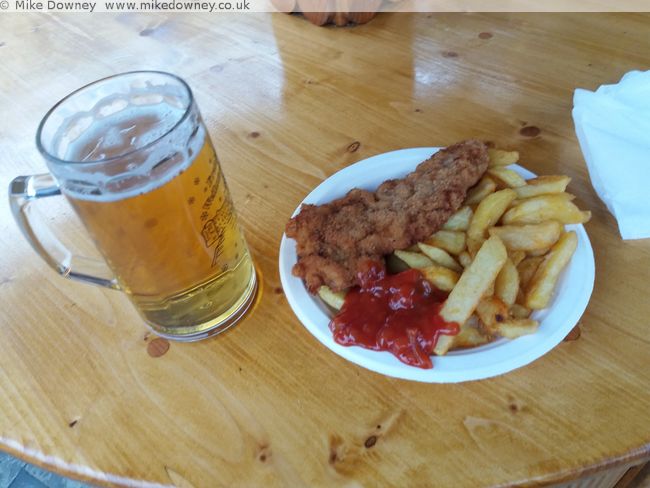 Schnitzel and chips
The food market was back in Victoria Square so I went again to see what was available. There was a new Turkish Food stall which I hadn't seen before so I decided to get my food from there and used the random number app to choose off their menu. I had a spicy chicken wrap which was well filled and tasty.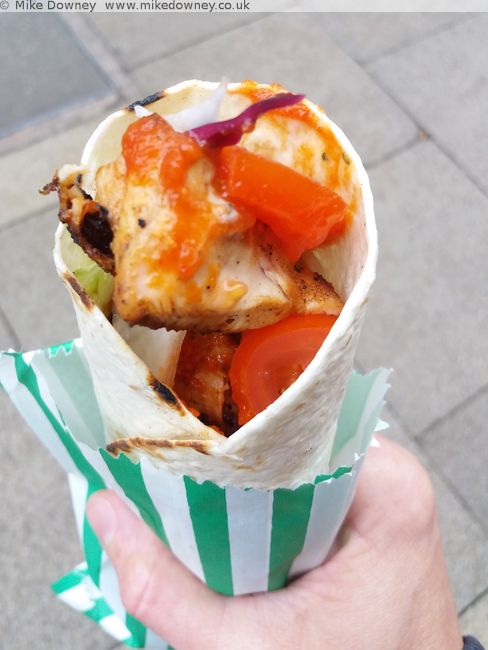 A few weeks ago I went to the food market in Victoria Square and randomly chose which stall to get my lunch from. I ended up at the vegan burger one. I thought I'd try the pulled-pork style Jackfruit Burger. The 'cheese' was a bit strange but the burger itself was ok.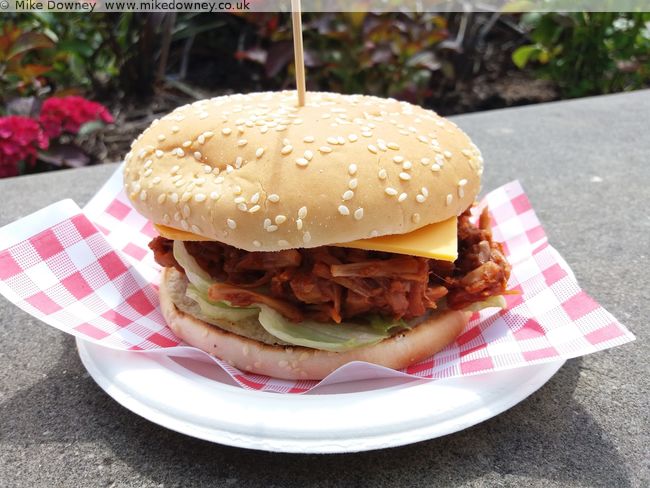 I did the same thing today but the first roll of the virtual dice selected the coffee van so I tried again and ended up with a tray of filled dumplings. They were nice but the best part of the meal was the crunchy chilli sauce which had crushed nuts in it.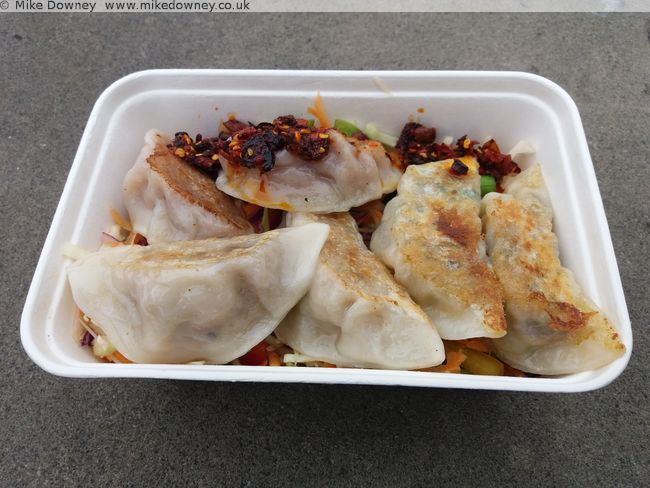 I have done a few more Lunchroulette dinners this year which I didn't blog about at the time. In approximately chronological order, they are:
Chicken Fillet Sandwich Meal
The randomly chosen meal type was Burger and I rolled a 10 on the computer generated dice. I picked a route at random and walked towards the city centre, counting the burger places along the way. I ended up at Love Chicken on the High Street. I chose a chicken fillet sandwich meal (I can't remember the exact name for it but it was slightly spicy chicken fillets in a bun).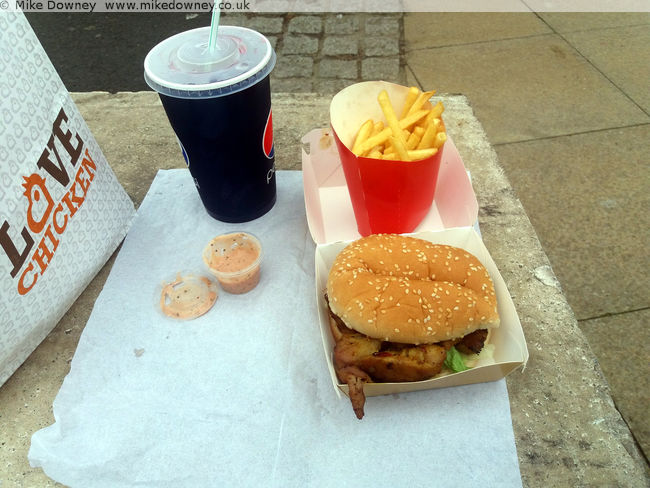 Rib Platter
This was a pub lunch with some collegues from work. I used the random number generator to pick a panel from the menu then an item from the panel. I ended up with the full rack of ribs. Good but huge.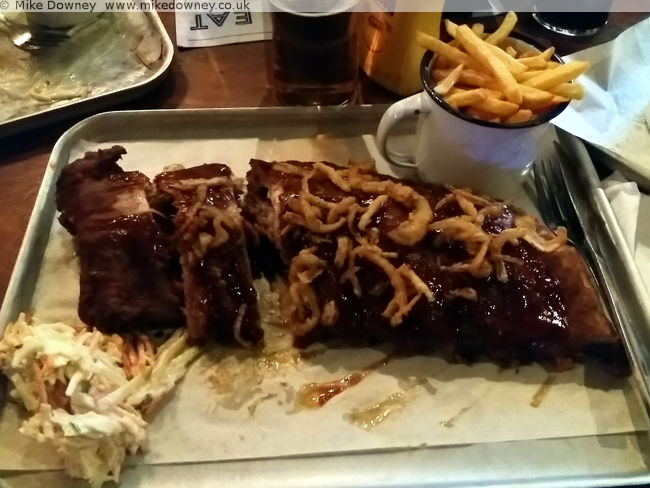 Chicken and Chips
I regularly walk past Big John's take-away but this was the first time I had gone inside. It was nice to get proper chippy style chips instead of the thin french fries which most take-aways do. Two pieces of chicken and a box of chips turned out to be a lot more food than I expected.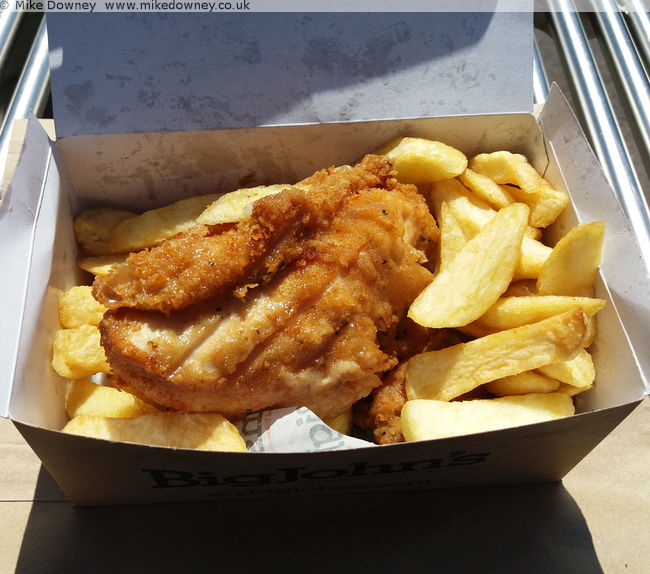 I went back to the German Market again and picked a random stall to buy my lunch. This time it was one of the Pretzel stalls. The salami pretzel sounded good so I bought one of those.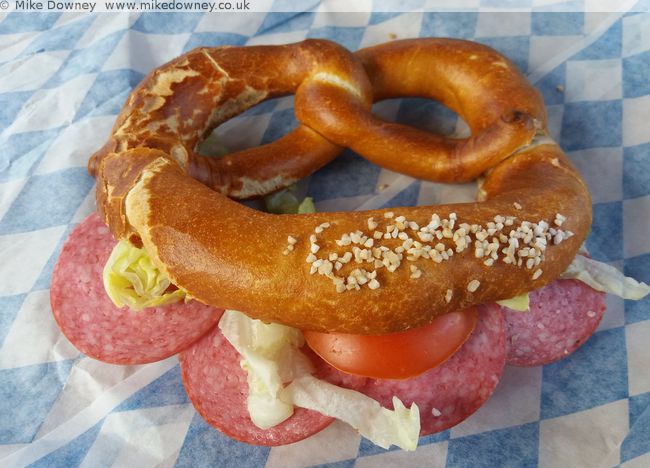 The pretzel was pretty much what you expect: soft, chewy and very salty on top. I had change left so I thought I would try a dessert next. The choice of desserts was reasonably wide and included pancakes, sweets, cakes, marshmallows or chocolate coated fruit kebabs. The dice took me to a marshmallow stand.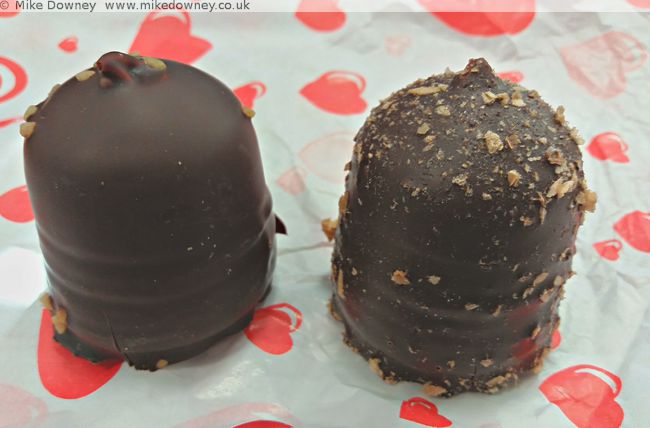 I chose an orange and a gingerbread one. The marshmallow is softer and stickier than the sort you get in bags, and sits on a small waffle or wafer-like disc.
The German Market is in full swing in Birmingham and I am still using the random number app to choose my lunch.
Chicken Schnitzel
The dice took me to a schnitzel stand which offered a choice of different meats. I let the dice decide and came away with a chicken schnitzel. I also got some chips to go with it.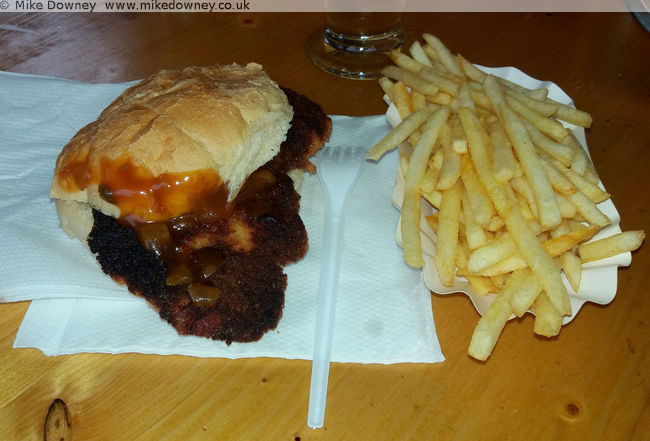 I had asked for the mushroom sauce and I think they gave me the curry sauce but it was still good, and went well with the schnitzel.
Half metre sausage
The choice was a bit easier this time. The dice chose the half-metre bratwurst stand so I didn't have any extra choices to make. I didn't let the dice choose my condiments, I added half ketchup and half mustard.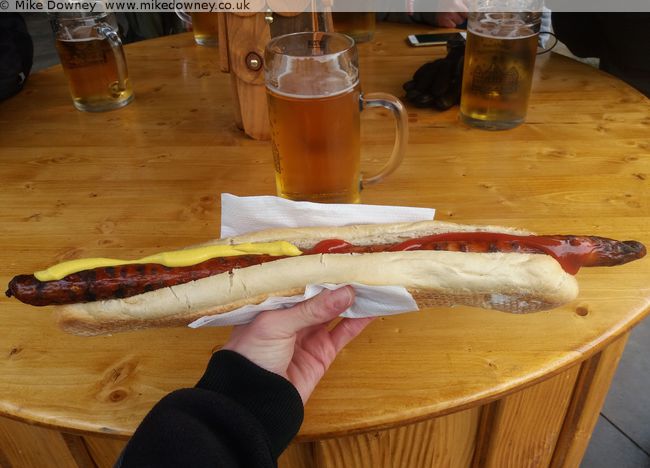 The sausage was fine but the bread was a bit chewy. Although it looks a lot of food, I still felt hungry afterwards.
This was another 'make room in the freezer' baking session. I had more grated pumpkin in the freezer, along with some 'shop damaged' bananas (6p for a bag). I defrosted them and made two cake mixes. My idea was to pour them in opposite ends of a baking tray, giving the middle a swirl so the ends were one type of cake and the middle had both combined.
Recipe
The original recipe was based on the pumpkin cupcakes. I beat together 175ml of vegetable oil, 3 eggs and a teaspoon of vanilla extract, then divided the mixture in two.
In one half I added the pumpkin cake ingredients (but using cranberries instead of sultanas):
85g golden caster sugar
100g of grated pumpkin
50g cranberries
1 tsp cinnamon with ½ tsp of mixed spice
In the other half I added
85g of drinking chocolate powder, with an extra tablespoon of sugar
100g mashed banana
50g sultanas
Both halves also had
100g self raising flour
½ tsp of bicarbonate of soda
I poured the two batters into a 10x6 inch tray. I expected the cakes to take about half an hour at gas mark 4 but it was well over ¾ hour before the middle stopped being liquid.
When the cake had cooled, I made a lemon juice icing, slightly runny so I could drizzle it over the top.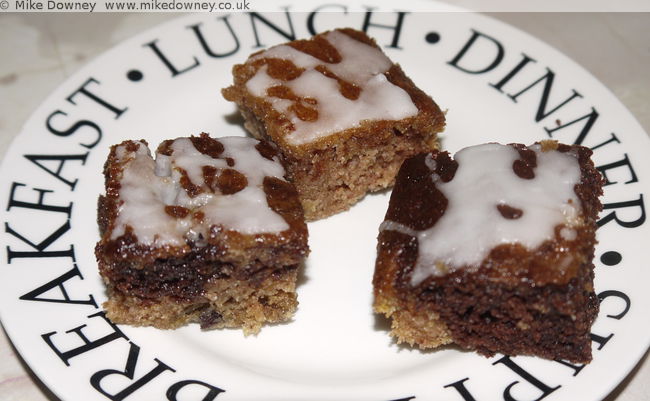 I took some of the cake to work to share (since that was where the hot chocolate powder came from, it was only fair to do that). People seemed to like it - I got favourable comments from people, someone even noticed that I had used an oil based recipe. Both cakes were definitely worth doing again.
The German Christmas Market returned to Birmingham last week. We popped out for an inaugural pint or two when it opened but this week I decided to get some food. Instead of using the Wheeldecide website, I used a random number generator app on my phone to choose which of the many food outlets to choose.
I found myself in front of a chalet-style take-away which had a range of different menu items all based around burgers, potatoes and mushrooms. Instead of letting the dice choose how much I ate, I went for the full menu since I didn't want to end up hungry.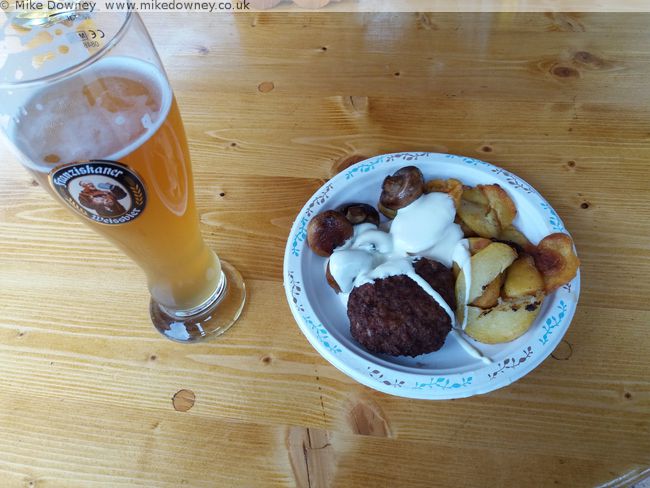 The garlic sauce was a bit too strong but the meal itself was good, as was the wheat beer.
When we scooped out the pumpkins to make Halloween lanterns, I grated and froze the flesh so I could try cooking something with it. The pumpkins which are sold for lanterns are usually a lower quality and aren't recommended for eating so I thought I would start with something where the pumpkin isn't the main flavour, so I could probably get away with a lower quality ingredient.
I found a recipe for cupcakes. It was pretty much a carrot cake but using pumpkin instead of grated carrot. The recipe called for grated orange zest but I didn't have an orange so I left that out.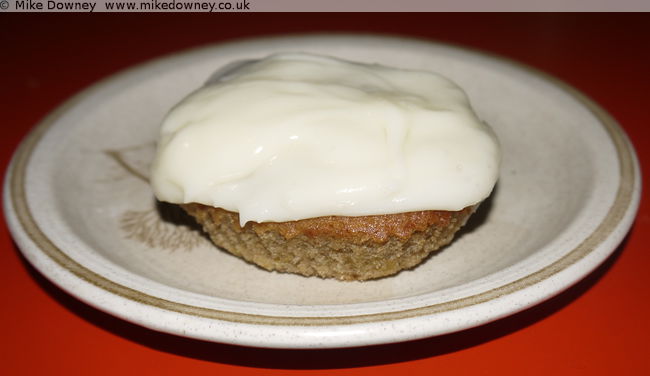 I tried one of the cakes last night, when they were still a bit warm. It tasted ok but that was before I had made the icing. Tonight's cake, with a generous layer of cream cheese frosting, was definitely an improvement.
I carried on trying out different porridge recipes this week. A couple of highlights are below.
Apple and Blackberry Porridge
When I made the apple puree a few weeks ago, I bottled and froze the juice which collected in the bottom of the pan. I used it to make an apple and blackberry porridge.
Tropical Fruit Porridge
I used coconut water instead of milk, and added some tropical fruit mix.