We seem to have gone through this week without cooking anything new or original. Today's lunch was something we haven't made before, but that was just a quick pasta meal using a tin of condensed chicken soup as the sauce. We fried some leeks and added those.
A couple of weeks ago we bought 2 bags of going-out-of-date chilli peppers - they were a mixture of red and green chillies. I dried some by cutting them in half and putting them in a foil tray. I put some of the trays in the oven, at gas mark 1, for a couple of hours. The other trays I put on the radiator and left them for a week. The oven-dried chillies had turned brown whereas the radiator-dried ones had kept their colour. I put the dried chillies in a food processor and blitzed them to make chilli flakes.
Today I decided to try to make a chilli sauce from the remaining chillies. I chopped the chillies, sprinkled them with salt and put them in the fridge for a few days. The next step was to put the chillies, 1 clove of garlic, some spices (mustard seed, onion seed) and a splash of vinegar in a food processor and blend to a purée. I simmered the purée for a few minutes before putting it back in the food processor to make a smooth paste. I added equal amounts of water and vinegar until it reached a decent pourable consistency. I've put the sauce in a jar in the fridge to mature for a few weeks before I try it.
The latest issue of the English Heritage magazine arrived earlier in the week. There was an article about Grimes Graves and when I saw the picture of a flat landscape full of hollows, it immediately recalled the book Company of Liars. There is a sequence towards the end of the book with a very similar landscape.
The hollows were very close to 'The Hermitage' which is marked on the map in the front of the book. This seems to be very close to the site of Grimes Graves, so it looks like it provided inspiration for the location.
We aren't very adventurous with our carbs, mainly sticking to pasta or rice. We don't eat potatoes very often but we sometimes have sweet potatoes. I was looking for a recipe to use bulgar wheat and found a recipe on the BBC Good Food website.
I followed the recipe reasonably closely, reducing the quantities because I was only cooking for 2. I cooked the beans last night, starting with soaking 100g of dried beans in boiling water:
Simmer the beans for 5 minutes. Drain.

Cook for 10 minutes in a pressure cooker. Leave to cook.
To make the burgers:
Finely chop 1 red onion and 1 clove of garlic (or cheat and use a food processor - chop but not purée).

Fry the garlic and onion until soft.

Simmer 25g of bulgar wheat for 5-10 minutes until soft. Drain.

Stir in the spices (1-2 tsp of whatever you fancy) and add the cooked onion and garlic.

Use the food processor to mash up the cooked beans and add to the mixture.

If the mixture is a bit soft, add some breadcrumbs.

Shape into burgers. Fry in a little oil for 5 minutes per side.
Since the burgers were a replacement for both meat and carbs, we served them with some pesto vegetables: onion, leek and courgette, sliced and fried, then mixed with red pesto.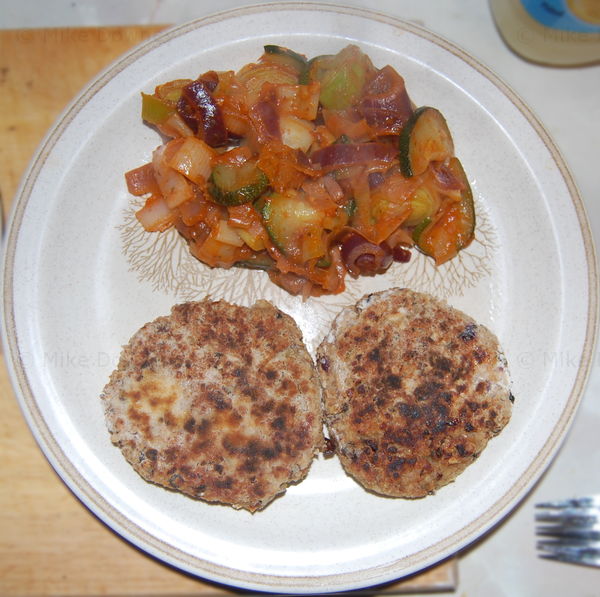 If you're watching a film right now, there is a very good chance that one of these actors (link) is in it. The page is dedicated to all those actors who's faces are so familiar from other films but their names remain obscure.
Some of the actors are bordering on recognisable - Michael Ironside is one of those mentioned on the page. Personally I would also add Fred Ward (the star of Tremors who wasn't Kevin Bacon) and Matt Frewer (anyone who grew up in the 80s should immediately recognise him as Max Headroom).

Bandit sitting in a kitchen roll tube. She got her name from the bands around her body.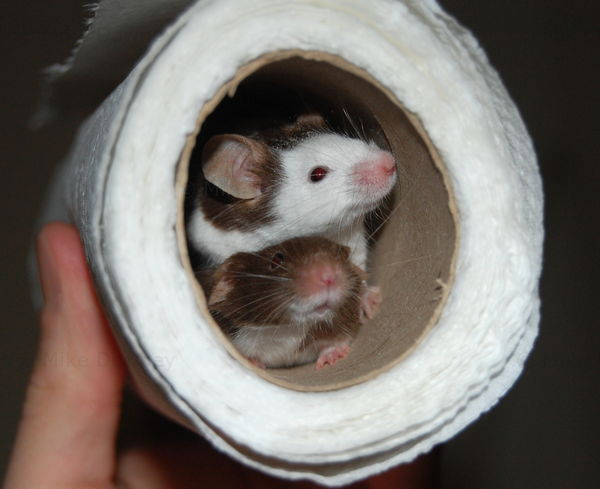 Bandit and Phantom.

Phantom was so-called because her face resembles the Phantom of the Opera mask. Here she is, with Bandit in the background.
This afternoon we were near Leicester meeting someone to pick up some mice to replace some of ours which had died recently. The new mice have been named Phantom and Bandit. We don't have any photos yet.
After collecting our mice we drove into Leicester and had a wander around the High Cross shopping centre. I think we mainly went because Emma wanted to go to John Lewis. That was ok by me because I'd never been to one so I wanted to see what all the fuss was about. I guess if you lived near one it'd be worth shopping there occasionally. We did buy some incredibly tasty dessert sauce though (Luxe Chocolate Noir with Tart Cherries).
This is a bit like a luxury version of the tins of baked beans with sausage, but using chicken and prawns instead of sausage.
Ingredients
(serves 2)
2 chicken breasts

250g (half a carton) of passata.

1 carton or tin of haricot beans (approx 300g drained)

approx 100g king prawns

seasoning (eg. stock cube, jerk seasoning, fajita seasoning)
Method
Start by bringing the passata to a gentle simmer. Add seasoning - something slightly spicy works very well. Place the chicken breasts in the passata and simmer for 15 minutes.
Add the prawns and beans and cook for a further 5 minutes. Passata sometimes thickens on its own when simmered but if you cooked with the lid on, then it may need thickening with a little cornflour.
We cooked a second new recipe this week, also inspired by the You Magazine.
Chop and fry 1 onion, 1 leek, 2 cloves of garlic.
Add a pinch of dried chilli and some mixed herbs.
Add 250g of passata and simmer for a few minutes.
Place the cod steaks on top of the sauce. Put the lid on the pan, turn the heat down, and let the fish cook for about to minutes.
Meanwhile, boil some pasta to serve alongside.
This was adapted from a recipe in the You magazine which came with the Mail on Sunday. The original version called for almond butter and rapeseed oil but we changed those for ingredients we already had in the house.
250g Peanut butter.

80ml Sunflower Oil.

120ml Maple Syrup.

1 tsp vanilla extract.

200g Spelt flour.

60g plain chocolate (around 70% cocoa), broken into chunks.
Mix oil, peanut butter, maple syrup and vanilla extract together.
Mix in the flour and chocolate.
Form into small disks and bake at gas mark 4 for about 20 minutes.