Click on the thumbnail to view the image
Our George Foreman grill was in danger of gathering dust in the corner of the kitchen until a couple of weeks ago. We had used it before to cook vegetables but for some reason found we were using it less often.
We tend to fry vegetables to make pasta sauces but roast vegetables have a different flavour. What I have started doing is cutting the vegetables into thick slices and cooking them in the G.F. before cutting them into chunks to add to a sauce.
I recently cooked a ratatouille this way - cooking thick slices of onion, courgette and aubergine, then chopping and adding to a tomato sauce. Roast garlic develops a mellow flavour, which you don't get with fried garlic.
Tonight's recipe was a 'green vegetable sauce' for pasta:
Leek

Courgette

Onion

one bulb of garlic

two peppers

Herbs, chilli, stock cube.
The leek was chopped and fried, all the other vegetables were cooked on the G.F. grill. The garlic was from Lidl - we bought a 'basket of garlic' and so far all of the bulbs have each been a single huge clove. The cooked vegetables were liquidized along with a little stock and seasoning.
We occasionally use this sauce on a pizza, instead of tomato sauce.
A couple of weeks ago we bought some bags of Haribo sweets to eat during a car journey. We ate one of the bags but the 2nd bag stayed in the car and we forgot about it. A few days of hot weather had reduced it to a sticky molten mess.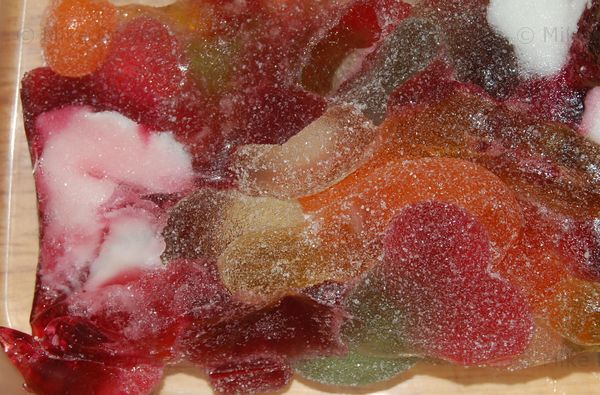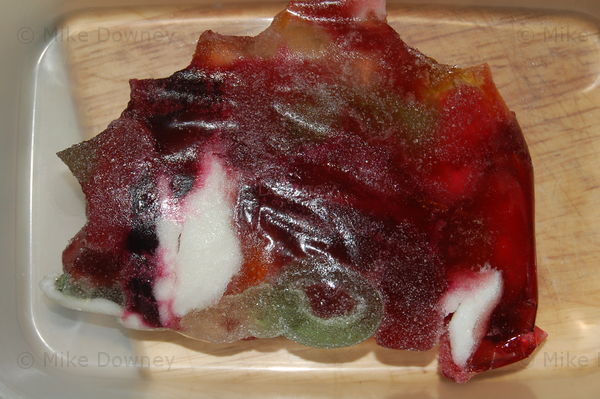 The underside of the melted Haribo. We had already taken a few bites out of it before I took the photos.
Some photos from our day out to the Ironbridge Gorge Museums.









Click on the thumbnail to view the image
A few photos from Warwick Castle, mainly falconry and some peacocks.









Click on the thumbnail to view the image
We regularly buy the '2 eat in for £10' deals, whenever Marks and Spencers have them. This time we had garlic mussels and french fries (along with a bottle of wine and cheesecake for dessert).
We decided to be properly Belgian and had the Moules et Frites with mayonnaise. The mussels were packaged with garlic butter so just before serving I took the cooking liquor and thickened it to use as a dipping sauce.
I'm not a big fan of mussels because they can often be a bit rubbery but these were very tender. I wouldn't normally buy them but I think I've been converted and I'd certainly have them again if I can be sure that they've been cooked properly and not been overcooked.
There appear to be some strange place names in Shropshire. I noticed these while checking the route to Ironbridge.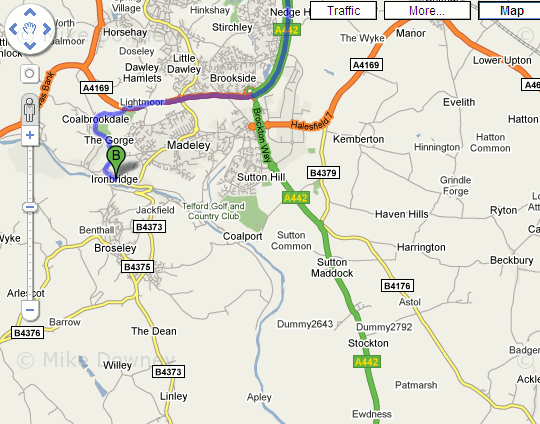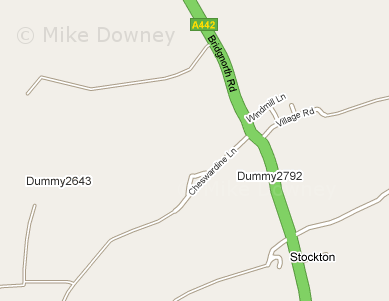 I hope there really aren't towns called Dummy2643 and Dummy2792.
In the spring I planted some strawberry seeds. After a slow start we ended up with quite a lot of small plants, some went in the garden and some stayed in the house.
The indoor plants somehow managed to get infested with aphids but I sprayed them with a 'soap and chilli' solution and it seemed to do the trick. There were a couple of small ripe berries on one plant so I picked them, and of course washed them thoroughly to wash the soap and chilli off them.
They were alpine strawberries so of course they were quite small - about the size of the tip of my little finger. What they lacked in size they made up for in flavour. It doesn't look like we're going to get a huge strawberry harvest but at least it will be a small but tasty one.
The 'Woktastic Noodle and Sushi Bar' in Birmingham does an all you can eat sushi bar at certain times of the day, including all day at weekends. We've had sushi a few times before but I'd never been to a place where you pick it from the conveyor belt before. It was also the first time I had eaten so much raw fish.
(To build up an appetite first we went round the Sea Life centre to look at the fish. There was also a 3D 'Spongebob' film being shown, which was a bit of fun.)
The range of sushi is impressive - a wide variety of the different rolls and nigri. Noodles and vegetables were also available. The spices soy beans were very soft and tender. The pods were a bit tough but I soon realised you weren't supposed to eat them.
For £12.99 it is definitely good value. Since most of the bowls contain 2 of each type of sushi, we usually shared so that we could try a bit of everything. We managed to try most types before we got to full and had to stop. Next time we're in Birmingham we might return and see if we can try what we missed this time around.
Last week I started picking blackberries. By early this week I had gathered over 1.5kg, which was enough to make a gallon of wine. I had also picked just over 1kg of plums so I decided to combine them. I used my electric juicer, poured the juice into the demijohn along with 1 litre of apple juice and 1 litre of grape juice. I also added 700g of sugar. I put the remaining pulp in a fermenting bucket with a litre of water. I will use this to top up the demijohn after I have syphoned the wine off the thick sediment which I always get when I use real fruit to make wine.
Other wine tasting notes:
Tonight I finally got around to tasting the 'berry and ginger' wine I made last year. This was made using odds and ends in the kitchen - mainly jars and tins of slightly out of date fruit in syrup. I added several tablespoons of powdered ginger and some sugar (sadly I failed to record how much I added). The bottles have been sitting in the shed since I made it. The ginger flavour is much stronger than my first attempt a couple of years ago. I think I can only have one glass in a sitting. It might be more appreciated in the winter, when a warming glass of wine would be quite welcome.
Back in february, I tasted my rhubarb wine and noticed that it was very sweet. Last year I made a carrot and orange wine which I didn't like at all - it was fairly unpleasant on tasting but was improved upon sweetening. A few weeks ago I decided to blend the two together. A bottle of carrot wine blended the same amount of rhubarb gives a decent medium white wine. The flavour is a bit nondescript. I prefer wine to be a bit drier so I'll blend the rest of the wine with a higher carrot:rhubarb ratio.
Some photos from the Wiltshire Country Show, at Bowood House. We were there with the Hamster Show but there was time to take a look at the rest of the showground. The show seemed to be bigger than previous years but a lot of the events were repeated so if you weren't careful you could end up watching the same thing several times.





Click on the thumbnail to view the image
I should probably start looking out for ripe blackberries about now. I need to have another go at making Blackberry Wine. My last attempt had a fairly light flavour so I'll try again but with more fruit.
Back when I worked in Birmingham I would regularly walk past bushes full of the things during my daily commute but I don't walk past any bushes in my normal day to day travelling any more. A couple of years ago I mentioned two different types of blackberry. I was reading another website and it looks like they might have been Dewberries.
I have already mentioned that this year hasn't been a good one for garden veg. The tomatoes are doing reasonably well and some fruit have started to appear on the pepper plants. After a slow start the bean plants have grown quite well but we haven't had many beans from them: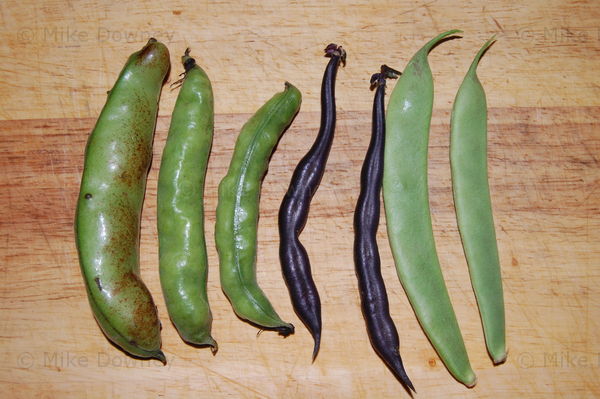 A selection of beans from the garden.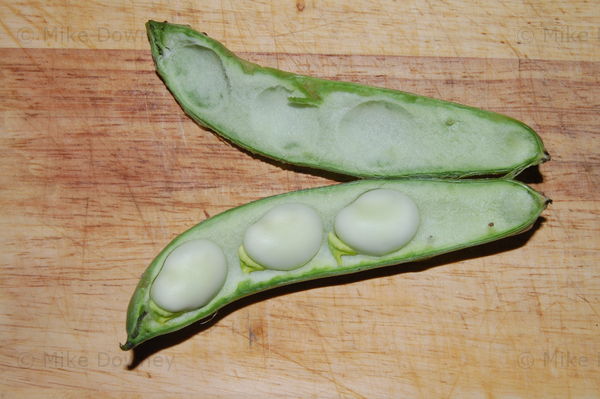 The larger broad bean pod had 3 beans inside.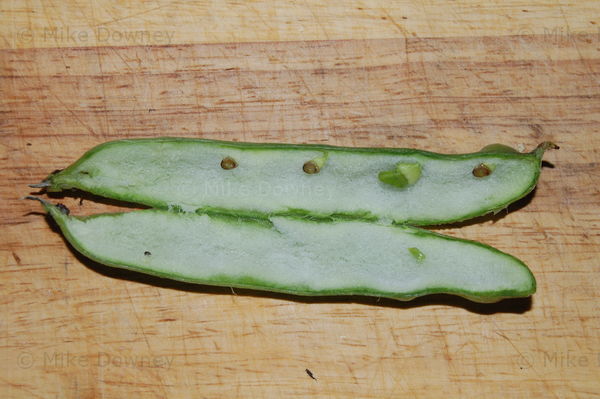 Most of the broad beans have been like this one - the pods looked large and fleshy but there were no beans inside.