This was another 'make room in the freezer' baking session. I had more grated pumpkin in the freezer, along with some 'shop damaged' bananas (6p for a bag). I defrosted them and made two cake mixes. My idea was to pour them in opposite ends of a baking tray, giving the middle a swirl so the ends were one type of cake and the middle had both combined.
Recipe
The original recipe was based on the pumpkin cupcakes. I beat together 175ml of vegetable oil, 3 eggs and a teaspoon of vanilla extract, then divided the mixture in two.
In one half I added the pumpkin cake ingredients (but using cranberries instead of sultanas):
85g golden caster sugar
100g of grated pumpkin
50g cranberries
1 tsp cinnamon with ½ tsp of mixed spice
In the other half I added
85g of drinking chocolate powder, with an extra tablespoon of sugar
100g mashed banana
50g sultanas
Both halves also had
100g self raising flour
½ tsp of bicarbonate of soda
I poured the two batters into a 10x6 inch tray. I expected the cakes to take about half an hour at gas mark 4 but it was well over ¾ hour before the middle stopped being liquid.
When the cake had cooled, I made a lemon juice icing, slightly runny so I could drizzle it over the top.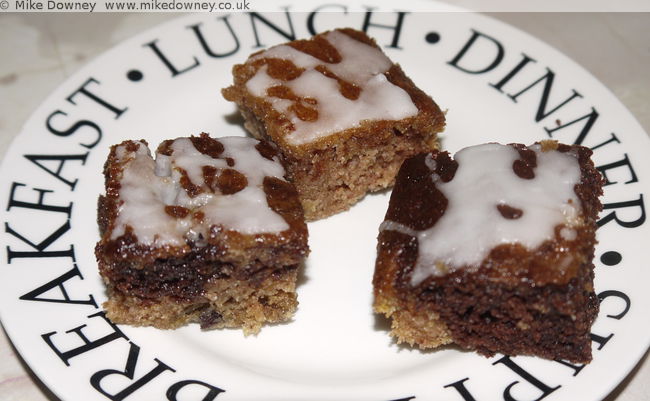 I took some of the cake to work to share (since that was where the hot chocolate powder came from, it was only fair to do that). People seemed to like it - I got favourable comments from people, someone even noticed that I had used an oil based recipe. Both cakes were definitely worth doing again.
The German Christmas Market returned to Birmingham last week. We popped out for an inaugural pint or two when it opened but this week I decided to get some food. Instead of using the Wheeldecide website, I used a random number generator app on my phone to choose which of the many food outlets to choose.
I found myself in front of a chalet-style take-away which had a range of different menu items all based around burgers, potatoes and mushrooms. Instead of letting the dice choose how much I ate, I went for the full menu since I didn't want to end up hungry.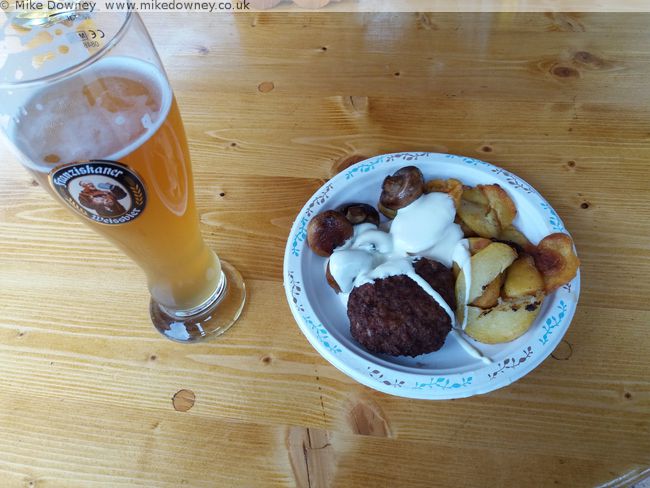 The garlic sauce was a bit too strong but the meal itself was good, as was the wheat beer.
Earlier this year I was watching Saturday Kitchen and they were showing one of the many regular clips from Rick Stein. This was from a series he did in Eastern Europe and it gave me the idea to try to do another alphabetical cooking challenge. I intend to take each letter of the alphabet and cook something from a country or region beginning with each letter.
Originally my plan was to cook a meal but we were recently at a barbecue where the husband was Algerian and his family had provided most of the food. There was a yellow bread which went down really well. When I got home I looked it up and found some recipes.
Khobz El Dar: Algerian Semolina Bread
I took inspiration from a recipe from food.com but I reduced the quantities a bit. Since the bread we ate didn't have seeds on or in it, I left those out.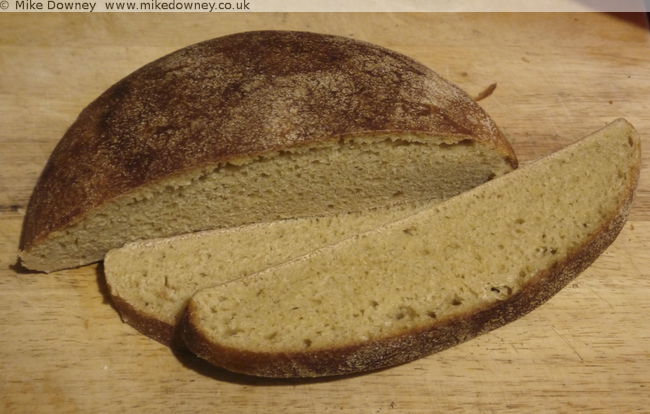 My bread took a long time to rise (I think there were problems with the yeast) and the bread had a slight sourdough taste to it. I had baked with semolina before but this was the first time I had done a bread which was mostly semolina flour. My version wasn't as good as the one we had at the barbecue but it was my first attempt. If I try again, with fresher yeast, it might come out better.
When we scooped out the pumpkins to make Halloween lanterns, I grated and froze the flesh so I could try cooking something with it. The pumpkins which are sold for lanterns are usually a lower quality and aren't recommended for eating so I thought I would start with something where the pumpkin isn't the main flavour, so I could probably get away with a lower quality ingredient.
I found a recipe for cupcakes. It was pretty much a carrot cake but using pumpkin instead of grated carrot. The recipe called for grated orange zest but I didn't have an orange so I left that out.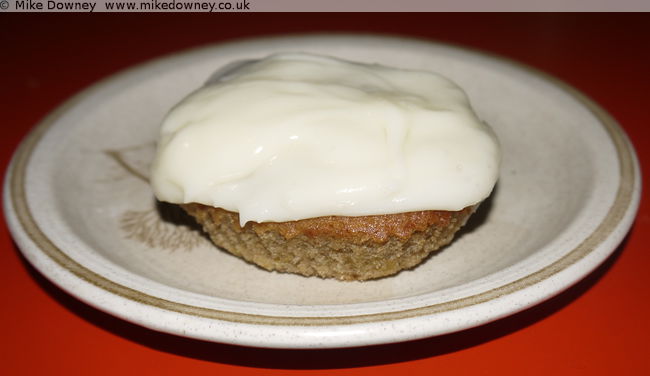 I tried one of the cakes last night, when they were still a bit warm. It tasted ok but that was before I had made the icing. Tonight's cake, with a generous layer of cream cheese frosting, was definitely an improvement.