I carried on trying out different porridge recipes this week. A couple of highlights are below.
Apple and Blackberry Porridge
When I made the apple puree a few weeks ago, I bottled and froze the juice which collected in the bottom of the pan. I used it to make an apple and blackberry porridge.
Tropical Fruit Porridge
I used coconut water instead of milk, and added some tropical fruit mix.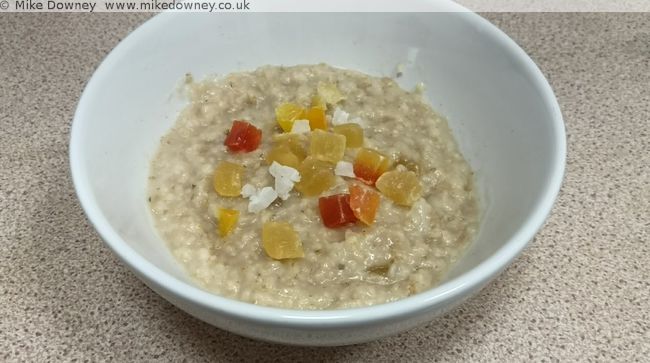 I only had time to try 4 different porridges this week. I'm going to be away on Friday so won't have chance to make anything.
Monday: Bacon and Syrup
Yes, you read that right. I don't like mixing sweet flavours with meat and consider pineapple with gammon or on a pizza to be a very poor choice. I decided to be adventurous and try a sweet bacon porridge. Mistake. I could still taste it even after a cup of tea and brushing my teeth.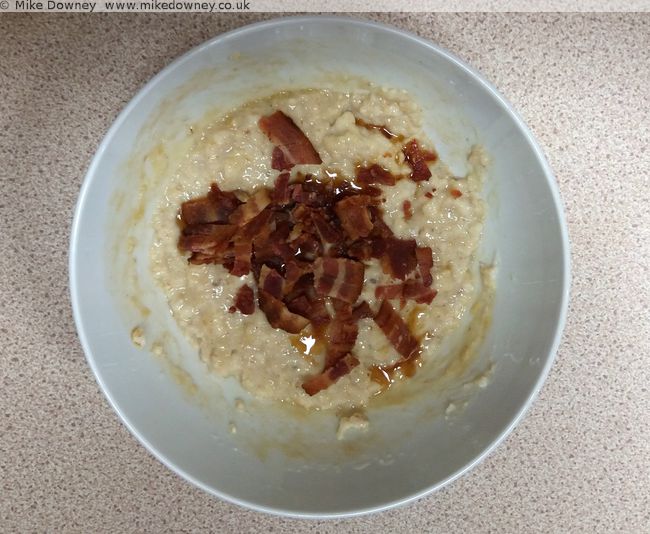 Tuesday: Apple and Blackberry
After last week's Apple and Cinnamon porridge, I decided to try an Apple, Blackberry and Cinnamon porridge, using extra cinnamon. This was better than the plain apple one, although the blackberry seeds added a bit of a crunchy texture.
Wednesday: Lemon Berry Porridge
This was inspired by a recipe from the World Porridge Making championships. I used a mixture of frozen berries (blueberries, blackberries, wild strawberries and red gooseberries) which were mostly picked in our garden, with about a tablespoon of added lemon juice. I cooked the porridge in water instead of milk then added the fruit.
I tried the porridge first, before adding any extra sugar. I don't think it needed any. The fruit were quite sweet and the lemon juice balanced it out with some added sharpness.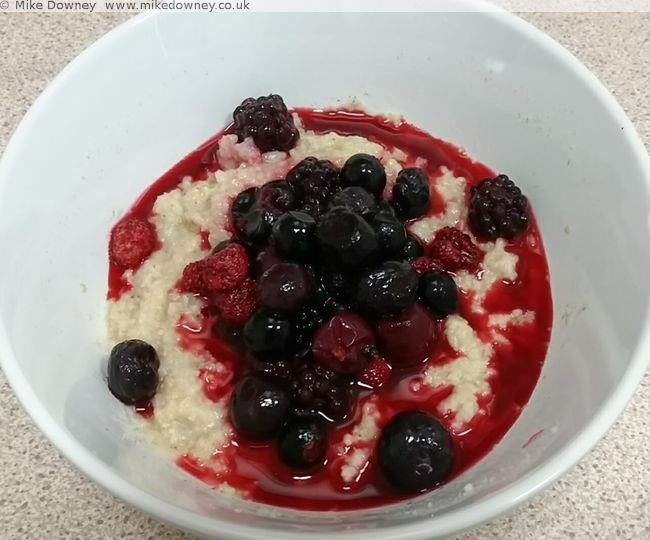 Thursday: Chocolate and Coconut
This was inspired by the flavours of the Bounty chocolate bar. Since dessicated coconut can be quite 'bitty', I microwaved some in water last night then added it to the porridge this morning, along with some drinking chocolate. The coconut still had a bit of bite to it. I have tried coconut in porridge several times before and there are always some hard bits so I probably need to boil or simmer it for quite a long time to stop that happening.
I have porridge for breakfast fairly often but now that the weather is starting to get cold, it's probably time to make it my regular breakfast now. Most mornings I just add some dried fruit and sometimes some honey but this week I thought I would try a different flavour each day.
Monday: Peanut butter and Cranberry
Since it is World Porridge Day, I decided to do a different porridge each day this week. I only decided this after I had already left for work so this morning I used what I had available: a tub of dried cranberries and a small pot of peanut butter.
Tuesday: Dried raspberry
While I like raspberries, the taste didn't get into the porridge and they were very 'bitty' to eat.
Wednesday: Apple, cinnamon and brown sugar
I have mentioned before that most cake recipes don't use enough cinnamon. Unfortunately I made the same mistake myself and didn't add enough to the oats. Next time, I will add more and possibly use sweetened cooked apple instead of chopping a fresh apple into the porridge.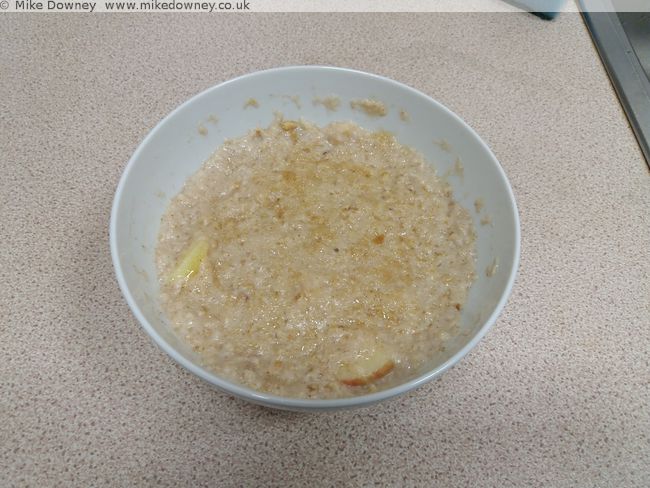 Thursday: Strawberry Porridge
We have a bag of frozen strawberries so I put some in a tub to defrost in the fridge overnight and added them to the porridge after I had cooked it. I then gave it another 20 seconds in the microwave to make sure the strawberries weren't too cold.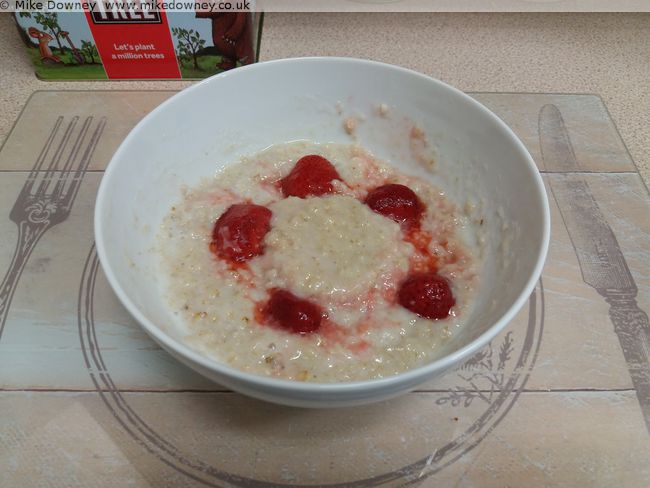 Fresh strawberries don't always have much flavour and I could probably have added more but this was ok.
Friday: Nutella and Peanut Butter
This used to be a favourite of mine but I hadn't had it for a while. We recently bought a jar of nutella so I made it again today. This was possibly my favourite of the week.
A few weeks ago I decided to try somewhere different for lunch. I found a website called wheeldecide.com which can randomly choose from nearby restaurants or take-aways. I decided to use it to choose where to go for lunch.
Week 1: Full Stop Sandwich
This place was a bit of a walk. I didn't know where 'New Town Row' was and had to look it up on a map. When I got there it was almost empty but while I was paying for my sandwich it started to fill up. I chose their 'sandwich of the day' which was pork and stuffing. It came with a very thick gravy and a few pieces of crackling.
Week 2: Tuckers
I walk past this place, in the Minories, fairly regularly. It does sandwiches and hot food. I decided to try the all day breakfast for £5 which had bacon, egg, sausage, black pudding, beans, toast, hash brown and tomatoes. It also came with a cup of tea. It was good value and very filling.
Week 3: Wasabi
I needed to walk to the shops to pick up something I had ordered from PC World so I put the postcode for the High Street into Wheeldecide. It kept coming up with places in the Palisades, which is closed for refurbishment, so I decided to go to Wasabi, in New Street Station, instead.
I had been wanting to go there since it opened. I chose one of their salmon sushi boxes, which came with a couple of spicy chicken skewers.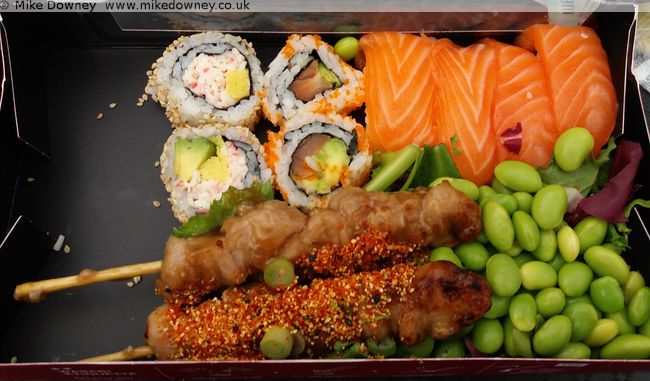 They have a wide range of sushi and bento boxes, with rice and noodles. I'll have to revisit to try something else.
I made a second batch of the apple sauce and drinking chocolate brownies. This time I added a handful of dried cherries to the mix. I also used half apple pureé and half olive oil, since I only had half a cup of apple pureé in the fridge (the rest is in the freezer).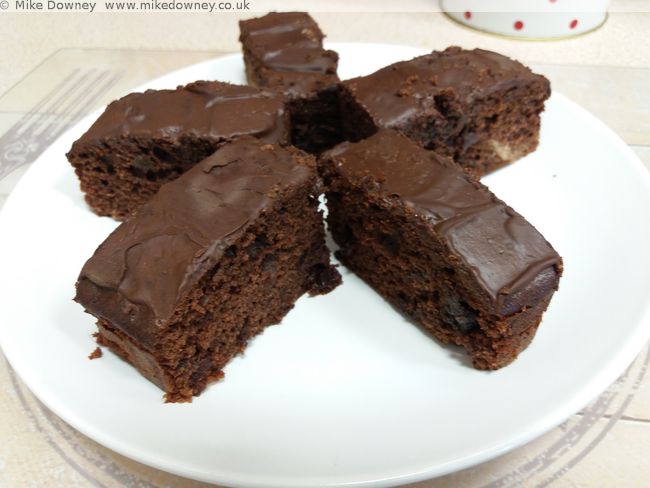 When the brownies came out of the oven, I sprinkled 50g of plain chocolate over the top and waited for it to melt before spreading it over the top.
I took the cakes to work the share out and the everyone seemed to like them.
We have been fans of the Great British Bake Off since it first started and occasionally I cook something inspired by the programme. This week they did a Fougasse, which I hadn't heard of but looked good. The version on the programme was flavoured with herbs but I thought I would start with a plain version then try flavoured ones another time.
I followed the bread part of the recipe precisely, scaling it down a bit since I didn't need two loaves.
300g (2¼ cups) of bread flour
6g salt
one sachet of yeast
2 tbs extra virgin olive oil
200 ml warm water
The method involved adding ¾ of the water at the start, then slowly adding the rest, using a food mixer with a dough hook. I followed it to the letter, including the 8 minute mixing time.
I actually split the dough in 2, adding extra flour to one half to use for a pizza base. The other half I left as-is and shaped into an approximate leaf shape and cut down the middle and diagonally from the centre.
After about an hour or so proving, I transferred the bread, still on the baking paper, onto the pizza stone and baked it (at gas mark 7) for 15 minutes.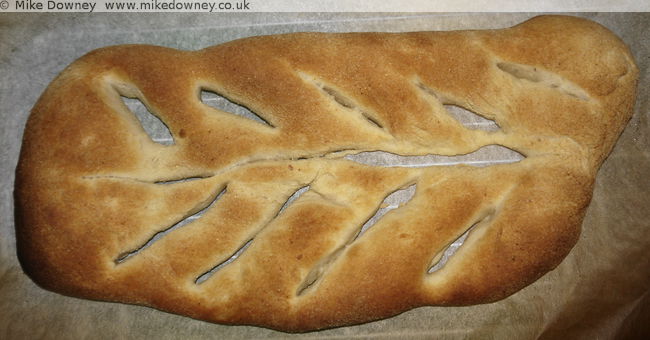 It looks a bit irregular (or informal as Mary Berry might say) but that was mainly because it slid off the tray while I was getting ready to transfer it to the pizza stone. We ate it with some dips. I made the cheese and courgette dip again, but this time using cream cheese and pecorino instead of goats cheese. The fougasse was good. The outside was crispy while the inside was soft and fluffy. The dip was cheesy and went well with it.
Next time, I will add some extra flavours to the bread. Possibly garlic and chilli or parmesan/pecorino. We have some fresh herbs in the garden (and more chopped in the freezer) so I could also do Paul Hollywood's herb version too.