This afternoon we made some cupcake (or to be more accurate, Emma made them while I helped weigh out the ingredients). The cakes contained:
3oz margarine
4oz sugar
8oz flour
3 eggs
just over half a tub of glacé cherries
They were baked for about 15 minutes at gas mark 6 and left to cool before being topped with a chocolate buttercream.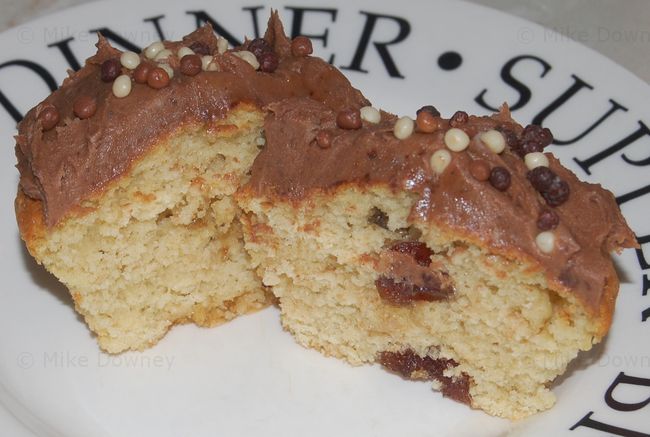 We both really enjoy roast chicken so when Heston Blumenthal's latest TV series (How to Cook like Heston) covered chicken in last week's episode, we had to see it. He presented a novel way of cooking a chicken which began with an overnight soak in brine, in a similar manner to cooking a ham. The actual cooking was done at a very low temperature (gas mark ¼) instead of the usual gas mark 6.
We didn't plan our chicken roasting in advance and hadn't done the brining, so today I just did my normal roast chicken recipe. The only real similarity with Heston's is that we both remove the string which trusses the chicken so the heat can get to the legs and side of the breast better. I filled the cavity with a few cloves of garlic and a sprig each of thyme and rosemary to give a bit of extra flavour to the meat. I rubbed vegetable oil on the skin and sprinkled some stock granules all over.
We have a roasting tray with a rack inside and a lid, so I put about half a centimetre of water in the bottom of the tray, sat the chicken on the rack, put the lid on top and put the chicken in the middle of the oven at gas mark 6 for an hour. The water will create plenty of steam which will keep the meat moist while it cooks.
After the hour was over, I removed the lid and let the chicken carry on cooking for just under an hour to let the skin go crispy. The end result was a well-cooked tender chicken with thin crispy (and tasty) skin. The juices which collected in the bottom of the tray, along with the herbs and garlic, will be used later on when I make a chicken stock.
The chicken legs and wings (along with some of the crispy skin) are going to be blitzed with some mayonnaise and a sprinkle of salt to make a sandwich spread for tomorrow's lunch.
Last year, Emma bought an Advent Vega tablet computer. It uses the same 'Android' operating system as many mobile phones but of course with a much larger screen.
The only real problem with the Vega is that out of the box, it doesn't support the Android Market, which makes it a bit difficult to install applications. We installed an updated version of the software which makes the tablet much more useful. Without the Android Market, you are more or less restricted to web browsing and the built-in applications.
After playing around with it for a few weeks, the tablet ended up in the bottom of a drawer for a few months, unused and ignored. We both had new HTC phones which came with Android, so we could do all the same things on our phones, which also had the advantage of being smaller and more portable.
I recently decided that it would be a good idea to get the tablet up and running again. The main idea was so it could be used to read recipes in the kitchen, to save having to either print out from websites or try to use a laptop in the kitchen. So far I haven't actually used the tablet in the kitchen but it is getting used fairly regularly now.
I don't find it as convenient for web browsing as a full laptop because it is a bit slower and the lack of a full keyboard makes it less useful for using forums etc, but it is perfectly fine for reading ordinary web pages.
We have installed a few applications which get fairly regular use. The one I probably use the most is the Kindle app, which turns the tablet into something very similar to an actual Kindle. You can download books from the Amazon website or install them from elsewhere (such as Project Gutenberg). So far I have read a few freely available, out of copyright, books. I had never read any Charles Dickens books or any of the Sherlock Holmes novels so I decided to give them a go. I decided to start with A Christmas Carol (since it was Christmas at the time), then moved on to The Adventures of Sherlock Holmes and The Hound of the Baskervilles. I am now reading the ebook version of God's Debris, by Scott Adams.
I find reading ebooks or PDFs on the tablet is much easier than on a laptop. The device is much lighter, and the screen is a better shape and size. I have several books queued up ready to read next, including Gulliver's Travels, which I actually downloaded when we first got the tablet but I didn't get around to reading it.
In the last few years, I haven't read as many books as I used to. In the run up to Christmas, I decided that I would spend a bit less time on-line and more time reading, and so far I have been fairly successful. I probably won't be able to keep the pace up and read a book a week but I should be able to catch up on some of the books which I have had for a while but not read yet.
This morning, as we were leaving Tesco, we were asked if we wished to take part in a short survey. To start with, the lady asked if we always go shopping together or sometimes shop alone. Since I sometimes stop at Asda on my way home from work, she chose to ask me the remainder of the questions. These turned out to be about a new offer which 'Tesco Bank' is running. I was asked if I had seen any of the promotional material near the checkouts, near the cash machine, or near the petrol station. I had completely failed to see any of them. Now, I wouldn't normally describe myself as unobservant but somehow I had managed to avoid seeing some fairly large adverts and displays as we walked around the shop. Emma had spotted the display near the checkout but she wasn't the one being asked, so her observation didn't count. Ah well. I feel like I have brought the average statistics down for the entire shop.
Tonight we joined some friends at a restaurant called Rhubarb, in Leamington. A few of us decided to have Tapas for starters: I had the calamari and Emma had the breaded prawns. Both were very good. The calamari were piping hot, tender, and quite a generous bowlful.
For main course, Emma chose the prawns and monkfish in a thick slightly curried broth, which was ordered from the specials board. I chose the braised lamb shank and chorizo cassoulet, also from the specials. Some people's meals seemed to be a bit on the small side and came without vegetables but I couldn't complain about mine. There was a decent amount of meat, which was very tender and fell off the bone with minimum effort. The cassoulet was very similar to a spanish chorizo and vegetable casserole I used to do years ago, which was based around chicken stock, herbs (oregano and mint if I remember correctly), paprika and chorizo.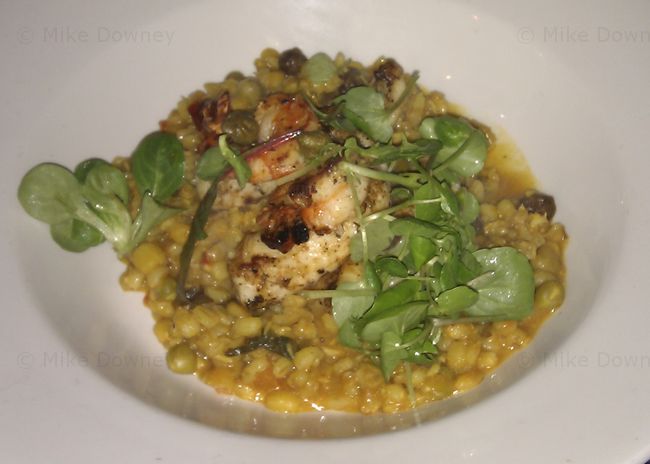 Overall, the restaurant was ok but the lack of vegetables, side dishes or accompaniments was a bit strange. For example, no bread rolls were served with the starters, even for the people who ordered soup. Prices were reasonable but food quality and serving size appeared to be a bit variable.
One problem with my new office is that you aren't allowed to eat or drink at the desks. Another problem is the nearby communal seating area and kitchen are being refurbished so there's quite a long walk to the next nearest place where I can sit and drink.
My old office was near the department kitchen and I used to keep a good selection of teabags and loose leaf teas on my desk. I am now reduced to keeping a selection of teabags in my bag for those occasions when I manage to take a tea-break.
I found an interesting tea related chart on the Tea Appreciation Society website which lists a number of interesting tea related facts. Among them are the ideal temperatures for different styles. I already knew that green and white teas should be brewed at below boiling, but I didn't realise they only had to be at 65-70°C and 65-70°C respectively.
At the moment I have the following teas in the house:
Gunpowder tea: One of the most readily available green teas, and usually a reliable option.
King Bladud's Blend: A black tea, named after the legendary king who founded the city of Bath. These first two teas were bought from the tea and coffee stall in Bath market.
White tea: from Whittards. A mild refreshing tea.
Te Med Blåbärssmak: A blueberry flavoured tea from Ikea.
Tesco Loose Leaf Tea: Claims to be leaf but is actually more like tea dust - the contents of a teabag but without the bag. OK for when I want a decent strong cup with milk.
Earl Grey: Teabags, made by Clipper.
Redbush: Teabags, from Tetley. I have had various flavoured redbush teas but usually prefer the plain ones. A redbush flavoured with orange which I bought from the German Market in Birmingham a few years ago was quite nice though.
Darjeeling: Asda own brand 'Selected by you' Teabags. Nice light flavour, better without milk.
Most of the time I drink tea without milk, which is handy in work since at the moment there isn't anywhere to keep any. I first started drinking it milkless when I was at university in Aberystwyth. Milk would go off before I had chance to use it so I just stopped bothering buying any. Now, when I have milk in tea, I prefer it to be semi-skimmed. For some reason, skimmed milk seems to make the tea taste worse, and full milk is a bit too creamy for tea.
We used to do jigsaws fairly regularly but we got out of the habit a few years ago. We have one of those 'jigsaw savers' which is a bit like a giant portfolio holder but it keeps all the pieces in place so you can move the jigsaw around while it's half finished. I recently retrieved it from the front room because I remembered that we were part-way through a jigsaw but couldn't remember which one it was.
I think we originally started it a couple of years ago and we might have temporarily given up because we were finding it difficult. There are a lot of pieces with similar colours and there are very few hard edges, making it very tricky to find the exact piece you need.
We continued with the jigsaw about a week ago and finally finished it tonight, doing a couple of hours here and there. We need to tackle a simple relaxing less frustrating jigsaw next.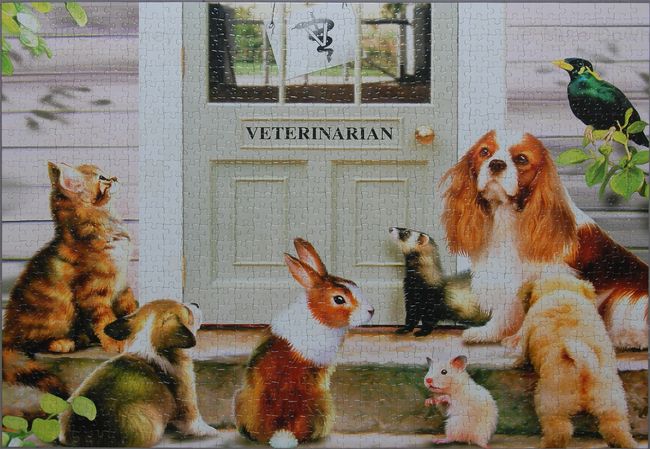 The year before last I tried to cook (or at least eat) a new different recipe each week. I probably won't be able to do the same thing again this year but I will endeavour to try more new recipes, since last year we weren't as adventurous with our cooking. I do enjoy cooking different foods but we are both going to be very busy this year, which is why I am not going to make any promises.
Last night we cooked a roast chicken so today I made a chicken stock using the bones, along with some herbs, peppercorns, garlic and the outer leaves from some leeks. Tonight I decided to make a risotto using the stock and remaining chicken. Since we had fish in the freezer and saffron on the shelf, this morphed into a paella. Although we do have some paella rice, I decided to try my normal paella recipe but using the small orzo (or risoni) pasta instead. I tried to stay faithful to the risotto method but I added the orzo to hot stock, instead of the other way round, which is more usual for risottos.
Ingredients and Method
Dice and fry some vegetables, including red pepper, leek, courgette, garlic.
Put the fish in a pan of boiling water then turn the heat off and let the fish cook in the remaining heat.
Add a couple of cups of chicken stock to the vegetables and bring to the boil. Stir in a few strands of saffron and add a cup of pasta.
When the pasta is cooked halfway, add a cup of shredded chicken and a squirt of tomato puree, along with any seasoning.
When the pasta is cooked, stir in a tablespoon of cream cheese followed by the cooked fish.
To serve, all it needs is a grind of fresh black pepper and a sprinkle of parmesan. I know that isn't the right way to serve a paella but we like it that way.