In the past we have cooked chicken in quite a lot of different ways and used yoghurt in recipes but I don't think I have actually cooked chicken in yoghurt. This recipe came about because I was trying to think of something to do this week and we had chicken breast and vegetables in the fridge so I looked up recipes. What I did was based on a number of different recipes, all of them had a similar mix of spices.
I didn't measure the quantities very accurately but I put about half a teaspoon of each of the following into a pyrex dish:
ginger, black pepper, cumin, cinnamon, salt, chilli flakes, paprika and turmeric.
I added a few tablespoons of yoghurt and mixed everything together then tossed in some sliced chicken breast. This was put in the oven (gas mark 5) for about half an hour.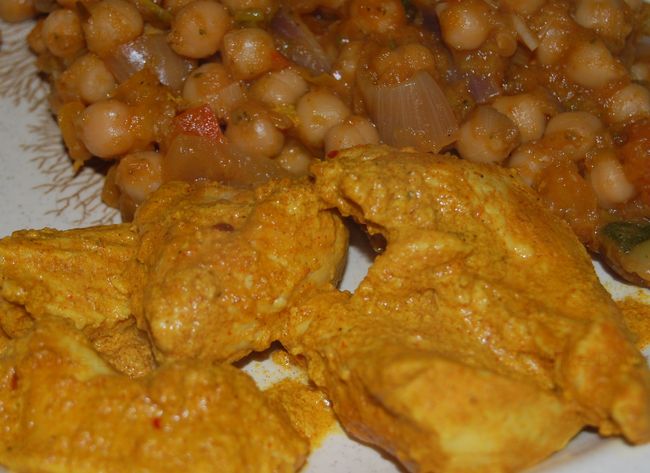 The vegetables (a mixture of onion, pepper, leek, courgette, garlic) were diced and fried, along with half a teaspoon each of curry powder and garam masala. Half of the veg were blitzed in a food processor to make a sauce, similar to my usual curry sauce. I added a tin of chick peas.
The chicken was very tender and the spices were quite well balanced. Overall the meal was a success but the pyrex dish was a pain to wash afterwards.