My Christmas recipes continue with Panettone. I am a couple of days late with this because we didn't finish the stollen until today and I didn't want too many half eaten cakes in the house.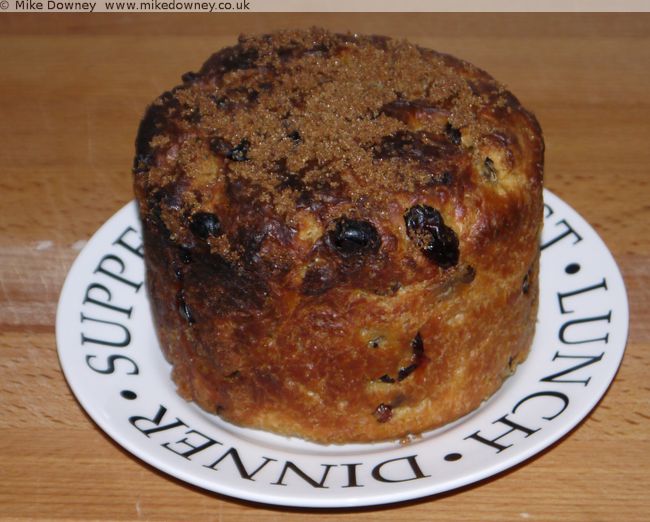 The recipe I followed was based on several different ones and was also modified based on the ingredients I had open in the kitchen.
The dough was made by sifting 500g of flour, 100g of caster sugar, a teaspoon of yeast and a teaspoon of salt into a bowl (I used 400g of bread flour and 100g of plain flour
200ml of warmed milk, 1 tsp of vanilla essence and 2 medium eggs were beaten together then mixed with the dry ingredients to make a fairly sticky dough. This was left for several hours to rise until it had roughly doubled in size.
It was then time to mix in the butter (215g, a mixture of salted, unsalted and baking margarine) and dried fruits (240g, a mixture of sultanas, dried cherries and mixed fruit and peel).
I lined two round cake tins, with a round disk in the bottom and baking paper up the sides of the tins, standing at least 2 inches taller than the tin itself. This was an improvised panettone paper liner to support the cake as it rose.
I spooned the dough into the cake tins until it was level with the tops of the tins. I did not preheat the oven and put the cakes into the cold oven, on the middle shelf, and left them to rise, undisturbed, for several hours.
When they had started to rise again I turned the oven on to gas mark 7 and left them to bake for 35-45 minutes (the smaller one was ready first). Halfway through cooking, I brushed the tops of the cakes with melted butter and sprinkled some brown sugar on top. I then turned the oven down to gas mark 5 until the cakes were cooked and a skewer came out clean.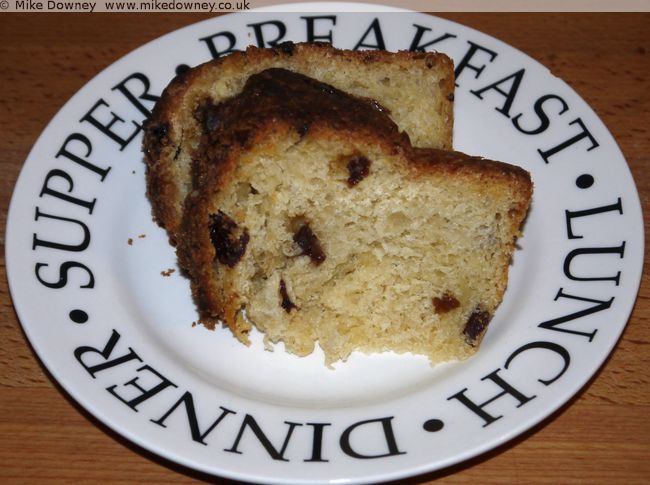 This recipe was another success. It was trickier to make than the stollen, since lining the cake tins was a bit fiddly and the dough was sticky and difficult to work with, but the flavour and texture of the finished cake was good.