I don't think I'll be buying any supermarket stollen any more. While I have been a fan of stollen for several years, most bought ones tend to be a bit dry. When I decided to make one this year, I looked around for recipes and found several similar ones. The one I followed came from the River Cottage Cake handbook.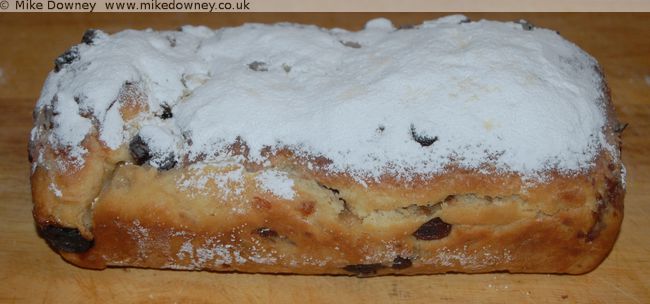 I actually started making this yesterday but didn't get chance to bake it so it went in the fridge overnight. I took it out this morning and let it get to room temperature before putting it in the oven at gas mark 4 for 25-30 minutes.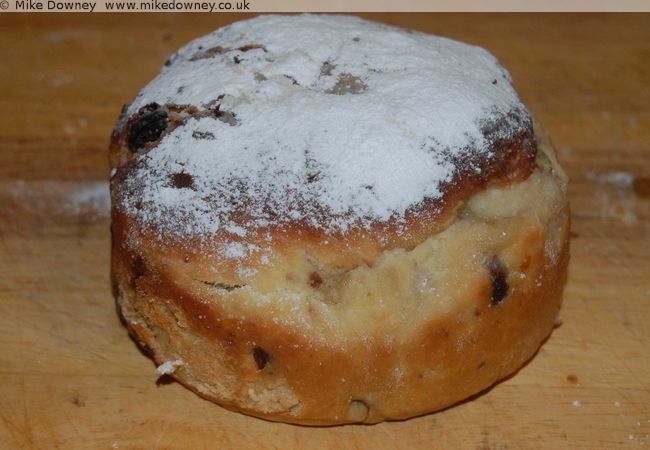 The first thing to do is to make the enriched dough. This had 500g of bread flour, 100g of melted butter, 175g of warm milk, 125g of caster sugar, 2 eggs and some yeast. This was mixed together, kneaded for a few minutes then left to double in size.
Meanwhile, 100g of dried cherries and 200g of sultanas were put in a bowl and mixed with a few tablespoons of sloe gin and the zest from an orange.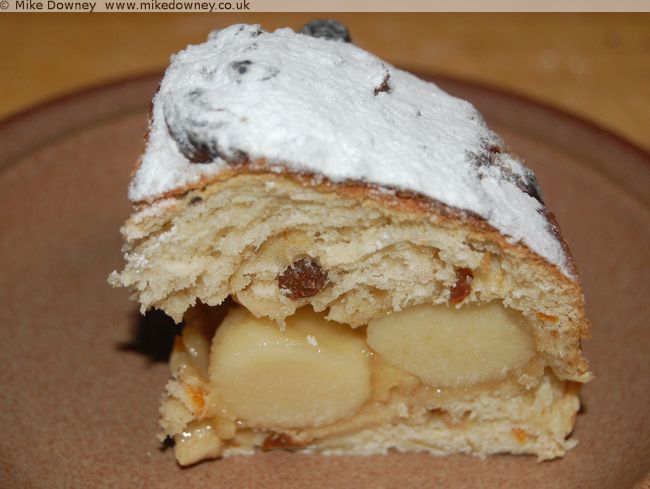 When the bread has risen, it was knocked back and flattened to a rectangle. Some of the fruit was spread over it along with some flaked almonds. These were kneaded into the dough then the procedure was repeated until all the fruit and nuts were mixed in.
The dough was divided into 3 portions. The larger one had two marzipan 'sausages' in the middle, the smaller round ones had marzipan balls inside.
When the cakes were cooked, and while they were still warm, they were brushed with melted butter then dredged with icing sugar.
When I put the cakes in the oven I realised I had forgotten to add the cardamom but they tasted fine without. They certainly had a better texture than any shop-bought stollen I've had.