I think most people agree that the crumble topping is the best part of a fruit crumble, so a cake which is mostly crumble should be very good. My interpretation was based on two recipes but as usual I made a few changes.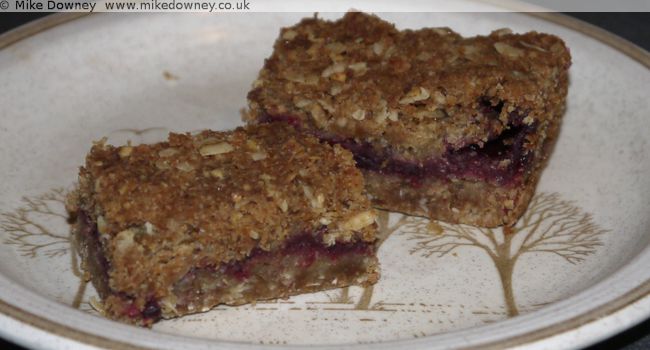 To make the crumble mixture, I put the flour, brown sugar and butter in a food processor and blitzed until they formed breadcrumbs. I then mixed in some ground almonds and dessicated coconut.
The fruit layer was made using a tub of berries from the bushes in our garden. This was a mixture of blackberries, blackcurrants, gooseberries and alpine strawberries. I put them in a pan with a tablespoon of water and slowly heated them to a simmer. I then added a couple of tablespoons of sloe gin mixed with cornflour and stirred this in until the fruit mixture had thickened.
I put half of the crumble layer in the bottom of a lined 8 inch tin and pressed it down. I then spread the fruit layer and finally topped with the rest of the crumble. The tin then went into the oven (gas mark 4) for about 45 minutes or so, until the top looked cooked.
I left the cake (or is it a biscuit?) to cool before slicing it and removing it from the tin.
I think that fruit crumbles work best when the fruit has a slightly sharp taste. This is probably why one of the most popular uses of rhubarb is in a crumble. Since my fruit mixture contained alpine strawberries and gooseberries (and no added sugar apart from the small amount in the sloe gin), the fruit layer had a good amount of sharpness to balance the sweetness of the crumble layer.
It's very hard to eat just one.