It's probably wrong to make a cake only a few days after making baklava, when we still haven't finished eating it yet. I bought a couple of nets of tangerines which had been reduced to 20p because some had got a bit squashed. I took the damaged ones, put them in the food processor and used them to make Mary Berry's Spiced whole orange cake. We saw her make this cake at the Good Food Show in the summer and now was my chance to make it.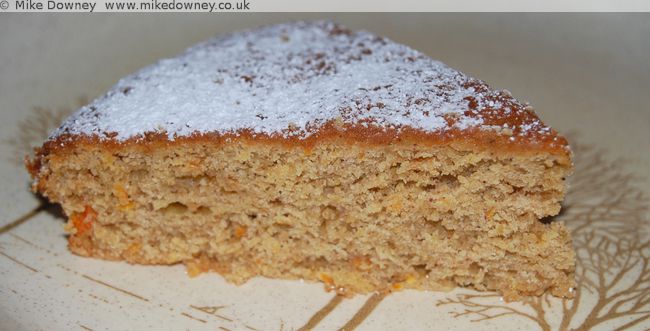 I used 3 tangerines and only made a single layer. I halved the ingredients apart from the spices, since we always believe that cakes need more cinnamon than most recipes suggest. Sadly our food processor is only a tiny one so I had to make the cake by hand, blending the butter and sugar together before adding the rest of the ingredients.
Since Mary Berry is one of the judges on the Great British Bake-Off, you'd expect good things from her cake recipes. I certainly wasn't disappointed with this. If I was making this cake for more people (not just the 2 of us), I'd do it properly with the orange buttercream filling, but even without it the cake was very good.