I seem to be making a lot of things based on recipes from the Hairy Biker's books but that's probably because a) they are quite good books and b) I got 3 of them this year. This week's recipe is one I've been meaning to make for a while and is based on a recipe from their Pies book.
We both like baklava but don't eat it often because it is usually quite expensive to buy. They can be a bit labour intensive to make but they weren't very difficult. The main problem was handling the filo pastry without it falling apart.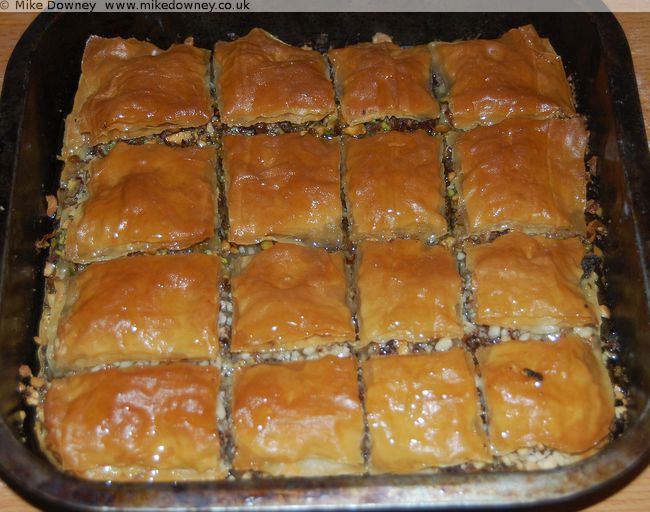 I made the filling with chopped mixed nuts, chopped pistachios and chopped dates. I cut squares of filo pastry to fit the tin then brushed the tin with melted butter. I brushed a square with melted butter, put another square on top and repeated until I had a stack of 5. I put these in the bottom of the pan, and them topped with a third of the filling.
I put a square of filo on top, brushed it with butter then a second square. I then repeated with another third of the filling and 2 more sheets of pastry and the final third of the filling.
The remaining sheets of filo were brushed with butter and stacked then put on top. I scored the top with a knife, to divide the baklava into 16 pieces. I baked it in the oven for about half an hour until the top looked crispy.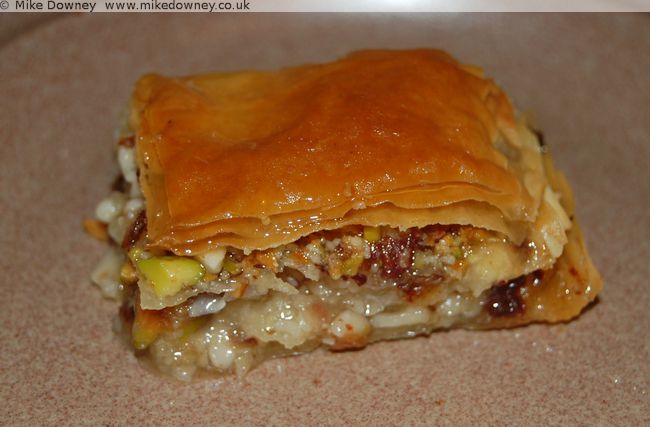 I made a syrup using 100ml of juice from a tin of fruit, 200g of sugar and 2 tablespoons of lemon juice. After the baklava had cooled a bit I spooned the syrup over the top, pouring most of it down the score marks.
After a few weeks of cakes which have been ok but not spectacular, the baklava was a total success, tasting every bit as good as bought ones.