Every now and again I catch a programme on the Food Network. A couple of months ago I caught an episode of Baking with Anna Olson where she did upside down cakes. One of the recipes was Lemon Berry Saucing Cake. I decided to wait until the fruit in the garden was ripe before I gave it a go. I have managed to collect wild strawberries, blackcurrants, raspberries, red gooseberries and blackberries.
The dessert was surprisingly easy to make. I started by making a fairly runny batter which consisted of half a cup of sugar, 3 tablespoons of plain flour, a pinch of salt, 1 egg yolk and 2/3 of a cup of semi-skimmed milk.
I took the egg white and whisked it until it started to form peaks. The white was actually quite runny, suggesting the egg was quite old, even though they were only bought a few days ago and still had 10 days until the 'Best Before' date.
I managed to find 4 mis-matched ramekin dishes which I buttered and coated with sugar. I put a layer of berries in the bottom of each, using different combinations of the ones I mentioned above.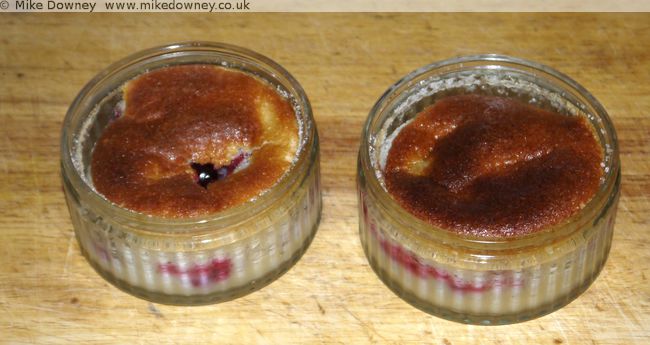 These were the only 2 matching ramekins. The puddings were baked at gas mark 4 for 35 minutes. The ramekins were in a bain marie to help them cook evenly.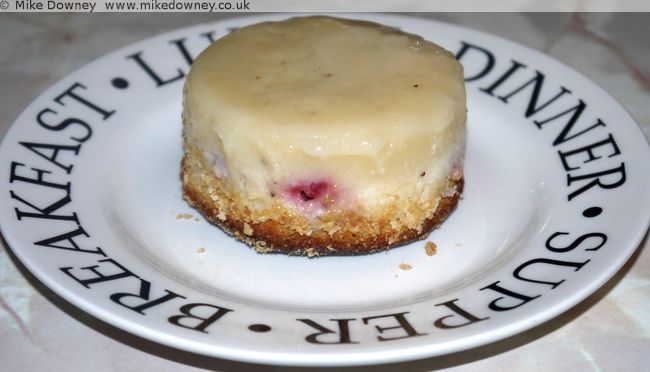 I was surprised at how well the puddings turned out. The one pictured here had mixed fruit in. The one I ate was mainly gooseberry with some blackcurrant and strawberry. The balance of sharp and sweet flavours was about right and the pudding had a good cakey texture with a good layer of sauce on top.