This year has been largely dominated by baking and bread, mainly because my newest cookbooks are all baking based, mostly cakes, bread and pies. I regularly make normal 'everyday' loaves using either traditional yeast or sourdough without consulting any recipes, but every now and again I feel the need to try something a bit more adventurous. I had intended to try a brioche for a while and finally got around to doing it today, partly because we had 4 eggs in the kitchen which were getting a bit old and needed using up (they weren't off but the whites had gone a bit runny). The recipe I intended to try (from the River Cottage bread book) needed 4 eggs so that seemed to be a good way of using them up.
This recipe is 'all in one' where the flour, sugar, milk, butter and eggs are all mixed together, instead of more traditional ones where a dough gets made first and the butter is mixed in afterwards. I used our electric mixer with the dough hooks but the mix remained very sticky and refused to form a ball. I had to add a bit more flour and knead by hand before it became more manageable and was ready for the initial proving. After a couple of hours in the fridge, the dough had gone nice and firm and was then ready to be put in the tins for the second rising.
I decided to do a standard loaf and a more adventurous spiral shaped bun. I have been meaning to do more shaped loaves and I thought brioche might be a good one to start with.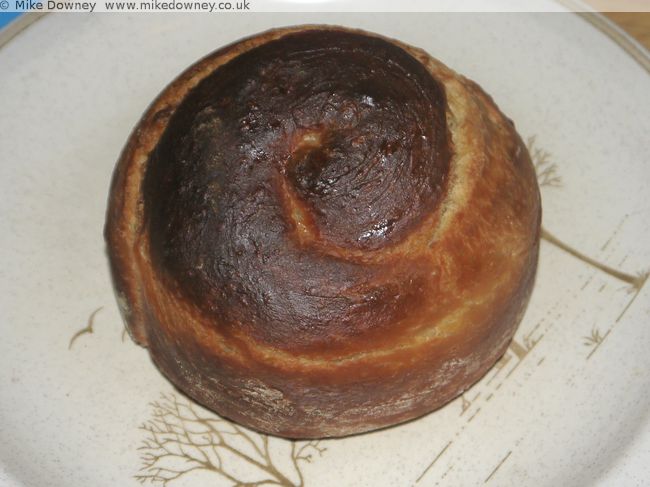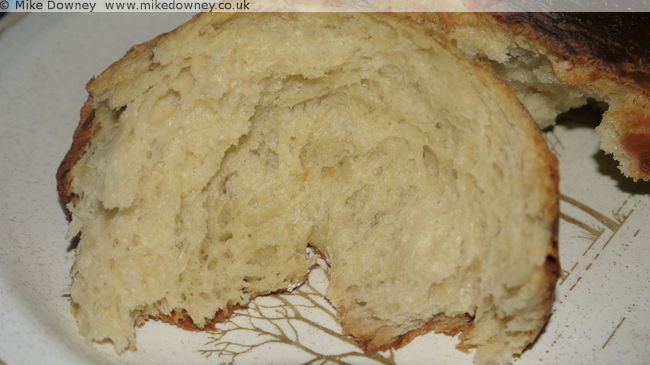 I think I slightly over-baked them because the crust was a bit darker than I would have liked. The actual bread had a very good texture and tasted very buttery, possibly a bit too rich even! I can normally eat quite a lot of bread in one sitting but probably won't be able to with this. A very rich brioche like this would work very well with fruit or chocolate, to make a cake. A slightly less rich version would be more suitable to use as a normal bread, albeit a special treat bread.