After a couple of weeks of cakes, it's time to return to savoury main courses, although there is still a sweet aspect to tonights recipe. We are not normally fans of meat with fruit, I have never liked the combinations of pork with apple or gammon with pineapple. The sweet fruit would always feel unbalanced next to plain meat.
A couple of years ago I had a Lamb Tagine which contained apricots and the spiciness of the sauce worked well with the fruit. I had actually eaten half of the meal before I noticed that there were pieces of fruit in it. Tonight I attempted to emulate this meal, using turkey instead of lamb. The recipe here is based on several sources, I mixed and matched ingredients to fit what we had in the kitchen. Most of the original recipes included honey but I omitted that since the fruit made the sauce sweet enough for us.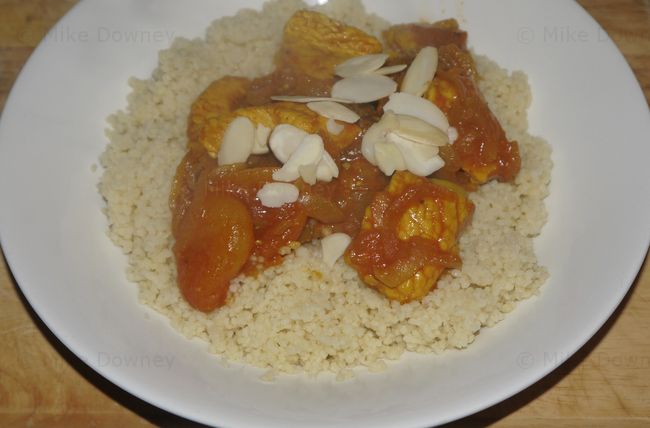 I started off with 500g of turkey which I diced and fried in olive oil. When it was cooked, I removed the turkey from the pan and added three small onions and three cloves of garlic (all finely sliced). After cooking the onions for a few minutes, I added the dry spices (one teaspoon each of ground ginger and cinnamon, half a teaspoon each of cumin and turmeric).
I added a cupful of chicken stock and a generous pinch of saffron and gave the pan a stir, before adding about a tablespoon of lemon juice. I also added a couple of tablespoons of passata.
After a few minutes of simmering I added the apricot halves and a small handful of sultanas. The tagine was served on a bed of cous cous with some toasted flaked almonds sprinkled on top.
As I said earlier, we found it sweet enough without needing the honey. The meal was quick and easy to make, especially because cous cous cooks much faster than rice. We might omit the apricots next time.