The Christmas Lights were switched on in the city centre tonight. Unlike previous years, when they have had celebrity musicians present (such as Roy Wood last year and The Hoosiers a couple of years before that), this year the council tried to save a bit of money and had some local bands performing instead. As usual, the festivities took place in Broadgate.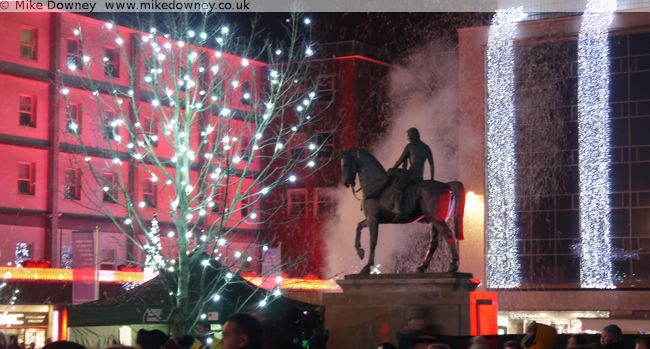 I do like a nice cup of coffee and in my last job I would regularly get a latte from the canteen and several filter coffees per day from the communal kitchen in the department. Since I'm not working at the moment, I thought I would investigate some of the coffee shops in the city centre, concentrating on independents and avoiding the big chains.
I sometimes go to Ikea where I can get a free drink using my 'family card'. I often buy a cake or a bar of chocolate (or if I am there during breakfast, a bacon sandwich) and sit and relax for half an hour or so but the coffee is fairly unremarkable and not really strong enough for my liking.
I occasionally walk down Far Gosford Street and most of the time I find myself popping into Windsor's for a take-away coffee. I usually choose either the americano or a latte. They are good value at under £2 and actually taste of coffee. The shop is run by a local charity (The Coventry Cyrenians) who provide assistance to unemployed or homeless people.
For many years I would avoid drinking coffee in cafés because it was rare to get a drinkable cup. Filter coffee would always be too weak and espresso machines weren't very common back then. I would choose a cup of tea instead. These days it is much easier to get a good cup of coffee, although a bad cup of coffee is still fairly common. There are some good independent coffee shops out there, such as Windsor's, and I'll try to make an effort to explore a few of them.
I do like cakes so I recently decided to look out for any shops or bakeries in Coventry selling nice looking cakes. A few weeks ago I noticed a cake stall on the market with a nice looking display of cupcakes so I decided to try a couple.
I started off with a chocolate orange cupcake and a red velvet one. The latter wasn't as red as some which I've had (probably down to the quality or intensity of the food colouring) but they were both good.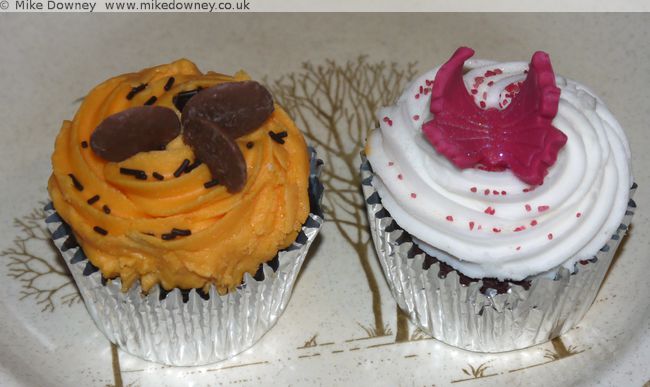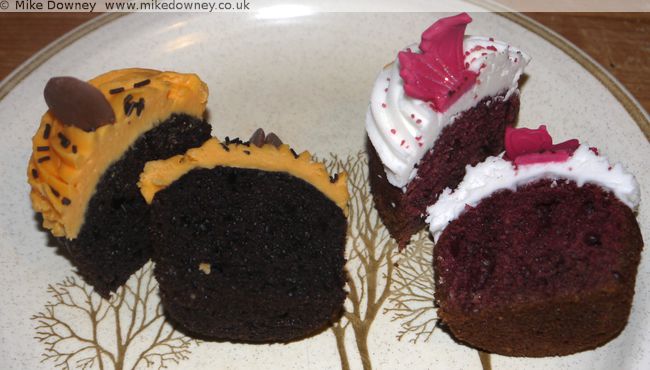 I was back today to try a couple of other cakes. This time I bought a viennese sandwich (filled with cream and half-coated with chocolate) and a carrot cake. Both of these were good too.
Last year, in the run up to the Olympic Games, a giant statue of Lady Godiva left Coventry and travelled to London. Today the statue returned to Coventry and journeyed around the city.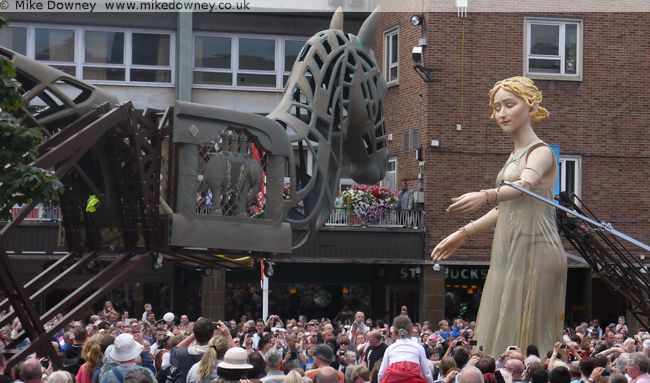 We only popped in for a couple of hours on the saturday, to wander around the festival and have a look at the various stalls. When I was in the main arena last night I noticed a Nando's outdoor catering trailer and when I mentioned it to Emma, we decided that was where we would get our lunch from. Emma went there for a chicken pitta but I decided to go to he caribbean food stall next door for a tray of Jerk Pork with rice.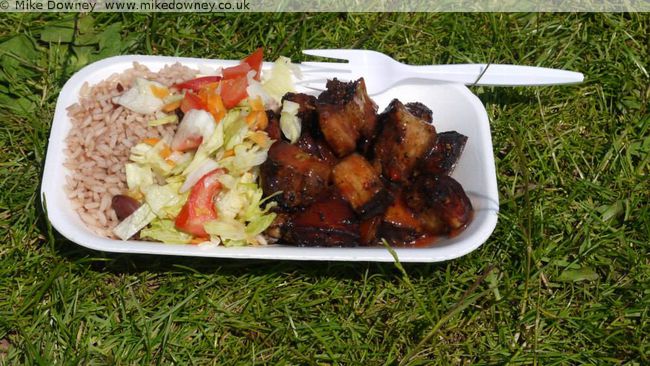 The meat was diced belly pork which had been coated in a spicy marinade and was served with more spicy sauce poured on top. It was different to the typical saturday lunch we have at home, which is usually something quick like pasta or a wrap or toastie and made a nice change.
The headline act on the main stage tonight was Echo and the Bunnymen. They were supposed to appear last year but the festival was cancelled due to the wet weather. That was a shame because I wanted to see them since I missed them at the Leeds Festival a few years ago (it was a choice between them and Iron Maiden), so this year after 3 attempts, I finally managed to see them live.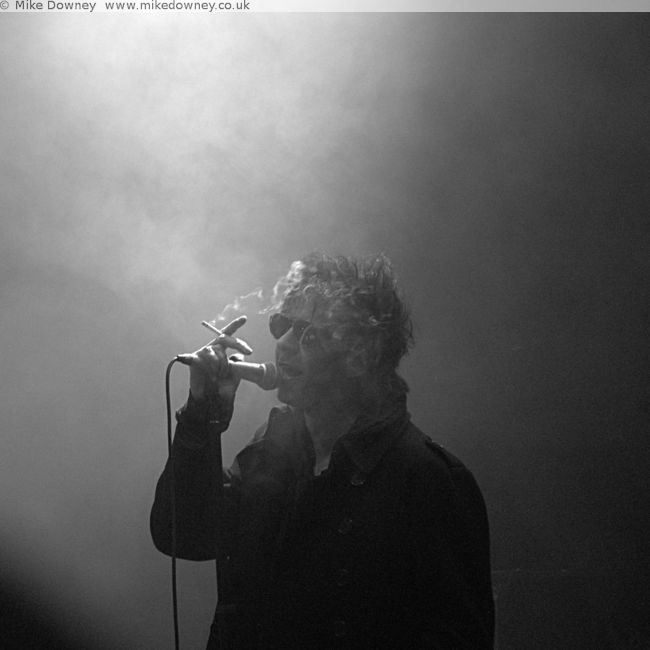 Ian McCulloch isn't the most animated of frontmen and mostly just stood at the microphone during the songs.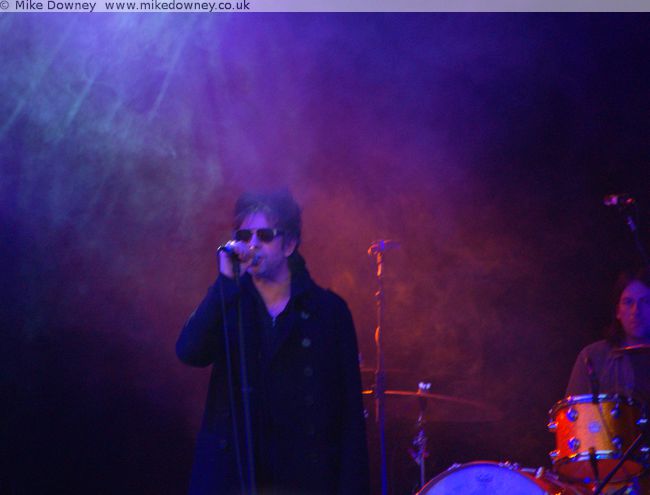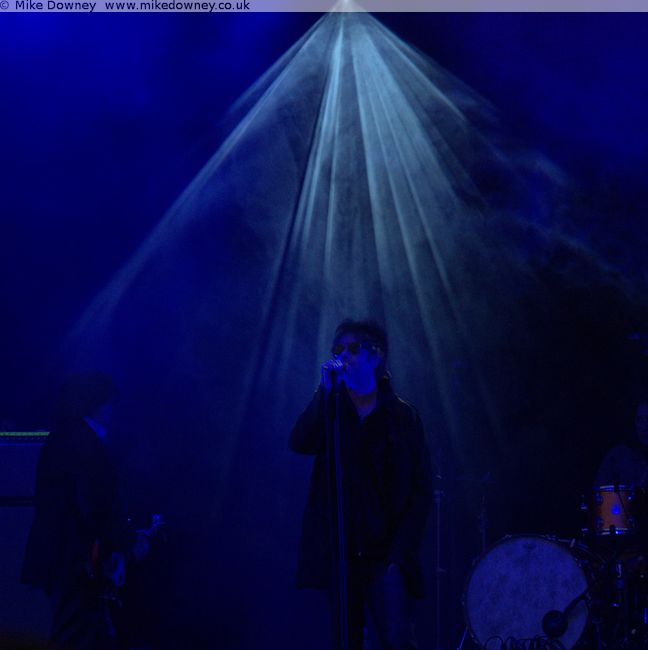 I knew 3 of the songs in their act: Seven Seas, Under a Killing Moon (which McCulloch introduced as the best song ever written) and The Cutter.
For this years Heritage Open Days, we visited a few places in Coventry and Kenilworth, choosing places we hadn't been to before. We went to a few places in Coventry on saturday. Although we had been to Kenilworth quite a few times, we had never actually been to Abbey Fields, so we went there on the sunday.







Click on the thumbnail to view the image
The Ricoh Arena has been temporarily renamed the City of Coventry Stadium and is hosting some of the Olympic football matches.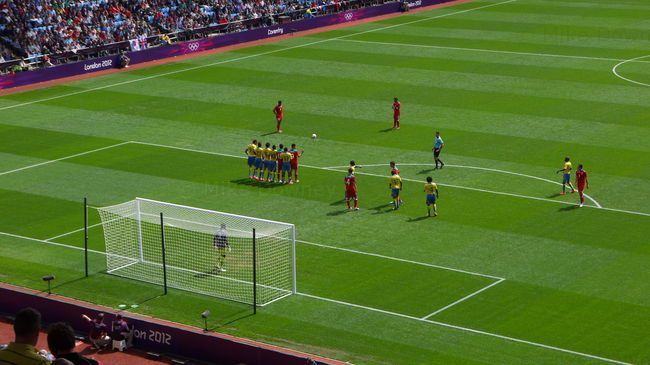 Mexico v Gabon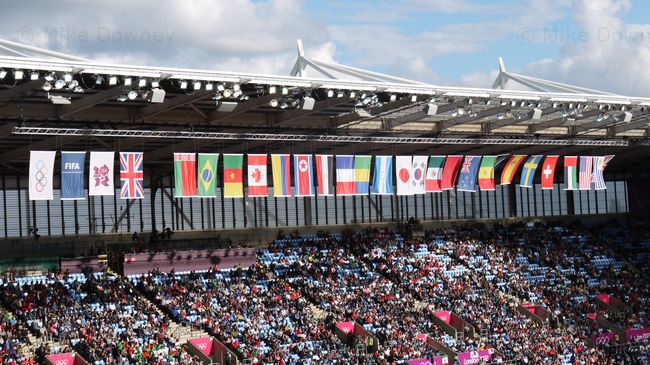 It looks like, at long last, the almost continuous rain has ended and summer has arrived. The garden is growing again, and some courgettes seem to have appeared on one of our plants almost overnight.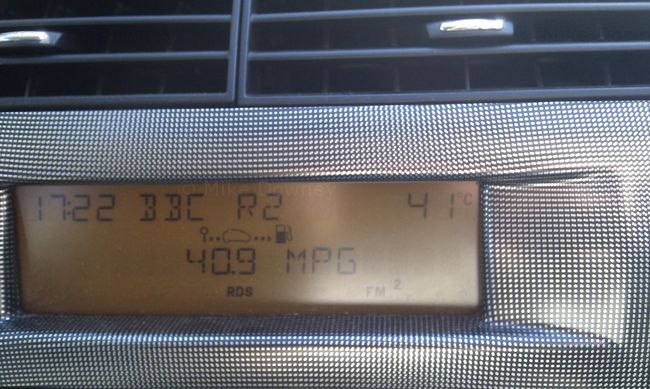 When I left work this evening, it was a bit toasty in the car. The thermometer actually measures the temperature underneath the car rather than inside but I can easily believe that it was over 40c, since the car is practically a mobile greenhouse. The temperature originally read 42c when I first got in but by the time I got my phone out to take a photo, it had dropped a degree.
After a week of poor weather and almost non-stop rain, today started dry so this morning we walked into town. There were old cars on display near various Coventry University including near the Cathedral. The range of cars included Alvis (which were built in the city on a site which is now a shopping centre). There several other old cars and sports cars and also what looked like a Japanese TV camera crew filming the collection.