This was another 'make room in the freezer' baking session. I had more grated pumpkin in the freezer, along with some 'shop damaged' bananas (6p for a bag). I defrosted them and made two cake mixes. My idea was to pour them in opposite ends of a baking tray, giving the middle a swirl so the ends were one type of cake and the middle had both combined.
Recipe
The original recipe was based on the pumpkin cupcakes. I beat together 175ml of vegetable oil, 3 eggs and a teaspoon of vanilla extract, then divided the mixture in two.
In one half I added the pumpkin cake ingredients (but using cranberries instead of sultanas):
85g golden caster sugar
100g of grated pumpkin
50g cranberries
1 tsp cinnamon with ½ tsp of mixed spice
In the other half I added
85g of drinking chocolate powder, with an extra tablespoon of sugar
100g mashed banana
50g sultanas
Both halves also had
100g self raising flour
½ tsp of bicarbonate of soda
I poured the two batters into a 10x6 inch tray. I expected the cakes to take about half an hour at gas mark 4 but it was well over ¾ hour before the middle stopped being liquid.
When the cake had cooled, I made a lemon juice icing, slightly runny so I could drizzle it over the top.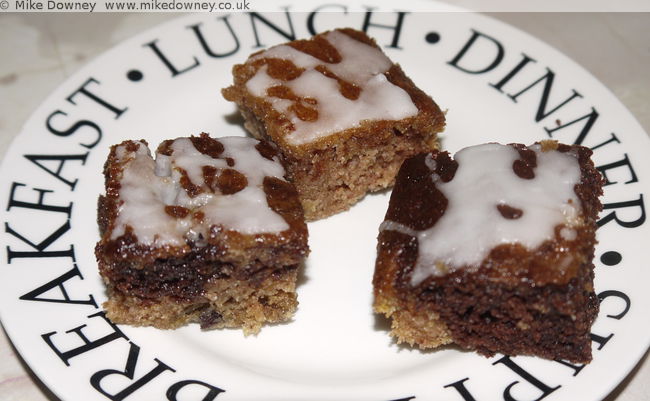 I took some of the cake to work to share (since that was where the hot chocolate powder came from, it was only fair to do that). People seemed to like it - I got favourable comments from people, someone even noticed that I had used an oil based recipe. Both cakes were definitely worth doing again.