I first tried a Yorkshire Curd Tart back in 2010 when we went to the Otley Agricultural Show. I quite liked it so it was the natural choice for me to make for the letter Y.
The pastry base was a standard shortcrust, not the sweet enriched pastry often used for dessert tarts or pies. I figured that the traditional version of a recipe like this would have a more plain pastry.
I've never had much luck with pastry so after baking blind for 10 minutes, I removed the baking beans and put the case back in the oven for another 5 minutes to dry out a bit more.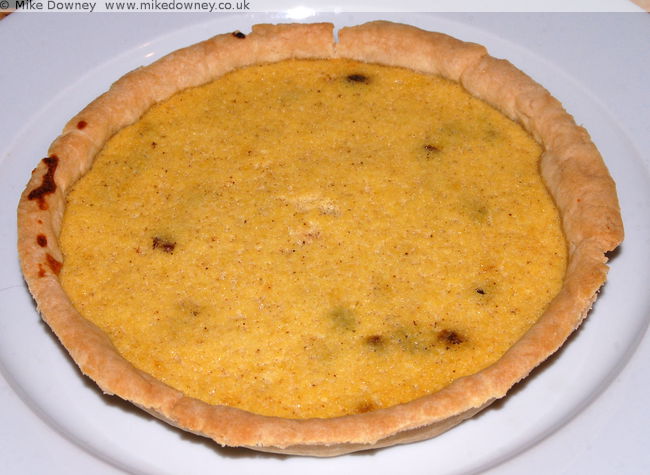 The filling was made by creaming together 50g of caster sugar and 50g of softened butter. I added a teaspoon of mixed spice and 2 small eggs then the curd cheese. We use Quark semi-regularly so instead of making fresh curd cheese, I tipped in what remained in the open tub in the fridge, which was a bit over 100g. I then added 50g of sultanas.
I poured the mixture into the pastry case and baked it as gas mark 4 (180 °C) for about half an hour or so.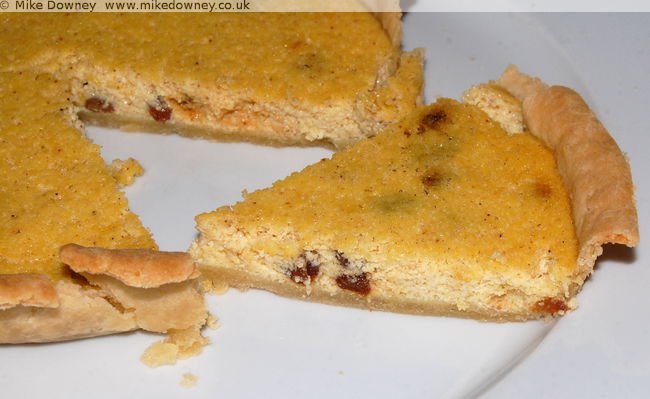 Despite my precautions with the pastry case, the base was very soft and the sides were a bit too crispy. After baking, there was a strong buttery smell in the house and I was worried that the filling had separated but it hadn't. The tart tasted good, not too rich or sweet. It would probably go well with a cup of coffee.