At last I have reached the letter Z in my alphabetical trawl through cakes and geography. It only took me a bit longer than I expected. I originally planned to make something every week or so but it ended up taking one year and 9 months. I have had to leave the UK again since the only 'Z' recipes I could find were Zimbabwe or Zanzibar.
I'm not sure how authentic this recipe is. There are many versions on different websites, mostly claiming to be a cookie recipe and mostly identical to each other, so it's not been easy to find where it came from. I came across a book called Cooking the Southern African Way: Culturally Authentic Foods Including Low-fat and Vegetarian Recipes which has the same recipe, but without the lemon glaze. This book claims that the recipe was a British invention which may explain why the so-called cookies are actually more like a traditional scone, but without milk.
We regularly have sweet potatoes in the house, so last time we cooked some I grated and froze a tub ready to make these.
Ingredients
140g butter
40g caster sugar
1 tbs orange zest (the original was lemon zest but I had some orange zest in the freezer)
1 tsp mixed spice (the original used nutmeg)
60g honey
1 egg
140-180g grated sweet potato
400-450g self raising flour (the original used plain flour and separate raising agents)
a pinch of salt
Method
I started by softening the butter then beating in the sugar, orange zest, mixed spice, egg and honey. I stirred in the grated sweet potato then sifted in enough flour to make a soft dough. I broke off lumps of dough, rolled then into balls then flattened them into cookies. These were baked at gas mark 3, 170C, for 15 minutes. While the scones cooled, I mixed the icing.
Lemon Glaze
The various versions on-line usually have a teaspoon of lemon juice then small amounts of water are added to get the right consistency. I didn't measure the icing sugar. I started with generous teaspoon of butter which I melted then added the icing sugar. I added enough lemon juice to form a spreadable icing.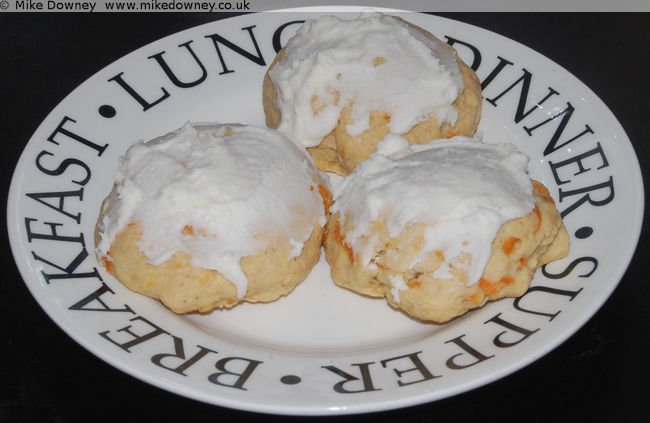 The so-called Sweet Potato Cookies.
As I said earlier, these were more like a scone than a cookie. One of the small ones had cracked so I tasted (un-glazed) it while the rest cooled. The combination of orange and spice flavours worked very well. The lemon glaze added a bit of sharpness which worked well.
I first tried a Yorkshire Curd Tart back in 2010 when we went to the Otley Agricultural Show. I quite liked it so it was the natural choice for me to make for the letter Y.
The pastry base was a standard shortcrust, not the sweet enriched pastry often used for dessert tarts or pies. I figured that the traditional version of a recipe like this would have a more plain pastry.
I've never had much luck with pastry so after baking blind for 10 minutes, I removed the baking beans and put the case back in the oven for another 5 minutes to dry out a bit more.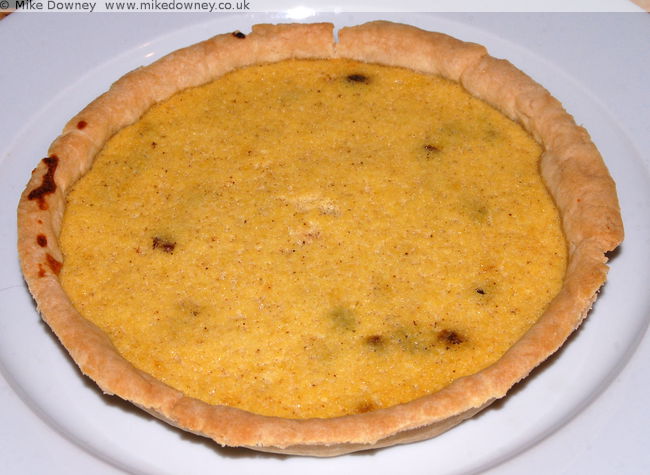 The filling was made by creaming together 50g of caster sugar and 50g of softened butter. I added a teaspoon of mixed spice and 2 small eggs then the curd cheese. We use Quark semi-regularly so instead of making fresh curd cheese, I tipped in what remained in the open tub in the fridge, which was a bit over 100g. I then added 50g of sultanas.
I poured the mixture into the pastry case and baked it as gas mark 4 (180 °C) for about half an hour or so.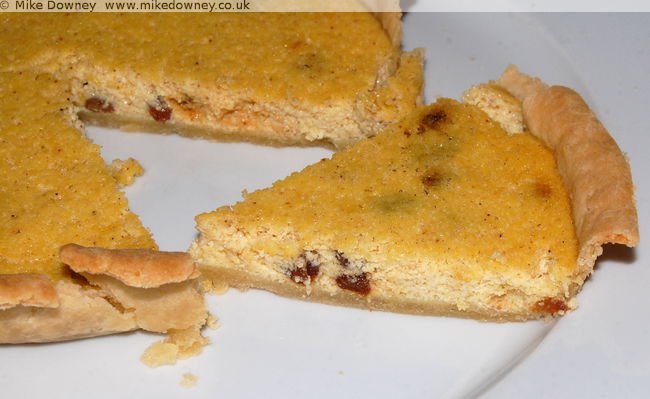 Despite my precautions with the pastry case, the base was very soft and the sides were a bit too crispy. After baking, there was a strong buttery smell in the house and I was worried that the filling had separated but it hadn't. The tart tasted good, not too rich or sweet. It would probably go well with a cup of coffee.