A few weeks ago I was reading the book The Emperors New Mind by Rodger Penrose and I reached the part where he discusses the Mandelbrot Set. Years ago I used to enjoy exploring this on my computer. I decided to download a mandelbrot program for my mac but couldn't really find one which I liked. This prompted me to have a go at writing one myself. I decided to cheat a little and write it as an ImageJ plugin so I didn't have to handle the display and mouse myself.
I reused some bits of code from a version of Life which I wrote a few years ago and also some code which I developed during my PhD and managed to get a useable plugin up and running that evening. Over the next few days I added a few extra features and made it a bit more useable.
To Install
Click on the download link and save the 'jar' file into the ImageJ or Fiji plugins directory.
To Run
Select 'Mandelbrot' from the 'Plugins' menu. Configuration options are in the 'About Plugins' submenu of the 'Help' menu. After changing any options, the mandelbrot set window will need to be closed and the plugin re-run before any changes will come into effect.
How to Use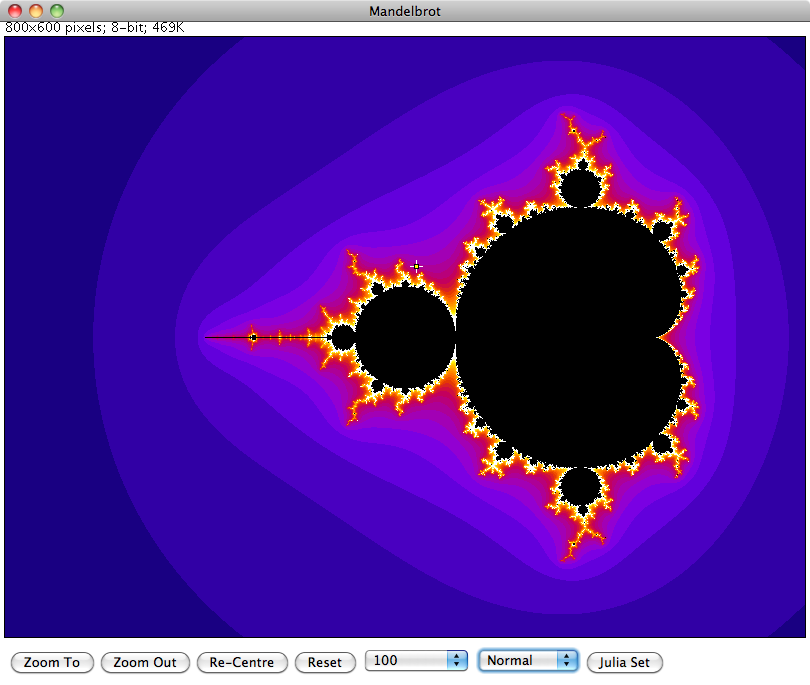 To zoom in or out, use the 'Point' tool of ImageJ to select the new centre and click on either the 'Zoom To' or 'Zoom Out' buttons at the bottom of the window. To pan the view without changing the zoom, select the new centre then click on the 'Re-Centre' button. The 'Reset' button returns the view back to the original zoom.
The number selection box to the right of 'Reset' controls how many calculations are performed before the algorithm decides whether a point belongs to the set or not. Increasing this number will show more detail at the fringes of the set at higher zoom levels.
The Normal/Sqrt/Log selection controls how the colour values are calculated. Initially all values are displayed in greyscale. To display in colour, select one of the ImageJ lookup tables for the required colour scheme.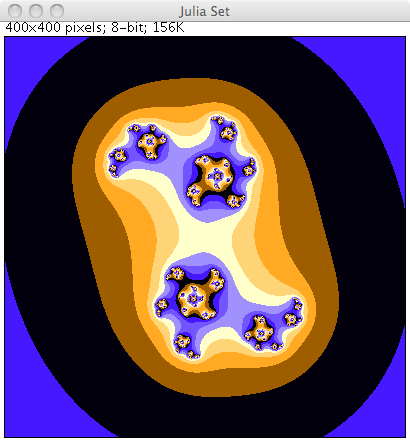 Finally the Julia Set for a particular point can be displayed by selecting a point then clicking on the 'Julia Set' button.
More Details
Further details on the Mandelbrot Set and Julia set can be found in Wikipedia.